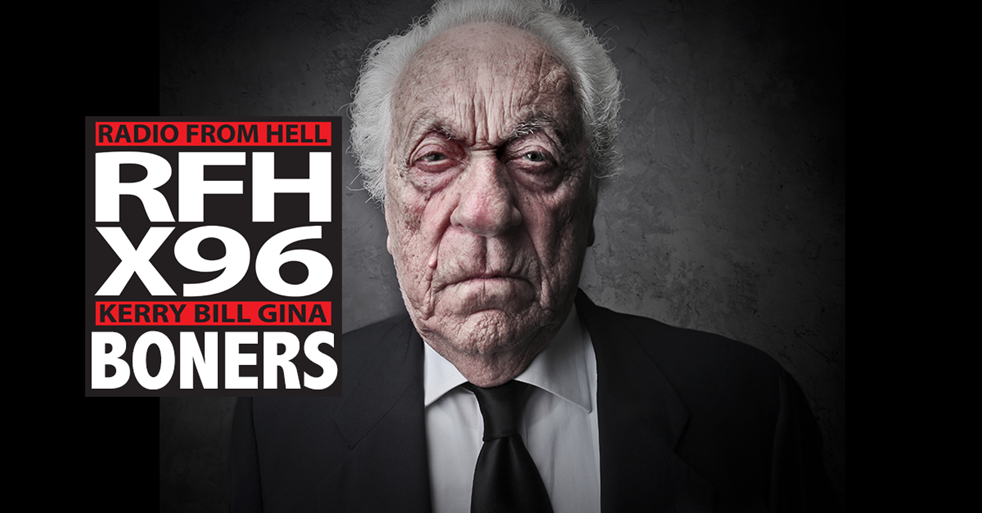 ROUND ONE
Boner Candidate #1: OH NO, YOHO! OH NO!
WASHINGTON — Rep. Alexandria Ocasio-Cortez, D-N.Y., said Tuesday that a Republican congressman stuck his finger in her face, called her "disgusting" and "crazy" and continued to lob insults at her even as she walked away from the confrontation. Ocasio-Cortez said the congressman, Ted Yoho of Florida, initiated the first confrontation on the steps up to the Capitol ahead of votes on Monday. She said she walked away from the initial conversation and heard him continue to insult her. "I hear him just kind of like lobbing these insults at me but I just kept walking into votes," she told reporters on Tuesday. As first reported by The Hill, Yoho approached Ocasio-Cortez as she was walking up the Capitol steps to cast a vote on the House floor and told her she was "disgusting" for recently suggesting that unemployment and poverty were leading to a rise in crime in New York City. "You are out of your freaking mind," Yoho said to the congresswoman, who then told him that he was "rude," said the report, which said their conversation was overheard by a reporter.
Boner Candidate #2: THERE'S PROBABLY STUFF IN THERE THAT WOULDN'T HELP OUR CASE.
The University of Utah says it shouldn't have to release the counseling records of student-athlete Lauren McCluskey — who spoke to a school psychologist in the days and hours before she was killed — arguing in a new lawsuit that those should be considered confidential even in death. The filing in state court Monday comes after Utah's State Records Committee ordered the U. last month to release the reports to McCluskey's parents and their attorneys. The school, though, is now appealing that decision shortly before it was supposed to turn them over. "Mental health records often contain highly sensitive and personal information, the disclosure of which would constitute a gross invasion of personal privacy," the U. argues in its lawsuit. The counseling records have become the latest focal point in how McCluskey's concerns were handled by the university. McCluskey's parents, who are separately suing the university for $56 million, say the school didn't take their daughter's concerns seriously. That focuses largely on the campus police department, which did little to investigate Lauren McCluskey's multiple calls for help when she was being harassed and extorted by someone she had briefly dated.
Boner Candidate #3: TERRIBLE TIMMING FOR TIMBERS.
Ludington, MI — A northern Michigan restaurant lost thousands of dollars in sales after a busboy said he had COVID-19, but the employee simply wanted a day off and lied, a manager said. "It was heartbreaking," says David Hritco, manager at Timbers Seafood and Steakhouse in Ludington. "I worried about my staff. I worried about well now do I have COVID?" Timbers was forced to close Friday and Saturday after the COVID-19 claim and had to cancel a wedding rehearsal party, Hritco said. The timing was terrible for the restaurant, which is trying to recover during the peak summer season after months of being closed. "It's our second busiest weekend of the year," Hritco said. The employee confessed to the lie Saturday night, Hritco told 9and10news.com. "He doesn't know what he did, and I feel terrible for him because this is a young kid that made a mistake," Hritco said. "But this is now a police matter."
ROUND ONE
Boner Candidate #1: LAURA, TORONTO IS IN CANADA.
On Friday, the "Ingraham Angle" host took to Twitter to draw a bizarre connection between an online story that claimed Toronto had limited "religious freedom," and U.S. presidential candidate Joe Biden. Will Joe Biden do more to protect religious liberty than Donald Trump? Not a prayer. "City of Toronto Bans Catholic Churches From Administering Holy Communion" "Will Joe Biden do more to protect religious liberty than Donald Trump? Not a prayer," Ingraham wrote, alongside a story from far-right website Big League Politics that said Toronto had "banned" Catholic communion. First of all, Big League Politics was founded by former Brietbart employees and has frequently trafficked in conspiracy theories. It has been described by the New York Times as "an obscure right-wing news site […] which has promoted conspiracy theories and written favorably about white nationalist candidates." The story Ingraham shared was inaccurate. In reality, the archbishop of Toronto modified the eucharist rite to observe safety protocols during the COVID-19 pandemic. There's now a modified version of communion where a priest delivers the blessing from a safe distance, hands the congregant their wafer, and they then move more than two metres away from the priest before removing their mask to consume it.
Boner Candidate #2: IT WORKED….SCARED 'EM WITLESS.
Lauren Hill,  — Multiple motorists trying to avoid a head-on collision say they were forced off State Road 85 Sunday night by a man heading south who repeatedly drove into the northbound lanes. It happened south of Laurel Hill around 6:30 p.m,. according to a press release from the Okaloosa County Sheriff's Office. After a traffic stop on the reckless vehicle, Sheriff's Office deputies found two small children crying loudly in the 2012 Dodge, which was being driven by 42-year old Timothy Gajka of Crestview. Gajka then told deputies he was just "trying to scare" the kids because they were misbehaving. He was charged with DUI, two counts of child neglect, and possession of marijuana.
Boner Candidate #3: I'M DOING THIS FOR MY INCARCERATED HOMIES.
OGDEN, Utah — An Ogden, Utah man is facing a felony distribution charge after police say he was spotted printing pornography at a Walmart photo center. According to the probable cause statement, on May 28, witnesses complained to Walmart Loss Prevention, saying a man, later identified as 22-year-old John Hughes, was printing off pornographic images at the Walmart photo center at 20th Street and Wall Avenue. Those who complained said the images appeared to show underage females, something Hughes denies. Police used surveillance video to identify Hughes, who has "notable tattoos." Hughes was arrested Sunday, July 19. That's when police say Hughes admitted to printing off the pornography so he could "send it to the homies who were locked up," the probable cause statement says. Hughes denied the images were of underage females. He is facing one third-degree felony charge — distribution of pornographic material. Hughes was on probation for other crimes at the time of his arrest.
Download X96's App