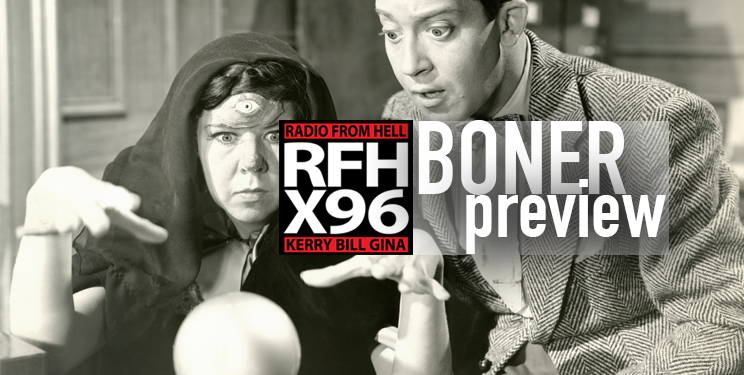 Boner Candidate #1: I'M HERE TO ATTACK PEOPLE WHO ARE DIFFERENT
On Tuesday, alt-right troll Milo Yiannopoulos made yet another stop on his tour of colleges and universities across the country. He spoke at the University of Wisconsin, Milwaukee, where he was invited by a conservative student group, and he used his platform to mock a transgender student, displaying her name and photo prominently onscreen. In critiquing leftist criticism of the phrase "man up," Yiannopoulos said around the 49:52 mark, "I'll tell you one UW-Milwaukee student that does not need to man up." He then showed the student's photo. "Have any of you come into contact with this person?" he asked. "This quote unquote nonbinary trans woman forced his way into the women's locker rooms this year."
Boner Candidate #2: THERE IS SOMETHING WRONG WITH THIS ENTIRE FAMILY
Fred Couch, the father of "affluenza" teen Ethan Couch, was found guilty Wednesday of falsely identifying himself as a Texas police officer, a crime that could have put him behind bars. But instead of serving his 120-day jail sentence, Couch, 51, faces only a year's probation, The Star-Telegram reported. He must also complete 100 hours of community service. A Tarrant County jury had found him guilty of trying to pass himself off as a Fort Worth-area police officer. In 2014, Couch, who was carrying a badge that read "Lakeside police," identified himself as a reserve police officer when questioned by actual officers, the Star-Telegram wrote. Couch pleaded not guilty to the misdemeanor charge. Couch's community service will be carried out at the Fort Worth Police Department's Horse Barn, a court communications officer told The Huffington Post.
Boner Candidate #3: NOT AN EFFECTIVE DISGUISE.
The Pasco County Sheriff's Office is searching for a gas station robbery suspect who was caught on camera with what appears to be a drawn-on beard as a disguise. The incident happened at the Holiday Gas Station located at 1937 US 19 in Holiday. Deputies describe the suspect as a heavy-set white male in his 30s or 40s wearing a red bandana, long dark hair up in the bandana and a green military-style pilot jumpsuit. The suspect was wearing clear gloves and left the scene in a tan or brown Toyota extended cab truck and headed south on US 19. It is unknown if the suspect got away with any cash.
Boner Candidate #4: YOU KNOW, I THINK I'LL JUST GO AHEAD AND RETIRE.
A Connecticut police chief says he intends to retire after the revelation that he sent nude photographs of women on his town email account. The Hartford Courant reports Glastonbury Chief David Caron notified town officials Wednesday that he plans to retire after the newspaper asked him about the emails. The Courant recently received an envelope with no return address that contained printouts of three emails with nude photos that were marked as forwarded by Caron. Caron told the newspaper he didn't remember forwarding the emails. But he did not deny receiving emails with nude photos and occasionally forwarding them to friends. He said his actions were out of character.
Boner Candidate #5: THE MANAGERS OF THIS BUILDING ARE DUMB.
At the Monroe Building at 104 S. Michigan Ave., some workers called 911 and barricaded doors after mistaking an "active shooter" drill for a real threat. (CBS Chicago) It was supposed to be just another drill in the Monroe Building in the Loop on Wednesday morning, in this case what to do if a gunman was somewhere inside. The announcement over the PA system said there was an "active shooter" in the building at 104 S. Michigan Ave. and people should seek shelter. No one reached by the Tribune remembers hearing the word drill.
Boner Candidate #6: GRANDMA PULLED A GUN ON ME
A 66-year-old Ferndale grandmother is accused of pointing a rifle at her 15-year-old grandson in a dispute about the family water bill, police said. The incident took place Sunday about 4 p.m. on the 1500 block of Leroy — south of Nine Mile, west of Livernois — when police received a 911 call from a teenager who said his grandmother had just pulled a gun on him. Police responded and asked the woman, Jaclynn Doreatha Wedlow, if she had any guns in the house or if she'd pointed a gun at anyone. She said no, she couldn't have, because she was just carrying a microwave. At issue, police say, is a $1,000 water bill the woman allegedly blamed on her grandsons, who are 15 and 22. Police say the woman was apparently irate that her grandsons helped run up the bill but haven't assisted in paying it.
---
Download X96's App