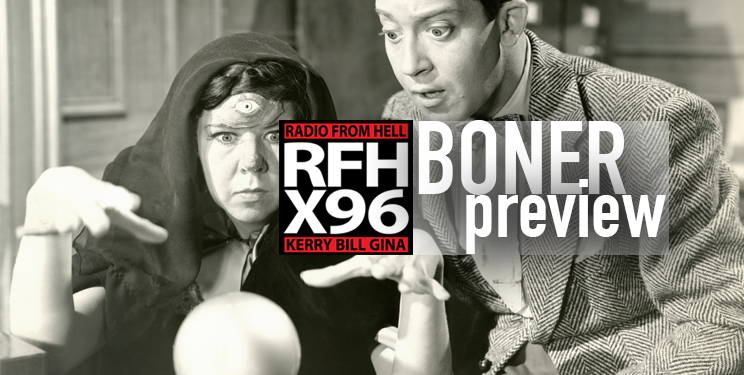 Boner Candidate #1: THERE'S ONLY ONE WAY TO SETTLE WHO'S THE BEST, GRANDMA
The shooting left a 55-year-old woman with a gunshot wound to her neck, Dallas police said. A child custody swap between two grandmothers led to a shootout outside of a Dallas Walmart that left one woman wounded, authorities said. The two women met to transfer custody of their mutual grandchild around 5:30 p.m. Sunday. An ensuing argument turned violent, Dallas police said. Janice Brown, 53, allegedly pulled out a gun and shot Carla Hawkins, 55, in her neck, leaving her with injuries that were not life-threatening, police said in a statement.
Boner Candidate #2: ALL OF THESE THREATS SEEM TO BE COMING FROM YOUR ADDRESS
We shouldn't have to tell you this: Don't use Facebook to frame your ex-lover for a crime. A woman in Southern California learned this lesson the hard way after she created a phony Facebook profile of her ex-boyfriend to frame him for stalking, kidnapping, and beating her. Stephani Renae Lawson of Orange County, California, 25, pled guilty to two felonies—one count of false imprisonment and one count of perjury. She was sentenced to one year in prison. Lawson had been living with her boyfriend (at his grandparent's house) for ten months prior to the whole ordeal. She was eventually kicked out for beating up her boyfriend, according to the Orange County Register. That's when the real trouble started.
Boner Candidate #3: SACRIFICING THE GOAT WILL NOT BE QUITE ENOUGH
A spiritual healer tricked a woman into having sex with him to solve her marriage problems — and then made her pay $7,500. Syed Shah conned the 28-year-old mom into believing he could "purify" her relationship. Shah, 30, from Birmingham, England, this week was found guilty of two charges of rape and one of fraud following a trial at Birmingham Crown Court. Judge Patrick Thomas QC jailed him for 12 years — after it was revealed he had sexually assaulted another woman while performing a healing ritual.
Boner Candidate #4: LOOK AT HOW FAST I CAN GO
Police say a Rhode Island man who streamed himself on Facebook Live driving 114 mph and weaving in and out of traffic was critically injured when he crashed into a garbage truck and a concrete barrier. State police say 20-year-old Onasi Olio-Rojas, of Pawtucket, lost control Wednesday on U.S. Route 6 in Providence. The video posted on Olio-Rojas' Facebook page shows him driving 114 mph and weaving through traffic. Police confirmed its authenticity to WJAR-TV.
Boner Candidate #5: EXCHANGING BODY PARTS ON TUMBLR IS JUST WRONG.
Now, let's talk about this Tumblr user who sent another Tumblr user her pinky toe. Yes, her actual toe.  According to the toe's owner, Haley, the toe was amputated years ago. "I had brachymetatarsia, a condition where one of your toes or metatarsal bones stops growing," she told The Huffington Post. "As I got older the skin around my toe began to get infections and tear open (gross I know) and it would cause me to not be able to even walk at times. I was constantly in pain … At age 17, a doctor said he'd help me the best he could and removing the problem seemed simplest … He removed my 4th toe." The recipient, Lana, was sent the disembodied toe to preserve it properly for Haley. The preservation fluid currently housing the toe expired in 2011 and Lana plans to change it out.
Boner Candidate #6: HEY, THAT'S NOT ME
A young man found out his girlfriend was cheating on him after finding photos of the girls teacher's penis on her phone. He claims the girl eventually admitted to having an affair with her teacher after he began tutoring her in her final year of school. The young man found texts, snapchats and  photos exchanged by the pair.
Download X96's App