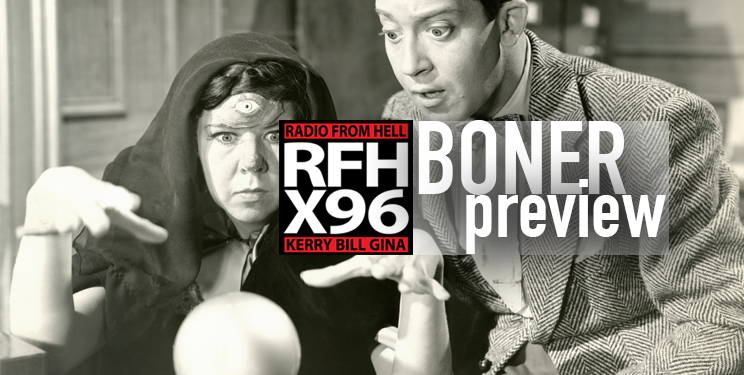 Boner Candidate #1: MAYBE WE SHOULD CHARTER A PLANE AND SEND HANNITY BACK TO IRELAND
This week, Sean Hannity extended a rather unusual offer to President Obama. If Donald Trump wins the White House, Hannity will be willing to charter a private plane to send the Obama family on a one-way trip anywhere in the world — like, say, Kenya or Indonesia.
Boner Candidate #2: IT WOULD BE BEST IF YOU STAYED OUT OF THE MEDIA
Sen. Mark Kirk (R-Ill.) is one of the most vulnerable incumbents this election, and he probably didn't help his chances to retain his seat in his debate Thursday night with his Democratic challenger, Rep. Tammy Duckworth. Kirk had been pretty low-key in their first debate, but he was decidedly more feisty on Thursday night, accusing Duckworth of lying about a workplace discrimination lawsuit and calling her record of serving veterans "very questionable." His biggest hit, however, was also his loudest thud.
Boner Candidate #3: I ASKED HER; I SAID, "MA'AM WHY ARE YOU NOT DRESSED WHILE DRIVING?"
A 19-year-old Texas A&M University student taking a topless selfie while driving slammed into the rear of a stopped police car and was arrested, police said on Thursday. The student, Miranda Rader, also had an open bottle of wine in a cup holder next to her, the Bryan Police Department said. The accident on Wednesday, near the university about 100 miles northwest of Houston, caused the airbag to deploy. Police said that when the officer whose car had been hit approached Rader, she was trying to put on her blouse.
Boner Candidate #4: FAMILY IS EVERYTHING TO ME
An Orange Park man was arrested Wednesday after deputies say he pointed a gun at his 19-year-old sister during an altercation. The Clay County Sheriff's Office said Christopher Burns, 21, got mad at his sister after she apparently washed his pants that contained Ecstasy.
Boner Candidate #5: I WON'T BE ABLE TO GO TO SCHOOL AT ALL IF I'M CHAINED TO A POLE
Malaysian cops let a mom off with a wrist slap when she chained her daughter to a lamppost — explaining that it was only the "first time" the child was publicly shackled. The mom locked her 8-year-old in a misguided attempt to teach her a lesson for playing hooky, according to reports. The mortified child was left in tears, sucking her thumb, as she stood shackled to the metal post outside the family's apartment in Kuala Lumpur.
Boner Candidate #6: TOOK CARE OF THEM DAMN WEEDS
Authorities say a man using a blow torch to burn weeds started a fire that spread up a wall and into the attic of his home. Fire Capt. Barrett Baker says the man discovered the fire when he smelled smoke about an hour after he used the torch earlier Wednesday evening. Baker says flames in the attic were visible through a vent on the side of the home and that one crew of firefighters pierced the home's tile roof to put water on the fire the fire. Meanwhile, another crew on the ground sprayed water at the fire through the vent.
Download X96's App