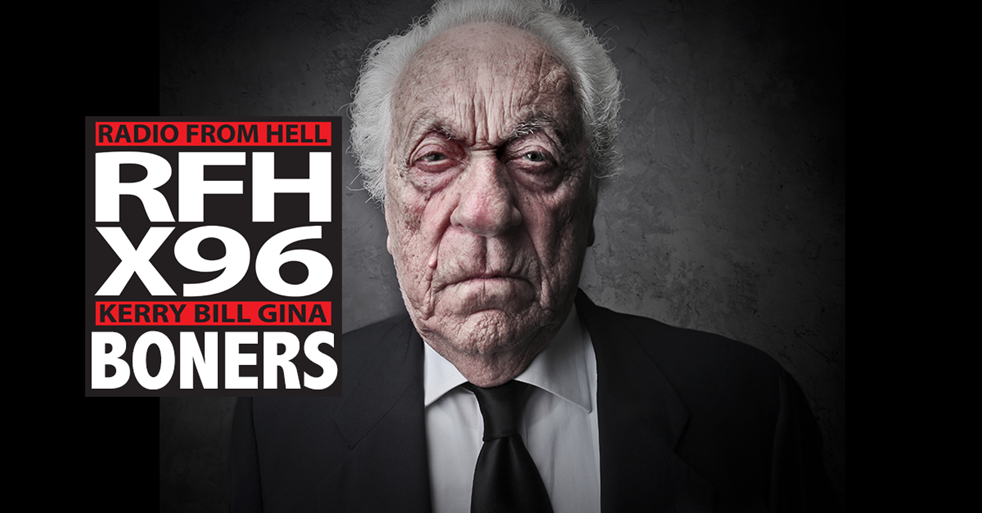 Round One
Boner Candidate #1: IF YOU THINK YOU ARE COOL, YOU ARE PROBABLY NOT COOL.
He's making diplomacy trendy again. At least, he's trying to. Secretary of State Mike Pompeo rebranded the State Department as the "Department of Swagger" in an Instagram account he launched last week. His first post was a Photoshopped seal for the "swagger" agency, complete with a picture of him fist-bumping. The next one showed pics of Pompeo, Shakespeare and legendary Gen. George Patton. "Shakespeare was the first to use 'swagger.' Gen. Patton had his swagger stick. At @statedept, we've got some #swagger too. It's our confidence in America's values," Pompeo's second post reads.
Boner Candidate #2: THE CATHOLIC CHURCH HAS ENOUGH PROBLEMS ALREADY.
A Connecticut woman is headed to prison for her role in a month-long crime spree in New Jersey and Pennsylvania, including an attempted bank robbery in which she and another woman dressed as nuns. Swahilys Pedraza-Rodriguez received a 15-month sentence Thursday. The 20-year-old New Haven woman had pleaded guilty in June to robbing a bank in Garfield, New Jersey, while wearing a head covering and conspiring to steal money from an ATM at a bank in Scotrun, Pennsylvania. Her co-defendant, 24-year-old Melisa Aquino Arias of Passaic, New Jersey, received a 37-month sentence Wednesday.
Boner Candidate #3: OH, BOB, REALLY? WHAT COULD YOU HAVE BEEN THINKING?
The Salt Lake Tribune has suspended columnist Robert Kirby for three months without pay following an internal investigation after a Provo-based blogger detailed his inappropriate behavior toward her at a Mormon conference in July. Courtney Kendrick posted Wednesday on social media of feeling "belittled and embarrassed" after Kirby, 65, made sexually tinged comments and persuaded her to eat an edible dose of marijuana, then mocked her before a Sunstone Symposium audience by declaring Kendrick was "high." In a statement issued Friday, Tribune Editor Jennifer Napier-Pearce said that after looking into "multiple complaints," managers found that Kirby's conduct violated Tribune policy. The newspaper had taken steps, the editor said, "to prevent this behavior in the future.
Round Two
Boner Candidate #1: OKAY, I DON'T HAVE DOWN SYNDROME BUT I'M NOT VERY SMART JUST ASK MY MOM AND DAD.
An Arizona man was accused of pretending to have Down syndrome and hired caregivers to bathe him and change his diapers, police said. Paul Anthony Menchaca, 31, of Gilbert, Arizona, was arrested on Sept. 6 on fraud and sexual abuse charges. The Gilbert Police Department said Menchaca posed as a woman named "Amy" on a caregiver job site called CareLinx.com, saying she needed assistance with her adult son, FOX 10 Phoenix reported. Three caregivers, all women, were hired to care for Menchaca at various points over the summer, with the first woman saying she bathed and assisted him 30 times. Sgt. Darrell Krueger, a spokesperson for the Gilbert Police Department told The Washington Post, Menchaca asked the caregivers to meet him at restaurants to change his dirty diapers in the public bathrooms.
Boner Candidate #2: WE GOTTA DRESS UP. WE GOT COURT.
A couple caught stealing clothes from a Walmart in Wareham Tuesday night told police that they needed to wear the items to an upcoming court appearance, officials said. Officers responding to the store on Tobey Road for a report of a shoplifting incident in progress around 10 p.m. encountered 25-year-old Heather Murphy and 33-year-old Jason Willoughby just as they were leaving the store, according to the Wareham Police Department. Murphy allegedly opened a handbag that she was holding, handed over clothes that she had attempted to steal and told officers she needed to wear them in court Wednesday. Willoughby was found with shoes stuffed in his pants waistline and other stolen items were discovered in his car, according to police.
Boner Candidate #3: RAIN ON PROVO PRIDE PARADE
Three replacement flags stand where one was stolen. These flags went missing overnight Wednesday.  Courtesy Becky Ortinez Vandalized Pride flag in the Provost Neighborhood. Courtesy Becky Ortinez. Many of the bright rainbow flags representing Provo Pride week across the city have gone missing or have been vandalized in areas of the city according to Provo Police reports. Jerilynn Pool, Provo Pride board member, said the flags are part of a special flag project to raise funds for Pride Week. The project began in Salt Lake City, then Ogden, Provo and St. George next week. People would rent flags to place in front of their homes or businesses in exchange for a $15 donation. "Provo is the only one to have flags stolen," Pool said. "This is the first time."
Download X96's App