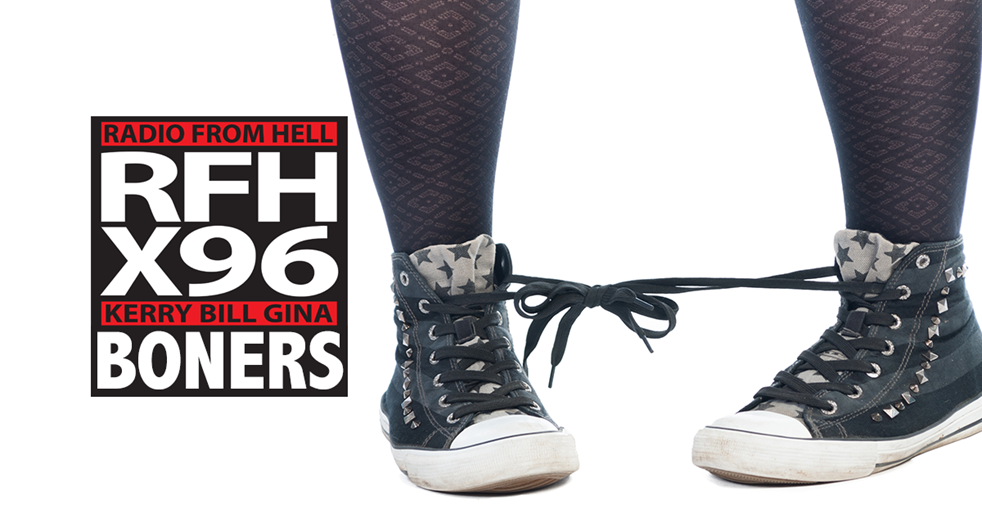 Round One
Boner Candidate #1: PROFITING FROM DEATH
SUNSET, Utah – A teenager lost their life rolling a UTV in Middle Fork Canyon, and now the family says people are using their son to make money with fake online fundraising pages. Jaden Parent spent his Memorial Day Weekend celebrating his 19th birthday. "I mean it was routine, it was habit for them," said Jaden's mom Erin Bingham. "He always goes camping. He camps, he rides dirt bikes, he rides motorcycles, he rides ATVs; that's his life." Jaden's family never expected that trip would be his last. "'Our baby's gone.' I said, 'what do you mean' and he (Jaden's father) said he was in an accident, he drove too fast,'" said Erin reiterating the conversation she had with Jaden's father the night that their son died. Jaden and his 18-year-old brother were driving a side-by-side (UTV vehicle) in the Sun Ridge area of Middle Fork Canyon Saturday. According to police, they took a corner too fast. Jaden was launched, the vehicle rolled over onto him."It's not possible, I know my son and I know he doesn't drive too fast," said Erin. "That's just not him to not wear a seatbelt," said Jaden's former stepdad Eric Sims. Jaden and his brother made it back to camp, shortly after Jaden lost consciousness. They called for help.
Boner Candidate #2: JESUS DRANK WINE
This drunk driving suspect says she's just a follower of Christ. After allegedly boozing behind the wheel Sunday night, Nicole Ann Mintner defended herself to police by telling arresting officers that "Jesus drank wine and so did I," The Village News reported. Deputies said they found the 45-year-old asleep at the wheel inside a silver Dodge with her hazard lights activated and engine running in Sumter County, Fla. During police interviews, Mintner reportedly refused to take off her sunglasses and slapped an officer twice on the shoulder. She told officers that she had taken Xanax then later admitted to drinking alcohol after four empty sangria bottles were found in her center console. Mintner was placed under arrest and into the back of a patrol car where she "continuously" screamed and threatened to urinate while en route to Sumter County Detention Center, according to deputies.
Boner Candidate #3: WHAT CAN I TELL YOU, MY LEGS NEEDED SHAVING
As fellow pool-goers took dives and swam in the refreshing water, a woman sat by herself with a razor in hand. The footage was filmed in Florida, US. A few feet away from her children were seen bobbing past. The woman seemed quite focused on the task at hand as she seemed oblivious to her surroundings. Other swimmers didn't seem to take any notice of her. If any of them did, they never reacted or tried to stop her from what she was doing. The only person who seemed to notice what the lady was doing was the cameraman. The video was taken discreetly and then shared on Reddit. The clip was upvoted more than 55,000 times on the website. It also received more than 1,600 comments from those who watched it. A Reddit user named muh_feelz157 wrote 'Yeah I used to work at a public pool and for whatever reason they attract the worst of humanity. I would never swim in a public pool after that experience.' Another one named Pyrokill188 advised 'Go practice swimming at your local gym instead, lots have pools. At least at a gym you're (probably) only swimming in other people's sweat.'
Round Two
Boner Candidate #1: BM REVENGE
This is one way to dump a friend. An elderly Briton whose relationship with his pal went down the toilet saved his feces for several weeks in a revolting scheme in which he pumped the excrement into the man's home, the Mirror reported. Geoffrey Holroyd-Doveton, 75, of Rotherham, told police he thought Donald Wicks had contributed to his divorce more than two years ago and "ruined my life," according to the news outlet. Armed with his stinky load, Holroyd-Doveton traveled to Braintree, Essex, to carry out the vile attack on the home of Wicks and his hubby, Richard, while they were away on New Year's Day. "It would seem that the defendant defecated into a container and kept that for six to eight weeks," prosecutor Lesla Small said. "He had constructed a homemade pump and used that pump through the letterbox. "Using that pump he has pushed the excrement through the letterbox causing that to splatter over the hallway, up the stairs and onto the back wall," she said. Surveillance footage captured the vengeful pooper in the act outside the couple's home, Small added.
Boner Candidate #2: MS. METHVIN, YOU ARE UNDER ARREST
Talk about living up to your name. A Florida woman named Crystal Methvin was arrested Saturday in St. Johns County on drug possession charges after being caught with crystal meth, jail records show. Methvin, 40, of St. Augustine, was busted after an anonymous caller tipped off cops who found her inside a car with two other people in a parking lot on South Dixie Highway, WJXT reports. Police searched the car and found drug paraphernalia and a substance that tested positive for crystal meth. Methvin was taken into custody with a man identified as Douglas Nickerson, WJXT reports. Methvin has arrests in the county dating back to 1998 when she was booked into the St. Johns County Jail for driving under the influence. Most recently, she was arrested in January on 14 felony counts of drug possession and misdemeanor possession of drug equipment, jail records show.
Boner Candidate #3: BOO, FAT MIKE. BOO.
NOFX crossed the line in a big way Sunday in Vegas, when they made a crack about the Vegas shooting, saying the silver lining was that the people killed were country fans and not punk fans. The band was playing the Punk Rock Bowling & Music Festival, and when they finished a song frontman Fat Mike said, "We played a song about Muslims and we didn't get shot. Hooray." But, it didn't end there … another band member jumped in and said, "I guess you only get shot in Vegas if you are in a country band." And it got even worse … "That [the massacre] sucked, but at least they were country fans and no punk rock fans." Some audience members audibly recoiled, but the singer then jumped in, "You were all thinking it." 58 people were killed and almost 500 were injured in the deadliest mass shooting in U.S. history.
Download X96's App