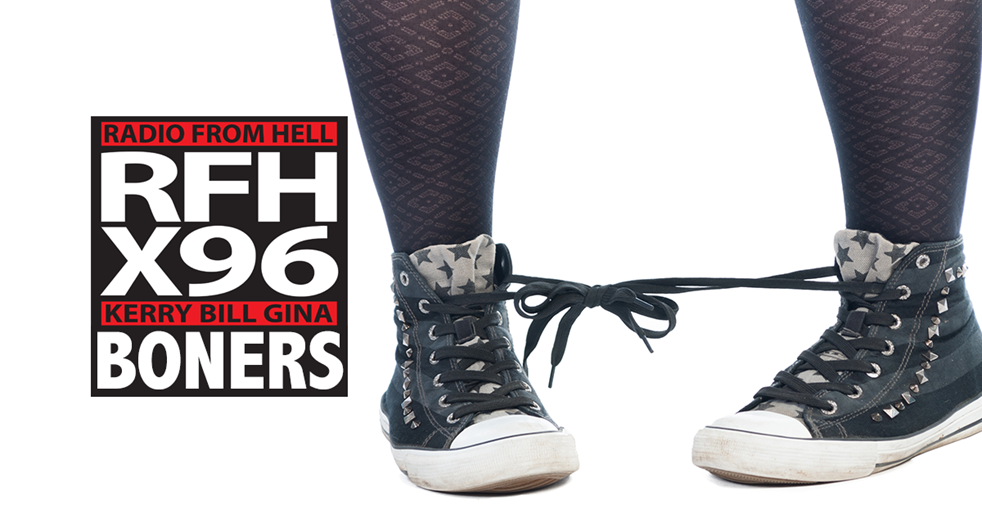 Round One
Boner Candidate #1: What Kind OF Sandwich???
NORCROSS, Ga. (WGCL) — Police are searching for a robbery suspect who after holding up a Subway restaurant, forgot his sandwich and returned to retrieve it. Police say 34-year-old Zachary Miller was waiting for a sandwich at the Subway location on Medlock Bridge Road when he jumped over the counter, demanded cash and opened the cash register. He was able to obtain about $100 before fleeing. He then realized he had left the sandwich inside and went back to get it. He fled the scene in a black, 2003 Acura 3TS with the Tennessee license tag R9230J. Miller has multiple warrants in Tennessee and Georgia.
Boner Candidate #2: What Kind of Pork???
Smithfield Foods has reportedly disposed of 50,000 pounds of product after an employee allegedly relieved himself while working on the production line. The company says the male employee has since been suspended pending an investigation. Surveillance video on the incident, which happened over the weekend, was posted online by wavy.com. The worker, who is dressed in a hair cap, face mask, white jacket and gloves, can be seen moving product along the conveyer belt. He then pauses to take off his gloves, appears to unzip his pants and leans forward as he seemingly relieves himself. He then puts his gloves back on and returns to work a few seconds later. The company released a statement on the matter, saying they are investigating the "isolated incident" at the processing facility in Smithfield, Virginia. "In accordance with Smithfield's food safety and quality standards, more than 50,000 pounds of product was disposed of following an initial internal investigation that revealed an employee allegedly urinated at his station during the production process. The facility immediately halted production, fully cleaned the processing line, and sanitized all equipment multiple times before resuming operations. The employee has been suspended pending a complete investigation."
Boner Candidate #3: What Kind of Porn???
An underwear-raiding burglar was arrested in Southern California after leaving semen on a college student's laptop as he watched pornography, authorities said. Jonathan Jose Ruiz, 19, of Orange, was arrested last week after four college students told police they left their home in Orange to attend an event during the evening of Oct. 4. The women returned about 90 minutes later and found their residence totally ransacked, with their underwear strewn throughout the home, according to the Orange County District Attorney's Office. Ruiz is accused of breaking into the home through a window before rifling through the women's bedrooms, as well as using one of their laptops to download images of the victim and browse pornography websites, authorities said. After leaving semen on the victim's laptop, Ruiz allegedly moved the computer to another of the women's bedrooms. He then drank milk from inside the women's fridge and ate several cookies before leaving the milk container on a counter, prosecutors said.
Round Two
Boner Candidate #1: Here's Your Baconator, Chubby
Wendy's is known for its snark on Twitter, but one of the fast-food chain's North Carolina locations took things too far when employees called a customer a mean name. Jimmy Shue was ordering two sandwiches, one for himself and one for his fiancé, at a Wendy's in Gastonia earlier this month when the situation occurred. The employee taking his order asked for his name, but when he got the receipt, he noticed that it read "Chubby" instead of "Jimmy." Shue told WFMY he would've just let it go, but when another employee called out his order, he read the insult. "He was hesitant to even say 'Chubby' but he did and I told him, 'That's not my name but that's my order,' and I grabbed the order and started to walk out because I was mad," Shue said. "Everybody started laughing in the restaurant, and I got really embarrassed." Shue said he reached out to Wendy's to complain, but the particular restaurant he was at is franchised and locally owned. A spokesperson for Wendy's told Fox News the situation had been "handled" and that the franchisee had apologized. "We work very hard to create a welcoming and inclusive environment for our employees and customers. We have apologized to this customer and the employee involved no longer works for our company," the spokesperson said.
Boner Candidate #2: You couldn't possibly live here, you're black!
A Missouri woman is defending her actions after getting fired from her job over the weekend over a viral video surfaced showing her trying to stop a black man from entering his own apartment building. In an interview with a local Fox News affiliate released on Tuesday, Hilary Mueller, born Hilary Thornton, said she doesn't think she did "anything wrong" in a video that shows her stopping a black man, D'Arreion Toles, from entering his apartment building last Friday. In the video recorded on Toles' phone, Mueller can be seen standing in the doorway of the apartment complex as the man tries to enter the building. She repeatedly asks Toles what unit he lives in as Toles asks her to move out of his way. "To Be A Black man in America, & Come home," Toles wrote in a Facebook post that also included a video of the encounter. "Women tries to stop me from coming into my building because she feels insecure … because she don't feel that I belong, never really thought this would happen to me, but it did!" Toles continued. He also added in the post that police knocked on the door of his apartment unit about 30 minutes later because she called them. "I was shocked this is America in 2018!" he said of the encounter.
Boner Candidate #3: No, Burger King, No
If Burger King truly wanted you to have it your way, they would not be trying to feed you a sandwich that might make you have scary dreams. Yet lo and behold, the chain is launching a special-edition Halloween-inspired menu item called the "Nightmare King," which has a vomit-green bun and is apparently "clinically proven" to terrify people as they sleep. Excuse me? With the aid of Paramount Trials, Florida Sleep and Neuro Diagnostic Services Inc. and Goldforest Inc., Burger King claims to have conducted a "scientific study" over the course of 10 nights with 100 participants. After eating the Nightmare King before bed, doctors and scientists monitored everyone's brain activities and found that they were 3.5 times more likely to have vivid dreams. "Someone… transformed into the figure of a snake," one subject said when asked about her dream, according to a release. Another recalled "aliens attacking" a boat he was on. OK, but what is this thing even made out of? It gets a quarter pound of flame-grilled beef and a crispy white meat chicken fillet topped with American cheese, bacon, mayonnaise and onions between a disgusting-looking emerald green sesame bun — and that is a nightmare within itself. No word on what makes the bun green… sketchy.
Download X96's App