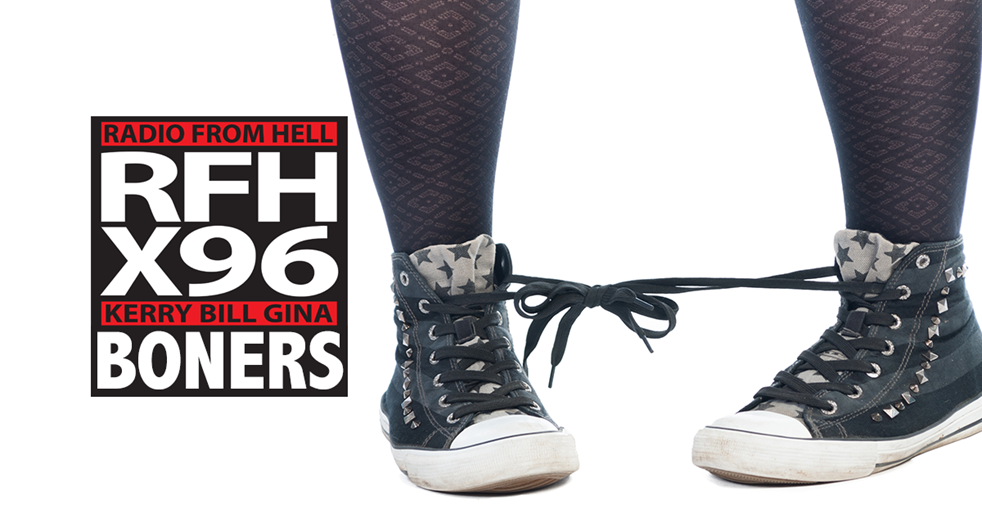 Round One
Boner Candidate # 1: RED FACED AND SWEATING
WASHINGTON — Conservative provocateur Alex Jones stormed Capitol Hill on Wednesday and held court outside a Senate hearing where tech executives from Facebook and Twitter were testifying.Jones, who has been censored on social media, said he was in Washington to "face his accusers" and demand that conservative and libertarian voices be heard. He predicted action by President Trump and others within "two weeks" to crack down on tech giants for what he described as political persecution. "Judgment day politically is here," a red-faced and sweating Jones told reporters. "Attempts to intimidate the American people, attempts to silence us and bully me and others into submission in this globalist system are not going to work."
Boner Candidate # 2: TWINKLE TOES IS A MONSTER.
And you thought "Black Swan" was messed up. The real-life New York City Ballet is a "breeding ground for sexual exploitation" where male dancers and staffers traded explicit photo of female ballerinas — and one donor suggested tying up "girls" so they could "abuse them like farm animals," a new lawsuit alleges. Student-dancer Alexandra Waterbury, 20, filed the explosive claims Wednesday in a suit against the ballet company and her ex-boyfriend Chase Finlay, who until last month was a principal dancer. She alleges that he shared with other male dancers, employees and donors pictures and video clips of their sexual encounters that he'd secretly recorded.
Boner Candidate # 3: HEY! HEY! YA YOU. THAT'S NOT HOW YOU WEAR THAT.
Round Two
Boner Candidate # 1: "I THINK WE'LL FIRE THE TEACHER. DON'T YOU THINK?"
FORT LAUDERDALE, Fla. — A Broward County, Fla., teacher faces firing after school district officials say they caught him at work drunk and passed out. Administrators at Everglades High in Miramar say a faculty member alerted them on Jan. 29 that math teacher Curtis Wiles, 40, appeared to be under the influence of alcohol. Assistant Principal Anthony Smith went into Smith's class about 8:20 a.m. to investigate. "Smith observed through the glass opening of the classroom door that Wiles was reclined in his chair, with both feet on his desk and was asleep while students were in his first-period class," a district report says.
Boner Candidate # 2: HE AIN'T A HITMAN UNTIL I PAY HIM
 Pasco County Sheriff's detectives arrested inmate Billy Warren Pierce, Jr. for allegedly trying to hire a fellow detention center inmate to kill his reported young victim and her family. "The crimes against children are, in my opinion, the worst of the worst. When you hire somebody to kill said children because you committed an offense against them, I don't think, personally, there's anything worse than that," said Major Crimes Detective James Hicks. According to the arrest report, the inmate first reported the alleged request from Billy Warren Pierce Jr. to detention center staff on August 22. "These kind of things come up from time to time inside the jail, and we have to vet it out. We have to make sure our witness is telling the truth," said Lt. Luby Fields.
Boner Candidate # 3: THEY JUST DON'T WORK AS HARD AS US.
Texas doctor who said the gender pay gap in medicine is "fair" because women doctors "don't work as hard" as men has resigned. In a memo sent to staff at the Texas Health Plano, President Josh Floren said Dr. Gary Tigges resigned from his leadership position on the Medical Board and as chair of the healthcare company's credentialing committee. "His remarks were and remain extremely divisive and have caused a great deal of hurt and concern among the medical staff, the Dallas-Fort Worth medical community and the entire country," said Floren's memo, reported D CEO Healthcare. "I wanted to assure you that the comments made by Dr. Tigges do not reflect the opinion or values of Texas Health Resources or Texas Health Presbyterian Hospital Plano.
Download X96's App