Round One
Boner Candidate #1: THIS REALLY HAPPENED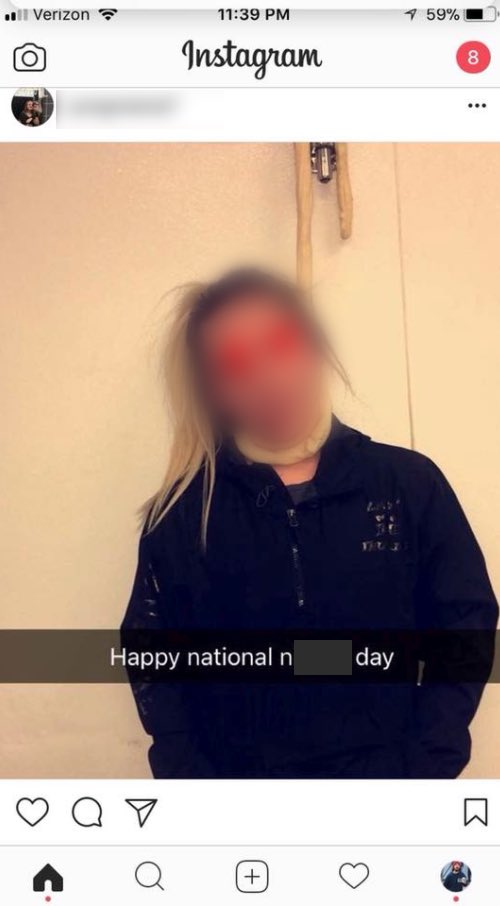 Members of the Hurricane community and Washington County School District officials are "disgusted" by an Instagram photo that was posted by two Hurricane High School students on Martin Luther King Jr. Day. The photo shows one of the female students pretending to hang herself, with "x" drawn onto her eyes and it captions "happy national ni**er day." Steven Dunham, Director of Public Relations with the school district tells 2News that action has been taken on these two students but they cannot say what those consequences are for now. "We have a safe school's policy and if they are not making other students feel safe in our own schools, in our own community, is significant in the punishments that they could face." Dunham said.
Boner Candidate #2: OMG!
A fisherman who jumped ship into bone-chilling water to dodge a speeding motorboat has filed a $372,500 lawsuit, alleging the other driver was distracted by his cellphone just before the dramatic crash caught on video. Bryan Maess filed the suit earlier this month against Marlin Lee Larsen, 75, over the Aug. 12 crash near the mouth of the Columbia River and the Pacific Ocean, the Oregonian reports. A GoPro camera mounted to Maess' 20-foot fishing boat captured the chaos in the seconds before Larsen's 31-foot motorboat crashes into the smaller, stationary vessel. A passenger on Maess' boat frantically waves his arms and repeatedly screams "Hey!" in a desperate attempt to get the driver's attention. "Oh my God," another passenger screams just before the trio leap into the chilly water. The video — which was later posted to Facebook — shows the moment the speeding motorboat plows into Maess' fishing vessel.
Boner Candidate #3: THAT'S ME AND MY UMBRELLA!
An umbrella sparked a scare at a Seattle-area hospital after it was mistaken for a rifle. KOMO reports an employee of Evergreen Medical Center in Kirkland, Washington, noticed a visitor Wednesday morning carrying a backpack that had a long-handled item sticking from the top of it. Evergreen Health spokeswoman Kay Taylor said surveillance video was reviewed but it wasn't clear what the object was. As a precaution the facility was locked down and the hospital sent out the surveillance photo. The man in the photo recognized himself and contacted hospital security to let them know it was an umbrella with a handle that's shaped like a sword.
Round Two
Boner Candidate #1: NO ONE HELPED
A man was stabbed to death in a Paris subway, as onlookers posted videos and photos of him on social media — rather than helping, local media reported. Andy Brigitte, 22, was killed by a man who flew into a rage after he was bumped at the Châtelet-Les Halles station Friday night. "No one lifted their finger to help Andy," the victim's distraught mom, Linda Brigitte, told French paper Le Parisien. "Today, social media is too present. No one came to my son's aid. Instead, they filmed it and shared it on social media," she added tearfully. Brigitte, a young mechanic and native of the Caribbean island Martinique was stabbed multiple times in the chest by an unidentified 33-year-old. As he laid in agony bleeding, other passengers posted videos of him on Snapchat and Twitter with the hashtag #chatelet, the outlet L'Obs reported. "This is horrible and inadmissible," said the victim's aunt, Betty Melinard. "What these people did is unforgivable.
Boner Candidate #2: SORRY BUT A RACIST RANT DOESN'T CUT IT
A student at the University of Alabama has been expelled from the school and kicked out of a sorority after she posted racist videos on social media in which she repeatedly used the n-word. Harley Barber, a 19-year-old New Jersey native, identified herself on Instagram as a member of the Alpha Phi sorority at the university in Tuscaloosa, where officials are now investigating the "ignorant and disturbing" remarks, AL.com reports. "These remarks are ignorant and disturbing and in no way reflect the values of The University of Alabama," university spokesman Chris Bryant said in a statement. "This unfortunate behavior has been reported to the Office of Student Conduct as it does not align with the community expectations of students at the Capstone." Barber has since said she's received threatening phone calls over her remarks and apologized. "I feel horrible," she said. "I feel so, so bad and I am so sorry." In Barber's first video, she appears to talk to a bathroom mirror after turning off the sink faucet. "We do not waste water," Barber said. "We don't waste water because of people in Syria. I love how I act like I love black people because I f–king hate n—–s. So, that's really interesting — I f—king hate n—–s, but I just saved the f–king n—–s by shutting that water off."
Boner Candidate #3: MAYBE HE DESERVED IT
New Orleans police say they are looking for a woman accused of punching a 12-year-old boy at a bus stop. Nola.com/The Times-Picayune reports that 35-year-old Carmenetta Brown is wanted regarding a simple battery of the juvenile. A New Orleans police news release says the boy was waiting at a bus stop last month. He told police he spotted Brown run up to him. Brown then reportedly punched the boy in the face. Authorities say the victim called his mother while Brown continued to taunt him.
Download X96's App