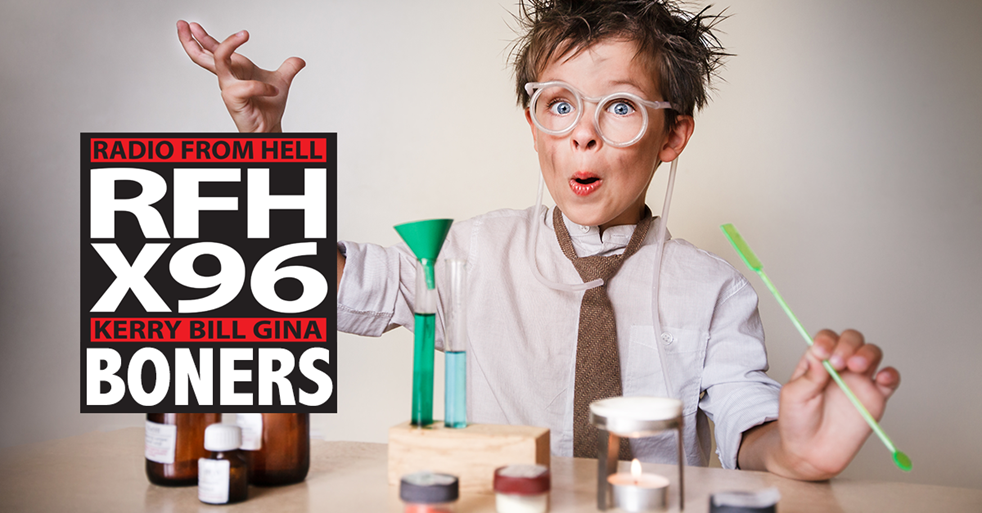 Round One
Boner Candidate #1: FREE ASS WHOOPINS'
A dad offering to spank kids who misbehave has stirred emotion on Facebook. (Photo: Facebook/Dwayne A. Stamper) A man who is offering to spank misbehaving kids has stirred up charged feelings on social media. On Tuesday, Dwayne A. Stamper Sr., a father-of-five in Muncie, Indiana posted a Facebook photo of himself sitting in his driveway with a cardboard sign that read, "Free αss whoopins," while holding a paddle. The caption read, "Parents, your kids need a whoopin? Summer can't end fast enough? Stop by, I'm set up! No kids over 13….They may whoop me."
Boner Candidate #2: BIGFOOT PORN. YEP, IT'S A THING.
Democrat Leslie Cockburn (left) and Republican Denver Riggleman will be going head-to-head in November in the battle for Virginia's 5th Congressional District. A Democratic candidate in a hotly contested U.S. House race in Virginia has accused her opponent of supporting white supremacists — oh, and also of liking Bigfoot porn. Democrat Leslie Cockburn sparked a Twitter frenzy on Sunday by sharing a curious drawing, apparently taken from Republican rival Denver Riggleman's Instagram page, showing a Bigfoot-like creature with its genitals obscured by a "censored" sign. Riggleman was "caught on camera campaigning with a white supremacist," Cockburn wrote in the tweet, referring to video showing her opponent hitting the campaign trail with Isaac Smith, co-founder of the white nationalist group Unity & Security for America.
Boner Candidate #3: THE FAKE DEATH CHALLENGE
*Two Stories, One Boner*
A southern Utah man who claimed he had been kidnapped in an apparent effort to collect ransom money has been charged. Earlier this month, James Darrell Clark, 57, of Cedar City, was charged in 5th District Court with communications fraud, a third-degree felony. In March, Clark contacted a woman who is his federal fiduciary and manages his finances, according to charging documents. Clark has a federal fiduciary because he is a military veteran. Clark claimed he was kidnapped by people whom he owed money, according to charging documents, "and that these individuals requested a ransom" in order for him to be returned, the charges state.
AND
A Thai man has faked his own death in a bid to get relatives to send money to cover funeral costs. Tachawit Janngiw had his wife post three photos of his "dead body" on Facebook on Sunday complete with cotton up his nose to add a touch of realism. "Last photo before deactivating his Facebook. Love you," she wrote, telling concerned friends that he died of both cancer and asthma. When people began asking why he had not previously displayed any symptoms of illness, she replied "pretended he was okay all along," the Coconuts Bangkok website reported. She then called her husband's mother, who lives in Lampang province, demanding cash. The grief-stricken family wired $590 to her to pay for a coffin and vehicle to take his body back to his hometown.
[polldaddy poll=10069118]
Round Two
Boner Candidate #1: THERE'S SOMETHING FISHY ABOUT THAT BABY.
Leon Valley police say a well-trained trio took Shark Week too far, stealing a horn shark from the San Antonio Aquarium Saturday afternoon. According to Leon Valley police Chief Joseph Salvaggio, the group stole the shark from an open pool where visitors are allowed to reach in and pet the various species in the tank. Two men and a woman are wanted in connection with the theft. Salvaggio said one of the men grabbed the shark by its tail while the others wrapped it in a wet blanket, went into a back room, put the shark in a bucket and put the bucket in the stroller. According to Jenny Spellman, the general manager of the San Antonio Aquarium, an employee noticed what was going on and immediately notified management. Spellman said the men went into a back room and put the shark into a San Antonio Aquarium bucket that had a bleach solution. She said that the bleach might have shocked the shark's system.
Boner Candidate #2: THERE'S STILL PLENTY OF ROOM IN HELL
St. George police arrested a woman who stole nearly $200,000 from the personal accounts of an armless man earlier this month. Nanci Wilson, 63, was arrested without warrant for second-degree felony theft and explotation of a vulnerable or elderly person. On July 12, St. George Police Department responded to a report of fraud and theft. They made contact with Tara Hamilton – the reporting person – and the victim Johannes Michalski – an arm-less painter. Police were advised that Nanci Baldwin, Michalski's caretaker, took a large amount of money from him using his personal accounts. It was determined after investigation that Baldwin knowingly and intentionally stole over $188,000 from Michalski's accounts. In an interview with Baldwin, she admitted to stealing the money from Michalski and couldn't account for where the money went.
Boner Candidate #3: YOUR LIFE HAS BEEN RUINED? TOO BAD.
Jeff Whitman drove two miles out of his way to follow a black man to his house and call him a "n***er" in a now-viral racist tirade caught on video. The consequences for his racism were immediate. Last week, Whitman — owner and operator of Uriah's Heating, Cooling, and Refrigeration — made the news for taking his road rage way too far. Charles Lovett, who lives in Columbus, recorded Whitman on his phone when the latter arrived outside of Lovett's house in his company truck, angry that Lovett didn't allow him to go straight in a right-turn-only lane. "Is there a reason why you just followed me to my house?" Lovett said as he exited his vehicle in his driveway. "I wanted to let you know how much of a n***er you are," Whitman said in the video, with his company name, phone number, and state contractor's license prominently displayed on his driver's side door.
[polldaddy poll=10069121]