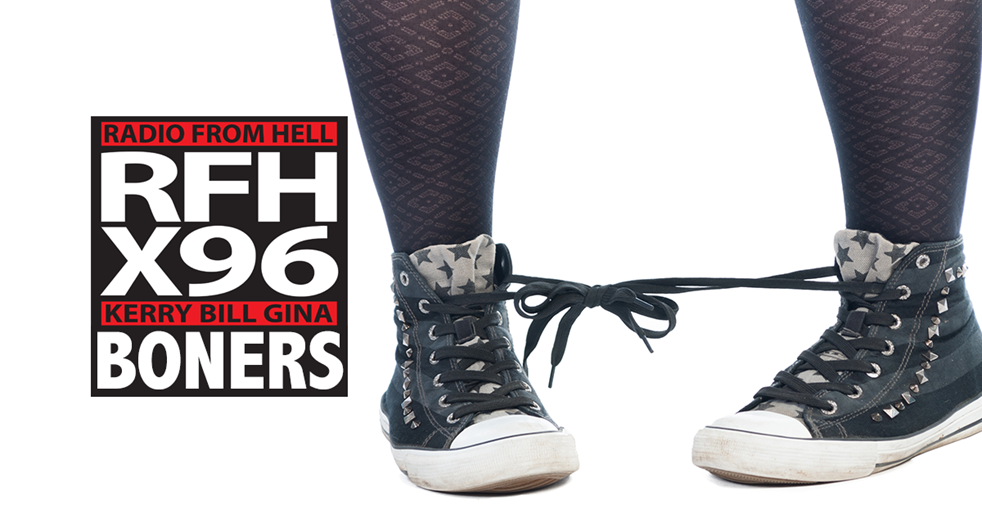 Round One
Boner Candidate #1: TANNING TROUBLES AT LITTLE GIGGLES.
January Neatherlin has pleaded guilty to abandoning children at her illegal day care center in Bend to visit a tanning salon. The Bend woman entered her guilty plea Wednesday morning in Deschutes County Circuit Court to 11 counts of first-degree criminal mistreatment and one count of third-degree assault. As part of her plea agreement, other charges were dropped. She had been facing 122 charges of first-degree criminal mischief, first-degree criminal mistreatment and recklessly endangering another person. The Deschutes County District Attorney's office is recommending a 35-year prison sentence. Neatherlin will be sentenced in March. Her guilty plea comes after a day-long settlement conference Tuesday. A four-week trial in April has been canceled. Neatherlin, 32, was arrested March 15 after police found seven children younger than 5 drugged and unattended at her Little Giggles Daycare in Bend while she was at a tanning salon.
Boner Candidate #2: ALL THAT AND THE SKUNK GOT AWAY
Authorities say a man destroyed a suburban Detroit home while trying to use a smoke bomb to rid a crawlspace of skunks. The Detroit Free Press reports the man's attempt sparked a fire Monday that quickly spread from the crawlspace to the first floor. The fire eventually spread through the walls and attic of the rental property. Ferndale Fire Chief Kevin P. Sullivan says the house was a complete loss. He says no skunk carcasses were found. Sullivan says the department advises that people hire pest control professionals for such work. But he says if someone is "an absolute die-hard do-it-yourselfer, please read and understand the directions and warning labels" on such devices.
Boner Candidate #3: SURE. THAT'S A REASONABLE RESPONSE TO A BITTER DIVORCE.
A Georgia woman who had recently lost her home to her ex-husband in a bitter divorce battle decided that if she couldn't live there, nobody could. According to Fox News, Adrienne Satterly stacked up mattresses in her living room and set them ablaze. The fire quickly spread out of control, burning down her home, and damaging 19 others in her neighborhood. WSB-TV reports that Satterly set the fire and then left the house with her two cats. Authorities say she walked for over an hour to a local Walmart, where she called 911 to report the fire. Her home was one of four houses that were destroyed, while 16 others suffered damage. Luckily, only one person was injured in the massive fire. "Despite the massive property damage, only one minor injury was reported," the Paulding Fire Department said. Police arrested Satterly, who was charged with 14 counts of first-degree arson and three counts of aggravated animal cruelty. Two dogs and one cat died as a result of the fire. Yolanda Woodland was the owner of the two dogs that died and said she is heartbroken. "I lost my two dogs, which is the hardest thing because material things can be replaced. But my dogs is my… that breaks my heart,"
Round Two
Boner Candidate #1: ALL RIGHT, ALL RIGHT, ALL RIGHT.
A suspected car thief tried to pass himself off as "Dazed and Confused" star Matthew McConaughey when Pennsylvania police found him Sunday, according to WTAE. Officers got a call about a suspicious person prowling outside of a home in Georges Township and ringing the doorbell, police said. When they got there, they allegedly found 46-year-old Troy Miller sitting in the resident's car. When asked for identification, Miller would only tell officers he was the 48-year-old Oscar winner and star of the "Dallas Buyers Club." Despite a rough resemblance, officers weren't fooled – police arrested Miller on charges of attempted theft of a motor vehicle, false identification to law enforcement authorities and loitering and prowling at night.
Boner Candidate #2: I JUST KNOW THEY'RE DEMOCRATS.
A Republican congresswoman from upstate New York said Wednesday that "many" people who commit mass murder turn out to be Democrats. U.S. Rep. Claudia Tenney made the remarks on Talk 1300 Radio during a discussion about calls for stricter gun control since last week's deadly Florida high school shooting. "Yeah, well, obviously there is a lot of politics in it, and it's interesting that so many of these people that commit the mass murders end up being Democrats, but the media doesn't talk about that either," Tenney told talk show host Fred Dicker. Tenney did not offer any evidence to support that statement. Democratic state Assemblyman Anthony Brindisi, who is opposing Tenney this fall, called her comments "disgusting" and "toxic" and urged her to apologize. Evan Lukaske, a spokesman for the Democratic Congressional Campaign Committee, said Tenney demonstrated "how completely unfit she is to serve in Congress." In a statement Wednesday night, Tenney said her comments were taken out of context. "I am fed up with the media and liberals attempting to politicize tragedies and demonize law-abiding gun owners and conservative Americans every time there is a horrible tragedy," she said.
Boner Candidate #3: I GOT BAD SERVICE SO I'M TAKING BACK SOME TIPS.
Police are looking to social media to help them catch a gray-haired bandit accused of stealing from a Lobster Trap tip jar in Bourne, Massachusetts. The older woman was standing near the jar at the takeout counter on Monday evening, worker Olivia Slayton told WBZ. "I turned around and I saw that her hand was near the top of the tip jar, but I wasn't sure so I didn't want to accuse her of anything," Slayton said to WBZ. The woman had ordered fish and chips and was waiting while restaurant workers buzzed around her. "I didn't even think twice as I was walking by," employee Lainie Hatch said. Employees remembered the woman was rude and complained about the service during her visit, but they did not notice that money was missing from the jar until later. When they did, they went to the surveillance tape for answers. In the surveillance footage, the woman is seen dipping her hand into the jar and pulling out cash at least three times.
Download X96's App