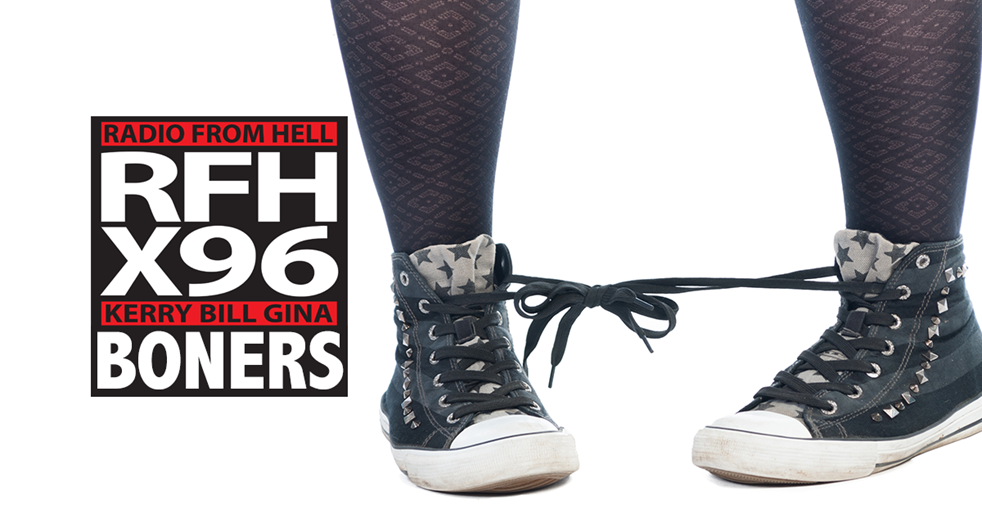 Round One
Boner Candidate #1: SO IT DIDN'T OCCUR TO ANYONE THAT THIS MIGHT BE OFFENSIVE?
A photo of a student who had painted his face black to impersonate an African-American figure sparked outrage among Miami Catholic school alumni after it was shared online. The photo was taken during a Black History Month celebration at St. Thomas the Apostle Catholic School in Miami, the Miami Herald reported. Fourth-grade students had been asked to dress up as famous African-Americans while presenting on them. A student who chose former Secretary of State Colin Powell wore "blackface" as part his costume. On Monday the school posted the photo on its website and social media accounts — triggering complaints from alumni. "I was pretty taken aback that not only did a student come to school dressed that way, it didn't occur to anybody that that's offensive, and it go to the point where they posted on a public online platform and nobody saw any issue with that," alum Victoria Freyre told the Miami Herald. Freyre slammed her alma mater for failing to immediately address the incident.
Boner Candidate #2: ROUGH AND TUMBLED MAYBE; STUPID FOR SURE.
In 2010 at a friend's party, strapping 19-year-old rugby player Sam Ballard swallowed a garden slug as a dare. A group of young friends were sitting around at a table drinking red wine when a slug was produced and one of them said: "Eat it, I dare you." Sam swallowed the slug. Prior to this, Ballard's mother, Katie, had thought her son was "invincible," that nothing could ever happen to him. She described him as "my rough-and-tumble Sam." But the teenager's life was to take a devastating turn. Sam, from Sydney, Australia's, north shore, fell ill and was taken to Royal North Shore Hospital where he was diagnosed as having been infected with rat lungworm. The worm is found in rodents, but snails or slugs can become infected when they eat the feces of rats with the parasite, known as Angiostrongylus cantonensis. While most people develop no symptoms, very rarely it causes an infection of the brain. Sam contracted eosinophilic meningo-encephalitis, which many people recover from and which Sam initially seemed to be rallying. But he then lapsed into a coma for 420 days and became a quadriplegic.
Boner Candidate #3: WE GOTTA GET THEM GAYS FIRST.
House Republicans effectively killed a bill Wednesday that would prohibit child marriages in Tennessee, citing an obscure legal theory that passing the bill could deter a conservative lawyer's case against gay marriage. The bill, sponsored by Rep. Darren Jernigan, D-Old Hickory, calls for the state to outlaw marriages where one of the parties is under 18 years of age. Jernigan, and Senate sponsor Sen. Jeff Yarbro, D-Nashville, pointed out a loophole in February that gives a judge discretion to grant marriage certificates to underage individuals with no minimum age limit. The national non-profit Unchained at Last has cited marriages in the state involving minors as young as 10 years old, but the state has disputed that figure. Jernigan and supporters of the bill contend the majority of child marriages involve a female minor and an adult male. Furthermore, supporters of the bill say these marriages face greater than average odds that the minor will be abused. But Republican lawmakers effectively killed the bill's chances during this legislative session when House Majority Leader Glen Casada, R-Franklin, made a motion to send the proposal to summer study in the House Civil Justice Subcommittee.
Round Two
Boner Candidate #1: MAN DRIVES_________CAR TO COURT TO FACE STOLEN CAR CHARGE.
Police say a man answering to a stolen car charge drove a stolen car to court in Connecticut. Authorities say 25-year-old Jonathan Rivera was at the Hartford Superior Court Wednesday to appear before a judge on a charge of first-degree larceny and tampering with a motor vehicle from February. Parking authority agents scanning license plates outside the courthouse found a car that had been reported stolen. Police kept an eye on the car, and they arrested Rivera when he got inside and tried to drive away. Rivera has been charged with second-degree larceny and taking a motor vehicle without the owner's permission.
Boner Candidate #2: ADULTS MAKE THE LAWS…AND THAT'S PERHAPS THE PROBLEM
Students from Marjory Stoneman Douglas High School have earned admiration from people across the country as they've stepped up to advocate for gun policy reform in the wake of the deadly mass shooting at their school ― but at least one Florida lawmaker isn't inspired by their passionate pleas for change. State Rep. Elizabeth Porter (R) on Tuesday criticized her colleagues who support the young activists. "We've been told that we need to listen to the children and do what the children ask," she said during a state House debate. "Are there any children on this floor? Are there any children making laws?"  "Do we allow the children to tell us that we should pass a law that says 'no homework'? Or you finish high school at the age of 12 just because they want it so? No," she added. "The adults make the laws because we have the age, we has [sic] the wisdom, and we have the experience. Meanwhile, college students participated in a "die-in" anti-gun protest at the state's Capitol Rotunda. Some held signs that said, "No armed teachers." The Florida state Senate passed a bill on Monday that would allow school staff, excluding most teachers, to carry firearms. It would also establish a mental health program for schools, raise the legal age for firearm purchases to 21 and introduce a three-day waiting period for such sales.
Boner Candidate #3: YOU DO THE BUTT GRABBIN' OVER THE CLOTHES AND YOU'RE OKAY.
Grabbing someone's buttocks, over the clothes, is not currently against the law in Minnesota. There's actually a specific exception that excludes "the intentional touching of the clothing covering the immediate area of the buttocks" from the state's sexual conduct statutes. On Wednesday, a state Senate committee unanimously approved getting rid of that exception, which would make grabbing the buttocks in an aggressive or sexual manner an offense of fifth-degree criminal sexual conduct. That's the same level of offense for groping other private parts, trying to pull off someone's undergarments, and masturbating or exposing oneself in front of a child younger than 16. A first offense would be a gross misdemeanor punishable by up to a year in prison and $3,000 fine, if convicted. A second offense could be upped to a felony punishable by up to seven years in prison and a $14,000 fine. The bipartisan proposal comes amid the continuing #MeToo movement, raising public awareness of sexual harassment against women, as well as two specific examples of male Minnesota lawmakers grabbing women's backsides.
Download X96's App