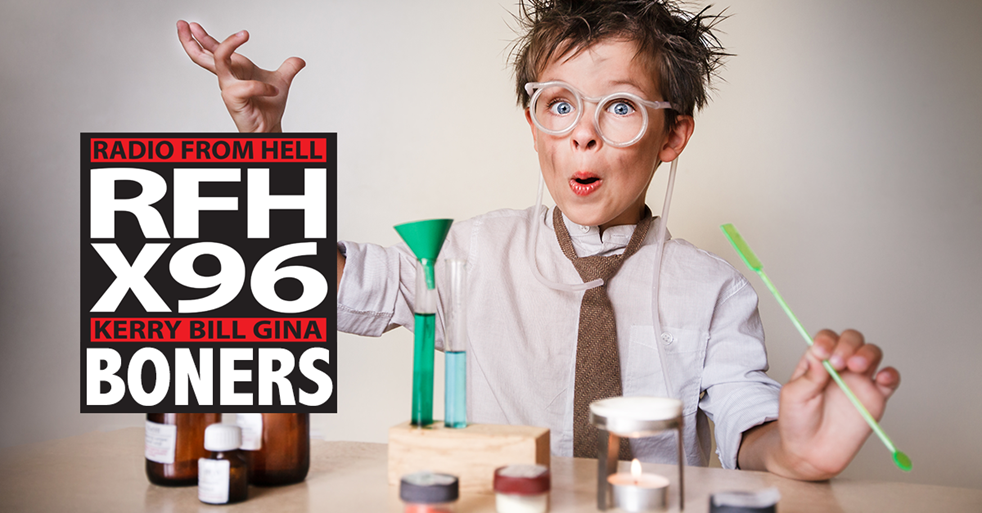 Round One
Boner Candidate #1: DOG PARK DEBBIE
BBQ Becky, eat your heart out. A white Massachusetts woman has gone viral for reportedly calling the cops on a black man because his dog was humping hers — at a dog park. "We got 'DOG PARK DEBBIE' in this mf," wrote one Twitter user in response to the Wednesday afternoon incident, which was partly caught on camera. Franklin Baxley, 42, posted cellphone footage on his Facebook page showing the woman — who has yet to be identified — freaking out over the doggy debauchery. "Why did this lady just call the cops on me claiming my dog 'assaulted' her dog when it tried to hump her dog," Baxley asked in a video caption. An employee at the dog park — located in Attleboro — can also be heard chiming in at one point, saying: "That's inappropriate for the dog park."
Boner Candidate #2: THERE'S NO BABY IN THERE
Doctors in the UK performed an emergency C-section on a 48-year-old crash victim who they mistakenly believed was pregnant. Adele Barbour died at the hospital in January 2018 after she attempted to turn right off a road and slammed into an oncoming car in Nettleham, Lincolnshire, Metro UK reported Thursday. Her scoliosis and spina bifida made her stomach appear swollen, leading paramedics to believe she was eight months pregnant, the outlet reported. East Midlands Ambulance Service informed Lincoln County Hospital that they were bringing in a woman who appeared to be in her late 30s and pregnant — so medics immediately prepared to save the "mother" and "unborn child," Lincolnshire Live reported. With her life on the line, doctors operated on her, according to the report. Coroner Marianne Johnson determined that their actions did not lead to her death.
Boner Candidate #3: GOT EM AGAIN BRO!
He was the pilot of a boat that was recorded on video dragging a shark by a rope at high speeds through the waters of Tampa Bay as his boat mates laughed. Another video clip showed Michael Wenzel aiming a handgun at a black tip shark and firing at its head. There was more laughter as blood poured from a hole near its gills. "Get it again," one of the men said. The unsettling images, circulated widely via social media, generated national headlines and riled animal rights advocates. There was even more outrage Thursday as Wenzel pleaded guilty to two misdemeanor charges in exchange for 10 days in jail and a probation sentence. "This is a privileged kid," said Marie Galbraith, a member of Florida Voices for Animals, who sat in the courtroom gallery. "This is a slap on the wrist."
Round Two
Boner Candidate #1: WELL HEY WE SPELLED FLORIDA RIGHT…DIDN'T WE?
Thanks to a repaving project the potholes on Curlew Road are gone, but the construction crew left two pesky little eyesores. "That's a bit ridiculous," said business owner Johan Vanzyl. They spelled St. Petersburg with an "e." The signs are up at Curlew Road and U.S. 19 in Dunedin Johan Vanzyl owns Curlew Travel Agency. He has to pass by the sign every day. "It was shocking," he said. He was really shocked when we told him the same mistake is on another sign on the other side of Curlew. That sign is in front of the Publix. "You would think they would check it before they even put it out," said driver Timothy Embry. The Florida Department of Transportation didn't know about the misspelling until ABC Action News called asking questions. Officials immediately sent a crew out to look at the sign Tuesday morning.
Boner Candidate #2: IF HE'D HAD A LICENSE HE STILL WOULD HAVE SHOT HIMSELF IN THE JUNK
An Indiana  man accidentally shot himself in his genitalia, according to the Marion Police Department. Deputy Chief Stephen Dorsey said officers came in contact with the 46-year-old man in the emergency room of Marion General Hospital shortly before 7 a.m. Thursday, according to WXIN. There, the man told officers  he was on a walkway near a Girl Scout cabin when the Hi Point 9mm handgun on his waist began to slip. The man said he reached down to adjust the gun, accidentally causing it to discharge.
Boner Candidate #3: I'M NOT A RACIST. SEND HIM BACK TO KENYA
After Rep. Mark Meadows defended himself against allegations of racism during a House committee meeting Wednesday, critics resurfaced two 2012 videos of the North Carolina Republican in which he vowed to send then-President Barack Obama "home to Kenya." The videos were shared by liberal commentators in response to an exchange between Meadows and Rep. Rashida Tlaib, D-Mich., during a hearing featuring President Donald Trump's former attorney Michael Cohen. Meadows invited Lynne Patton – a longtime Trump associate and current Housing and Urban Development official – to the hearing and referred to her while disputing Cohen's allegation that the president is a racist. "Just because someone has a person of color, a black person working for them, does not mean they aren't racist," Tlaib said. She added that the use of Patton as a political "prop" was "racism in itself."
Download X96's App