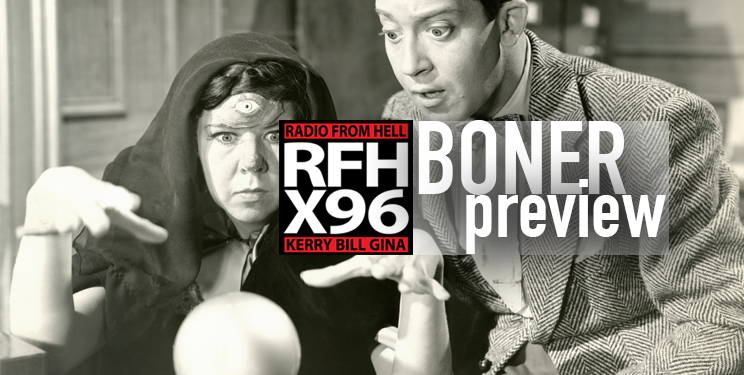 Boner Candidate #1: TRY IT THE RIGHT WAY FIRST
Four women are challenging a New Jersey law that they say unfairly targets same-sex couples hoping to conceive a child through fertility treatments. Erin and Marianne Krupa of Montclair, Sol Mejias of North Bergen, and Sarah Mills of Union City, filed suit on August 1 against Richard J. Badolato, the commissioner of the state Department of Banking and Insurance. According to the suit, the women were denied insurance coverage for their fertility treatments because of the wording of an N.J. law that requires women to prove their infertility not only through medical diagnosis, but through unprotected heterosexual sex.
Boner Candidate #2: I WAS TRYING TO TAKE CARE OF MOM
A 19-year-old man charged in New Mexico with having an incestuous relationship with his mother told authorities he believed he could take care of her and keep her safe from abusive men like those in her past, a criminal complaint states. Caleb Peterson's statement to police came after he and his mother Monica Mares were charged in February with incest. "Caleb felt if he was there to take care of her, she would not have to deal with abusive men anymore and he would take care of the household and his younger brothers," the complaint said.
Boner Candidate #3: I'M 71 AND I CAN SMACK ANYONE I WANT TO
A 71-year-old Billings woman was charged Thursday with a felony for allegedly slapping an unruly 4-year-old child in a restaurant parking lot. Beverly Ann Hardy was charged in Yellowstone County Justice Court with felony assault on a minor for a June 9 incident outside the Perkins restaurant on North 27th Street. According to court records, Darla Edwards called police shortly before 11 a.m. to report that an elderly woman she did not know approached her 4-year-old foster son, slapped him across the face and then yelled at him that he would be going to jail.
Boner Candidate #4: IT'S NOT LIKE A LITTLE MAKE UP WOULD HURT THESE OLYMPIANS.
Thanks to the folks at Fox News, the world has been provided with another round of idle, misinformed musings about the way women should look. Sports Court tapped Bo Dietl and Mark Simone to air their opinions on whether or not female athletes should feel empowered by wearing makeup, and the conversation was as cringeworthy as you could imagine. Simone, a radio and TV personality (Donald Trump is a big fan) argued that women should wear makeup in order to get sponsorships from makeup brands.
Boner Candidate #5: NOW, WHICH RELIGION IS THE VIOLENT ONE?
Leaders of the Masjid al-Sahaabah mosque in Watauga, Tex., have grown accustomed to receiving several threatening voice mails on their answering machine each week. Normally, the messages are deleted and quickly forgotten at the mosque near Fort Worth. But a message that arrived one recent afternoon was different. The caller identified himself as a local Army veteran and a Christian who was "armed to the teeth." Referring to Islam as a "violent religion," he accused Muslims of trying to import sharia law to the United States and called for "another Christian crusade."
Boner Candidate #6: GRINDR BAITING AT THE OLYMPICS
On Thursday morning, the Daily Beast published an exceedingly gross and bizarre article by a straight, married male writer who lured in gay Olympians through hookup apps for no particular purpose. The entire piece is an astoundingly creepy exercise in Grindr-baiting, which involves a journalist accessing Grindr in an unlikely setting and … seeing what happens. But the Daily Beast piece, penned by Nico Hines, is a uniquely disgusting and irresponsible entry into the tired genre.
Download X96's App