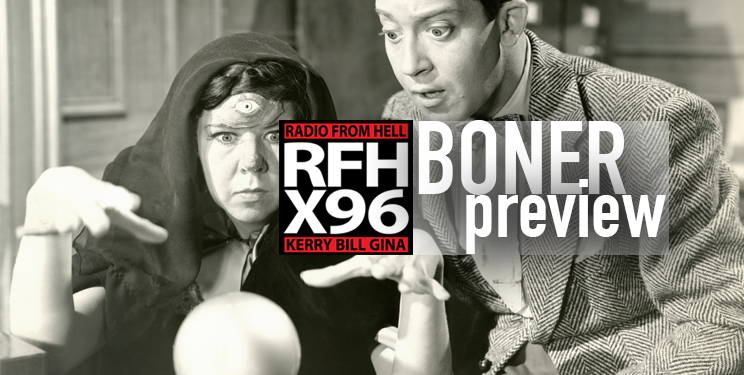 Boner Candidate #1: AS YOU MIGHT HAVE GUESSED…POKEMON GO COMES FROM SATAN
On Monday, "Trunews" host Rick Wiles recounted a story about how he called the police after seeing a man taking photos of his office building, only to discover that the suspicious man was simply playing Pokémon Go on his phone. Wiles, however, said that something sinister is afoot, warning that "these Pokémon creatures are like virtual, cyber-demons" and that "what this man, Friday, was trying to find was the Pokémon demon that had been placed inside the 'Trunews' office."
Boner Candidate #2: YOU DON'T APPRECIATE MY CARE, DO YOU MOTHER?
A Utah woman is facing criminal charges after police said she drained her mother's bank account and locked the elderly woman inside their home with chains on the doors. Salt Lake County prosecutors on Wednesday charged Karen R. Stevens, 68, of Sandy, with one count each of second-degree felony exploitation of a vulnerable adult and class A misdemeanor abuse of a vulnerable adult. The charges carry possible punishments of up to 15 years in prison and one year in jail, respectively.
Boner Candidate #3: EXTERNAL FORCES (THE DEVIL) MADE ME DO IT
Josh Duggar may — or maybe not, depending on the source — be returning to his family's TLC reality show. The prolific evangelical family is hurting for money, despite their occasional and flagrant abuse of free-food giveaways at fast-food joints, so they're at least considering cashing in their eldest son's molestation and adultery scandals for TV ratings. "Josh will appear on the next season of his sisters' series," a source told  InTouch. "The plan is for him to address everything he's done. What he has to say will be ratings gold, and TLC — and the Duggars — know it."
Boner Candidate #4: DON'T WORRY, THIS IS CIRCLE RIVER
MUSKEGON COUNTY, MI – They left for what they thought would be an easy float down Muskegon River Tuesday afternoon – but ended up spending the night on the river bank, scared and yelling for help. The trio of young women were rescued 20 hours later after a fisherman eventually heard their cries, said Muskegon Township Deputy Fire Chief Bob Grabinski. The women, all in their 20s, had never been tubing before and decided it would be a fun thing to do, Grabinski said. So  they bought some tubes and headed to the popular launch site at the Maple Island Road bridge, Grabinski said.
Boner Candidate #5: IT WAS THE WEAPON HE HAD AT HAND
A man accused of robbing a bank in southwest Florida covered himself in feces and threw it at deputies, according to the Lee County Sheriff's Office. Dravion Hampleton, 25, was arrested Tuesday after deputies said he robbed a bank. While at the Lee County Sheriff's Office, Hampleton asked to use the restroom, according to an arrest report. Deputies said he later emerged from the restroom covered in his own feces and threw it at them. According to the report, Hampleton tried to kick and pull away from deputies while he was being escorted into the back of a patrol car.
Boner Candidate #6: THIS IS FREDDY, MY BRAIN.
A central Pennsylvania man was charged Thursday after police say he sprayed fluid used to embalm a human brain on marijuana that he then smoked. State police in Carlisle charged 26-year-old Joshua Lee Long with abuse of a corpse and conspiracy. Court records indicate Long's aunt contacted detectives on June 21 after finding a human brain in a department store bag under a porch while cleaning out a trailer. Long allegedly told her during a phone conversation from the Cumberland County jail that he used the formaldehyde-soaked pot to get high.
Download X96's App