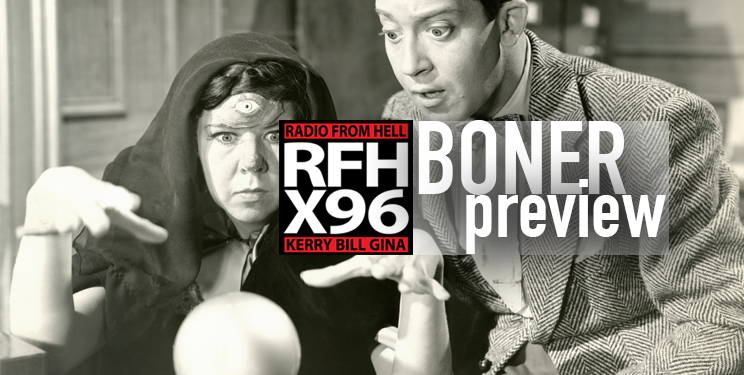 Boner Candidate #1: IT'S ALL PART OF OUR SECURITY MEASURES
Port of Seattle police say they caught a TSA agent at Sea-Tac airport taking up-skirt shots with his phone on Tuesday. Port of Seattle detectives and a Transportation Security Administration special agent conducted surveillance on a 29-year-old TSA agent at the airport after receiving information that he may have taken pictures up passengers' skirts without their knowledge, according to arrest reports. The agent took a break from a security checkpoint about 11:15 a.m. and headed down the escalators to the north train level, reports indicate.
Boner Candidate #2: I THOUGHT THAT WAS OFF THE RECORD
A county official in Ohio is apologizing after a newspaper quoted him as saying that Democratic presidential candidate Hillary Clinton "should be hanging from a tree." Licking County Commissioner Duane Flowers read a prepared apology during a meeting on Thursday, after The (Newark) Advocate reported on the comment he made during a meeting earlier this week.
Boner Candidate #3: NEEDS TO BE COOKED BEFORE IT'S CONSUMED
The strong smell caused by a man cooking urine has prompted the evacuation of an apartment building in Massachusetts. Police responded to the Amherst apartment complex Wednesday afternoon after the manager found several unmarked glass containers containing liquids in an apartment. Fire officials say the manager had received a complaint of a pungent odor.
Boner Candidate #4: RIGHT UNDER THEIR NOSES
A man held an 81-year-old Marine Corps veteran hostage in his squalid motel room for at least four years in order to steal his benefit checks, authorities said Thursday. Perry Coniglio was arrested Tuesday in his room adjoining the victim's at a motel in Highlands. The motel sits next door to the police station in the Hudson Valley town, about 50 miles north of New York City. Coniglio, 43, used brute force and intimidation to get the mentally diminished veteran to cooperate with him, police said. The elderly man has advanced dementia, according to police.
Boner Candidate #5: STEALING FROM THE DEAD
Police in Tennessee say a woman stole the wallet from a crash victim, then used his credit card at a convenience store instead of calling 911. Brittney McCoy, 26, of Greenbrier, was arrested last week and charged with burglary, tampering with evidence, theft of property and fraudulent use of a credit card. Police say McCoy was the first person to spot the July 1 pickup truck crash outside her home.
Boner Candidate #6: HOW DARE YOU LIKE MY HAT
A man who was complimented on his ball cap was charged with 13 felonies Wednesday for allegedly opening fire on the man who complimented him, according to charging documents. Aldo Gonzalez, 25, of South Jordan, who goes the by street moniker Doughboy, was charged in 3rd District Court with 10 counts of illegal discharge of a firearm, a third-degree felony; possession of a firearm by a restricted person, a second-degree felony; fleeing, a third-degree felony; failing to stop at the command of a law enforcer, a class A misdemeanor; and possession of counterfeit labeling tools, a third-degree felony.
Download X96's App