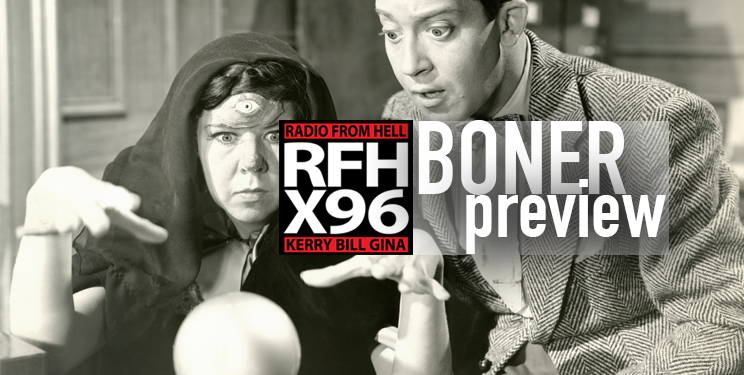 Boner Preview #1: SO WHY WOULD YOU PUNCH A DOLL?
A man punched a newborn baby in the head in Tesco – then claimed he thought the baby was a doll. Five-day-old Elsie Rose Temple was rushed to hospital in an ambulance, but is not believed to have been seriously injured. Proud mum Amy Duckers was showing off her new baby at the supermarket in Wythenshawe, near Manchester, when the man attacked. She told the Manchester Evening News: 'We all heard the punch land on my little baby. We didn't react at first as we were just so shocked. Then I just screamed. 'He could easily have killed her.'
Boner Preview #2: WE ARE A VERY CLOSE FAMILY
A woman and her daughter are facing incest charges after authorities learned the pair were legally married in Oklahoma this year, and that the mother had married her son a few years earlier.
Boner Preview #3: JUGALOS ARE FOREVER
A Wisconsin man is accused of severing a woman's finger as part of a ritual to commemorate a fellow rap music fan.
Boner Preview #4: EXPLODING SCUBA BONG REMOVES MAN'S TESTICLES
A 29-year old Calgary local has suffered extensive injuries to his lower body after an unconventional attempt to 'fill a scuba tank with weed smoke' failed spectacularly last Thursday night. According to the testimony of several witnesses, Robert Palmer had consumed a copious quantity of alcohol before making the decision to demonstrate the home-made device.
Boner Preview #5:ROUGH AND TUMBLE POLITICS IN LOGAN
Boner Preview #6: A LITTLE BIT OF WOO WOO IN FRONT OF THE WAWA
Customers at a Pennsylvania Wawa store got an eyeful in the parking lot as Pa. State Police say an intoxicated naked woman was caught performing a 'lewd act' with another woman inside a parked car with its windows down. Our sister website, LehighValleyLive.com, reports that 25-year-old Samantha Dier, of Allentown, is accused of performing a sex act with another woman in the car parked outside of a Wawa convenience store in Lehigh County.
[polldaddy poll=9516256]