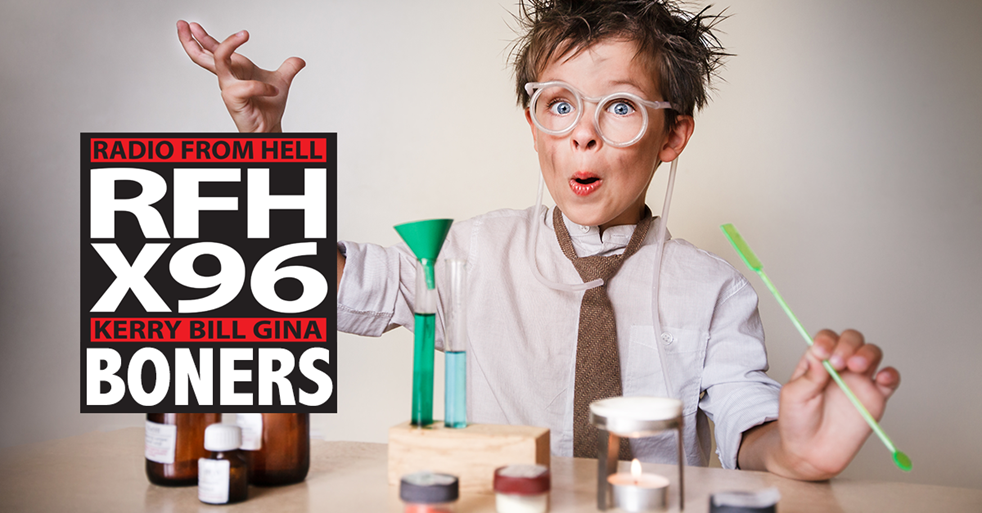 ROUND ONE
BONER CANDIDATE #1: HE'S RIGHT. THE WORLD IS LAUGHING AT US/I MEANT TO DO THAT
President Donald Trump poured scorn on the "ideology of globalism" and heaped praise on his own administration's achievements Tuesday in a speech to the U.N. General Assembly that drew headshakes and even mocking laughter from his audience of fellow world leaders. "The U.S. will not tell you how to live and work or worship," Trump said as he unapologetically promoted his "America First" agenda. "We only ask that you honor our sovereignty in return." Speaking in triumphal terms, Trump approached his address to the world body as something of an annual report to the world on his country's progress since his inauguration. He showcased strong economic numbers, declared that the U.S. military is "more powerful than it has ever been before" and crowed that in "less than two years, my administration has accomplished more than almost any administration in the history of our country."
President Donald Trump is playing off Tuesday morning's embarrassing moment — in which he was laughed at by the United Nations General Assembly — by saying he totally meant it as a joke. On Tuesday afternoon, between events at the UN, Trump briefly chatted with reporters and he dropped this nugget, apparently confusing the concepts of "laughing at" and "laughing with." On the one hand, that is a pretty even-keeled response from someone as tantrum-prone as Trump. On the other, it's a lie. If you watch the speech, immediately following the line that got the laugh, Trump says, "Didn't expect that reaction, but that's okay." So clearly not what you'd say if you'd just told an intentional joke.
BONER CANDIDATE #2: YOU WILL NOT GET ANYWHERE NEAR BABY MINE
A shocked visitor to a zoo in Denmark captured video of a man who climbed into the elephant enclosure, prompting an aggressive response from the animals. The video shows a man in the elephant enclosure at the Copenhagen Zoo on Thursday attempt to approach the elephants, leading the animals to form a protective barrier between him and a calf. The elephants stamp aggressively as a warning toward the man, who initially does not seem worried by their behavior. The pachyderms eventually chase the man out of the enclosure and he flees the area before he can be detained by zoo security.
BONER CANDIDATE #3: WHERE'S THE MIRACLE WHIP?
Florida man accused of breaking into home, going through refrigerator. 
St. Augustine police arrested a man after another man reported seeing him on camera going through his refrigerator.
The victim told police he was asleep at his home on Joiner Street on Monday around 8:30 a.m. when he woken up by a noise.
When he checked his camera system on his phone, he saw a man he didn't know going through his refrigerator, police said.
He called 911 and gave officers a description of the suspect.
Officers located him and arrested him on suspicion of burglary.
He was taken to the St. Johns County jail.
According to the report, there were no signs of forced entry to the victim's home.
ROUND TWO
BONER CANDIDATE #1: THIS WAS MERELY A CONTROLLED SOCIAL EXPERIMENT.
A Chicago couple tried explaining why they put their 2-year-old son inside the trunk of a car – insisting they're "good parents" who were merely conducting a controlled social experiment. Boguslaw Matlak, 28, was charged with misdemeanor child endangerment on Sept. 2 after putting his son inside the locked trunk of his car while parked outside of Panera Bread in Norridge. But Matlak claims he concocted the questionable scene "just to send awareness to other people" to spring into action if a child is visibly in danger. "When people see something wrong, they won't get involved," Matlak told the Chicago Tribune. "And when it comes down to kids, it's everybody's business to get involved." Matlak said he got the idea about two weeks earlier when spotting a couple smoking inside a parked car with a young child. That prompted him to set up the staged scene in which he was hoping to entice a good Samaritan to potentially save the day as his son would appear to be locked inside the trunk — although the rear seat was pushed down to allow the boy a way out to reach his mother in the backseat, Matlak said.
BONER CANDIDATE #2: WE HAVE A NO ZERO POLICY
A Florida history teacher says she was fired for refusing to give half-credit to students who didn't turn in their assignments. Diane Tirado says her school along Florida's Treasure Coast had a "no zero" policy, requiring teachers to give students no less than a 50-percent grade on assignments. Tirado tells television station WPTV that she was fired in mid-September when she refused to follow the policy after several students didn't turn in a homework project. No specific cause was given in her termination letter from the principal at West Gate school, since Tirado was still on probation having been recently hired. The principal deferred comment to the school district. A spokeswoman for St. Lucie Public Schools says there is no district policy prohibiting teachers from giving a grade of zero.
BONER CANDIDATE #3: WHY DID THE BABY CROSS THE ROAD?
A motorist spotted an infant boy crawling across a busy street in New Jersey on Saturday and stopped in time to bring the child to safety, according to WPIX. Corey Cannon, 43, of Eatontown, said he was on his way to work when he saw a child on all fours who had just crossed the yellow double line. "I thought it was a toy or something until (the baby) moved," he told Asbury Park Press in a message. "I knew I needed to get some sort of proof and my GPS was open on my phone, so I used my work vehicle to slow down traffic behind me and took the pic as I was exiting the vehicle and halting oncoming cars." Cannon got out of his car and secured the child on Joe Parker Road in Lakewood around 6 p.m., then he called 911, police said. When officers arrived, Cannon told police that while he was tending to the child, a neighbor came by to pick up the boy and return him home. Officers found that the infant's parents did not realize he was missing until the neighbor returned the baby to his home. According to the Asbury Park Press, a woman at that residence where the baby lived said "it was an accident."
Download X96's App