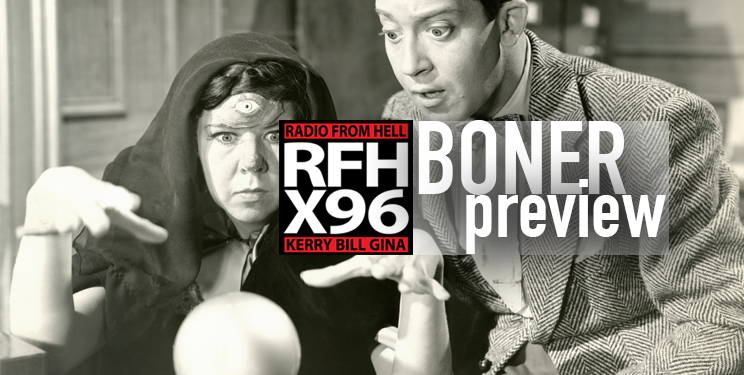 Boner Candidate #1: I HAVE A COLLECTION OF BIG FOOT HAIRS.
The head of the University of New Mexico's Gallup campus is under fire for spending money on Bigfoot-related pursuits. UNM Gallup's Executive Director Dr. Christopher Dyer organized a two-day, on-campus Bigfoot conference in February followed by a Bigfoot expedition, costing taxpayers more than $7,000, KRQE-TV reported (http://bit.ly/2e2e9g7 ). "It was the largest and most well-attended event in the history of this campus," Dyer said.
Boner Candidate #2: SPORTS BUILDS CHARACTER AT HARVARD TOO.
Harvard University has suspended its men's soccer team after players made sexual comments about members of the women's team. A document uncovered by Harvard's student newspaper included ratings of the attractiveness of female players as well as sexually explicit comments. University President Drew Faust called the behaviour "appalling".
Boner Candidate #3: LOOKIE HERE! IT'S BIONIC!
Kurt Jenkins 56 was arrested Oct 31 after police allegedly saw him driving naked through a Florida neighborhood with electrical wires protruding from his penis. Police in Boynton Beach, Florida, arrested a man Halloween who was allegedly driving his car completely naked. Well, naked except for the electrical wires protruding from his penis, according to WPBF. A witness called police Monday night after he saw the allegedly naked man driving a Toyota slowly through a neighborhood. The suspect, later identified as 56-year-old Kurt Jenkins, allegedly drove by the witness and gestured at his own groin area.
Boner Candidate #4: THE GREAT NUGGET CAPER.
Justice has been served for a Farragut High School student after his suspension for buying an extra chicken nugget in the lunch line was overturned. Carson Koller received the one-day suspension on Monday for buying the extra nugget. Koller — a senior, Eagle Scout and the captain of the band's drum line — was suspended for theft of property after he took six chicken nuggets from the lunch line instead of the usual five, to his mother's outrage.
Boner Candidate #5: I AM TIRED OF YOU, NOISY LITTLE BOY.
A fed-up second-grade teacher told a student she was "tired" of him — and then punched him in the face and sat on him, authorities said. Lisa Allison is accused of attacking the boy at the Landis Elementary School in Houston, Texas, earlier this month, KTRK-TV reported. Allison, 48, told school police that she asked the boy to leave the classroom because he was making noise, according to court documents. Once out in the hallway, the child kicked in lockers, the documents show.
Boner Candidate #6: I WAS TRYING TO MAKE A POINT IN BLACKFACE
A white University of Oregon law professor is under fire for showing up at a Halloween shindig this week in blackface. Professor Nancy Shurtz donned the offensive getup in a bid to appear as Dr. Damon Tweedy, author of a best-selling book about the lack of diversity in medicine, "Black Man in White Coat: A Doctor's Reflection on Race and Medicine." In a note to students, Shurtz claimed she wore the makeup in hopes of making a point about racism in the medical field, the Eugene Register-Guard newspaper reported.
Download X96's App