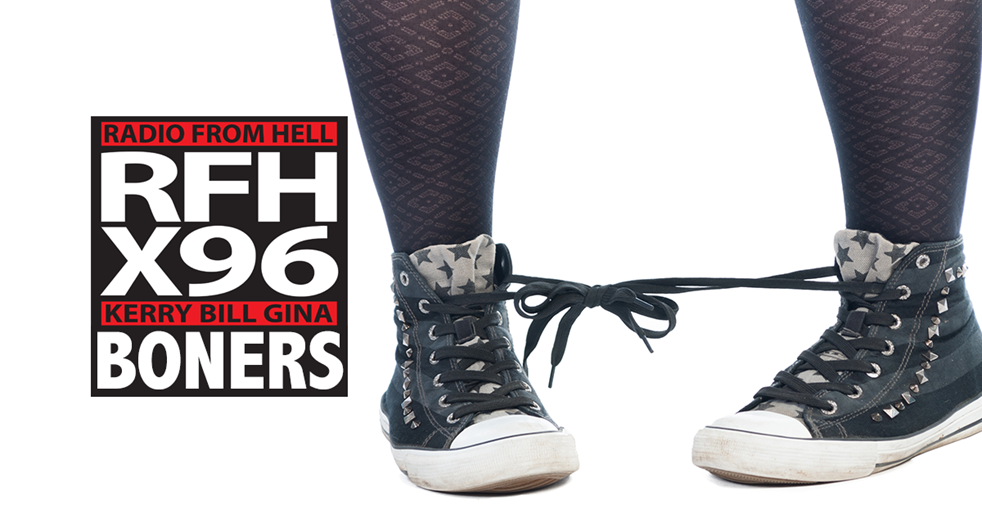 Round One
Boner Candidate #1: NURSING HOMES ARE WORSE THAN PRISON!
A 92-year-old woman allegedly killed her son in Arizona because she did not want to be sent to an assisted living facility, authorities said. Anna Mae Blessing was charged with first degree murder, aggravated assault and kidnapping after authorities found her 72-year-old son dead Monday at their home in Fountain Hills, Maricopa County Sheriff's Office said. Blessing hid two pistols in the pockets of her robe and shot her son several times in his bedroom, the sheriff's office said in a statement. Her son's girlfriend was also in the room and said she heard Blessing telling her son she was tired of the way he treated her, court documents said.
Boner Candidate #2: THIS STORK NEEDS A NEW DATA PLAN
According to official broadcaster Radio Poland, the environmental EcoLogic Group placed a tracker on the back of a white stork last year to track the bird's migratory habits. It travelled some 3,700 miles (6,000kms), and was traced to the Blue Nile Valley in eastern Sudan before the charity lost contact. EcoLogic told the Super Express newspaper that somebody found the tracker in Sudan, removed the sim card and put it in their own phone, where they then racked up 20 hours' worth of phone calls. Radio Poland says that the organisation has received a phone bill of over 10,000 Polish zloty ($2,700; £2,064), which it will have to pay.
Boner Candidate #3: SNOW, RAIN, DARK OF NIGHT NUDITY…
Rush hour traffic along Crowchild Trail S.W. was disrupted Wednesday afternoon when a naked man driving a Canada Post truck hit several vehicles before running into a convenience store. According to Calgary police, the call came in shortly before 5 p.m. when several people reported the Canada Post vehicle driving erratically along Crowchild Trail south of Glenmore Trail. The vehicle allegedly struck up to eight vehicles before the driver exited the Canada Post truck and went into a nearby convenience store. The driver, described as a white male in his mid-20s, was not wearing any clothing. The man was taken into custody soon after exiting the convenience store and EMS was called to assess his condition. It's not known whether the driver is an employee of Canada Post or whether the vehicle was stolen.
Round Two
Boner Candidate #1: HOW DO YOU KNOW FIREFLIES AREN'T ALIENS, DUDE?
A couple in central Pennsylvania did a bunch of BATH SALTS last Friday and convinced themselves they were about to be abducted by ALIENS. They saw tiny lights blinking in the sky and thought they were alien laser beams that were somehow tracking them. So the guy pulled out a GUN and fired it into the air. Then they started banging on people's doors, asking them to call 911, because they were being followed. So someone did. The cops showed up and were able to confirm they WEREN'T being followed by aliens. It turned out the lights they saw in the sky were actually . . . fireflies. 30-year-old Jesse Shields and 22-year-old Katherine McCloskey are both now facing drug charges.
Boner Candidate #2: IT'S NOT LIKE WE MAKE LAWS OR ANYTHING!!!
Senate Majority Leader Mitch McConnell (R-Ky.) said Tuesday he doesn't believe Congress has much power to stop school shootings. The Lexington Herald-Leader reported that McConnell addressed the issue with a group of community leaders in Danville, Ky., where he said the federal government can't do much besides appropriate funds. "You would think, given how much it takes to get on an American plane or given how much it takes to get into courthouses, that this might be something that we could achieve, but I don't think we could do that from Washington. I think it's basically a local decision," McConnell said.
Boner Candidate #3: DOES BUTTERBALL HAVE A MUG SHOT?
A Hudson Valley man called "Butterball" is accused of beating a man at a gas station with wine bottles and more. On Thursday, 46-year-old James E. Martin, aka "Butterball," of Monticello was charged with assault and criminal possession of a weapon, felonies. Around 8:30 a.m., Monticello police responded to a report of an assault victim at the Broadway Mobil mart in the Village of Monticello. Police found a 30-year-old Monticello man bleeding from a cut to the head. He was taken to a local hospital for treatment. Officers reviewed video surveillance which showed the victim standing at the store counter when Martin came up from behind and struck the victim in the head with a bottle of soda, police say.
Download X96's App