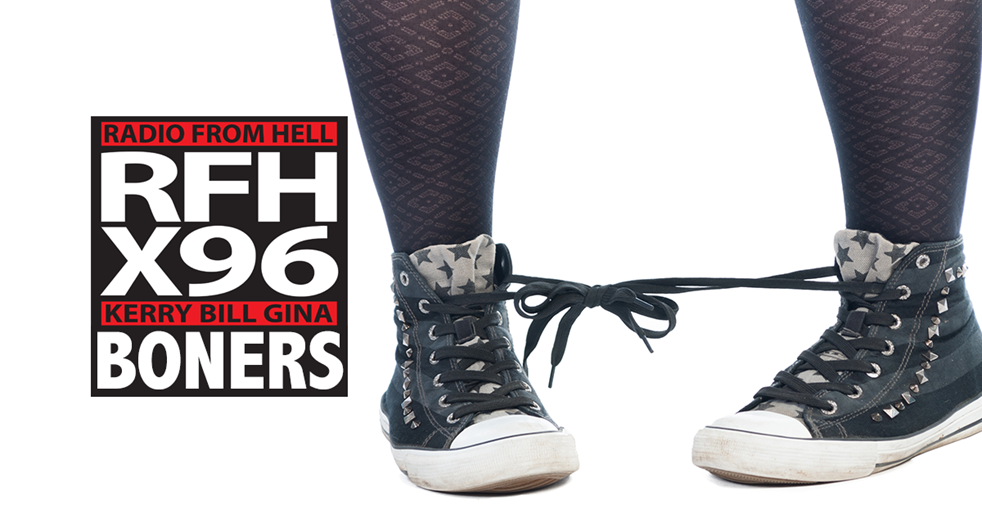 Round One
Boner Candidate #1: I WANTED TO BE THE FUN BUS DRIVER.
A Minnesota school bus driver sent text messages and looked up "your mama" jokes on her phone while transporting children, authorities said. Brenda Carsten, 39, is facing 15 separate charges, including reckless driving and other traffic offenses, in Anoka County District Court after a parent complained about her distracted driving during her route in Blaine, the Star Tribune reports. Carsten, according to video and an audio recording taken on the bus in February, was not wearing a seatbelt at the time and swerved throughout traffic lanes. She also allowed children to move freely about the bus and shared details of her personal life with students, including an "inappropriate life lesson" that contained profanities, according to a complaint filed by the Blaine City Attorney's Office.
Boner Candidate #2: I BOUGHT IT. I MEAN SOMEONE GAVE IT TO ME. CAN I HAVE A RIDE?
When Tayvon Wilson appeared in Columbus Recorder's Court Tuesday morning, he had four prior convictions for shoplifting. Wilson, 24, is facing his fifth such charge that Columbus police outline during the court hearing. A strange set of circumstances on Thursday led to Wilson's arrest in front of the south Columbus police precinct, according to court testimony. That morning police were called to the South Columbus Public Library where they found Wilson punching a tree, officer Matt Barton said. Columbus Fire and EMS were called to the scene, where Wilson was treated for cuts to his hand.
Boner Candidate #3: HE WAS COMING RIGHT AT ME.
Video shows a deputy fatally shooting a groundhog on a Maryland roadway. Carroll County Sheriff's Office spokesman Cpl. Jon Light says the deputy spotted the animal in the roadway creating a traffic hazard Sunday and exited his patrol car. News outlets report video shows the deputy appearing to back away at times from the groundhog and approach it. The animal walks and then stops. The deputy backs up as the groundhog comes toward him, kneels and shoots it.
Round Two
Boner Candidate #1: THE CHARITY CORNHOLE BRAWL
Being in the Georgia heat makes people do crazy things. One of those things, apparently, is fighting over cornhole. In Douglas County, an Atlanta suburb, the Chamber of Commerce was putting on its seventh annual fundraiser to benefit high school students in the county. Where it messed up was setting a $500 prize. That was apparently too much for people to keep their cool over. A brawl broke out on the cornhole grounds, and punches were thrown. The video itself is amazing. Without a doubt, the best part of this cell-phone video is the woman over the loudspeaker announcing that she will turn this tournament around. "IT IS A CORNHOLE TOURNAMENT FUNDRAISER. CUT THE CRAP."
Boner Candidate #2: THE BABY SMELLED LIKE BEER.
The FOX 8 I-Team has exclusive body camera video showing police finding a baby in serious danger, even though she was with her mother. Officers say the baby's mom was driving drunk and failed to properly restrain the 3-month-old girl in a car seat. "The officers found the baby in the back seat of the car not restrained," said Sgt. Kevin Youskievicz of the Sandusky Police Department. Police say baby 'smelled like beer' during traffic stop.
Boner Candidate #3: MY KIDS LOOK FORWARD TO PRINCIPAL BROWN'S SPANKINGS.
An elementary school principal in North Texas is discontinuing her tradition of "birthday spankings" to students after parents complained. KTVT-TV reports that Alvord Independent School District Superintendent Randy Brown released a Tuesday statement announcing an end to the spankings at Alvord Elementary School. Brown says the district received two complaints about Principal Bridget Williams' tradition. Brown expressed support for the practice. He says Williams decided "on her own account" to discontinue the celebratory spankings after eight years. Brown says Williams will still give students a hug or a high five on their birthdays.
Download X96's App