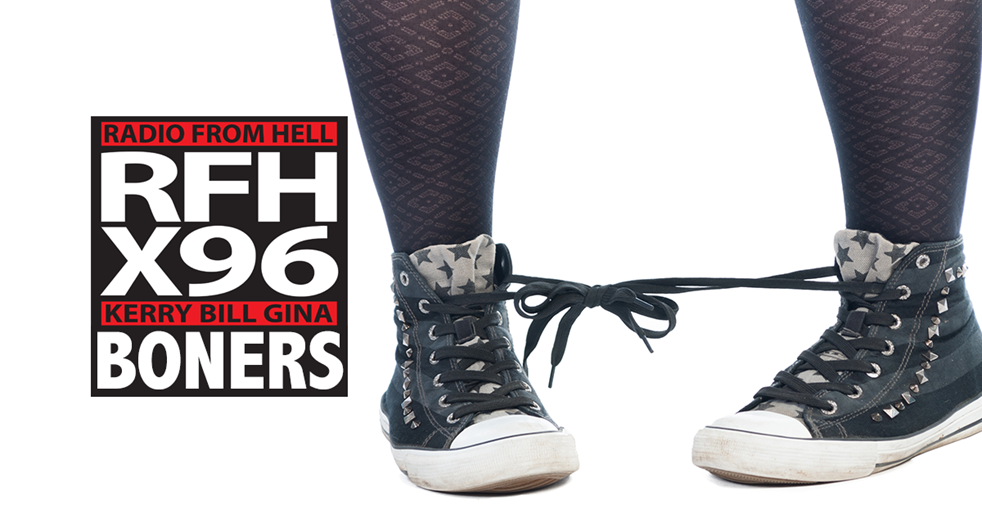 Round One
Boner Candidate #1: I THOUGHT IT WAS A TRAINING EXERCISE.
The driver of a Greyhound bus involved in a pursuit across the state line in January, during which a man prosecutors say was in the country illegally threatened to kill passengers is now facing a felony charge of his own. Daniel Mengestu, 46, of St. Paul, Minnesota faces one count of attempting to flee or elude a traffic officer for the incident that happened on Jan. 12. A criminal complaint says deputies with the Racine County Sheriff's Office attempted to stop the Greyhound bus as it traveled southbound on I-94 into Racine County — following the bus, which failed to stop through Kenosha County and into Illinois, where it finally stopped — 2.25 miles into Illinois. The complaint says deputies' squads had their lights and sirens activated, and the deputies were joined by Wisconsin State Patrol troopers and deputies with the Kenosha County Sheriff's Department.
Boner Candidate #2: IT WAS A SIGN FROM GOD THAT I SHOULD FIRE UP A BLUNT WITH TRUMP
A 27-year-old man told deputies he flew from Ohio to smoke with President Donald Trump, the Palm Beach County Sheriff's Office said. Tyler Jon Marrone, of Columbus, Ohio, arrived at Palm Beach International Airport on April 18 with intentions of meeting Trump and "smoking a joint with him at Mar-a-Lago, and have a sit down meeting," according to an arrest report. Marrone said he found a credit card and thought it was a "gift from God," so he bought himself a plane ticket to go see the president. Deputies say in the arrest report that Marrone fully intended to head to Mar-a-Lago to try to talk to Pres. Trump about, "the static and frequency feedback," that he constantly hears, "emanating from my basement and from fans," in his head.
Boner Candidate #3: ALL RIGHT, ALL RIGHT…YOU CAN COVER UP WITH YOUR SCHOOL SWEATSHIRT.
The school system is now allowing girls to tie their school sweatshirts around their waists. A network of Chicago charter schools has policies so strict that some menstruating girls are bleeding through their pants for lack of permitted bathroom breaks, an NPR affiliate reported on Monday. In early April, NPR Illinois outlined the "dehumanizing" disciplinary practices at the Noble Network of Charter Schools, whichhas 18 campuses that serve 12,000 students in the area. Teachers and students subsequently reported other practices, including strictly limited bathroom visits. "We have [bathroom] escorts, and they rarely come so we end up walking out [of class] and that gets us in trouble," an anonymous student texted to an NPR reporter. "But who wants to walk around knowing there's blood on them? It can still stain the seats. They just need to be more understanding."
Round Two
Boner Candidate #1: I WAS EAGER TO GET BACK TO WORK.
Authorities say a man sent to state prison for bank robbery has robbed the same Cleveland bank branch the day after his release. Federal prosecutors in Cleveland say 40-year-old Markiko Sonnie Lewis was indicted Tuesday on a single count of bank robbery for robbing a Cleveland Key Bank branch April 12. Prosecutors say he took just over $1,000. Lewis, of Maple Heights, was sentenced to 30 months in prison in Cuyahoga County Common Pleas Court in April 2016, including time already served, after pleading guilty to robbing the same bank branch in November 2015.
Boner Candidate #2: MY SOCKS ARE IMPORTANT
A Hudson man is behind bars after deputies say he attacked two people with a sword because he was angry over socks. Pasco deputies were called to a home on Lauderdale Street Tuesday afternoon for the incident. According to an arrest report, 47-year-old Brandon McCray started arguing with people inside his home and accused several of them of stealing his socks. The report states McCray threatened the people in the home, saying he would be back and they would be sorry. Deputies say McCray then left the home and returned with a ninja sword, which he used to injure two people.
Boner Candidate #3: ALL RIGHT, I'LL RELOCATE IT MYSELF
A Vermont man is facing charges that he used a shotgun to silence a smoke detector in the kitchen of his apartment. Police say two shots fired Monday afternoon from the 20-gauge shotgun owned by 68-year-old Leroy Mason, of Barton, hit the adjoining wall of an occupied apartment. Police say Mason has complained about frequent false alarms from his smoke detector, and he was upset fire crews wouldn't relocate it so he "took it upon himself to relocate the smoke detector, and shot it with the shotgun." Emergency personnel say they took the shotgun from Mason, who then pointed a handgun at them while demanding his shotgun. Emergency crews disarmed Mason.
---
Subscribe to X96's News!
Get the latest music news, contests and flyaways, and more straight to your inbox with our weekly emails.