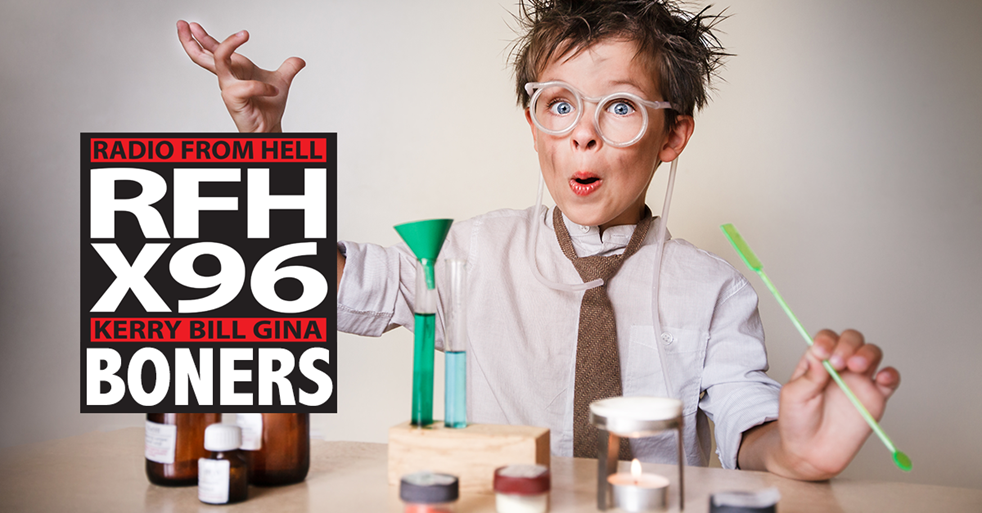 Round One
Boner Candidate #1: RUSH, RUSHING TO A GIG, NEEDED AN ESCORT.
The head of the Port Authority Police Department abruptly retired on Monday — amid allegations he gave radio host Rush Limbaugh a lights-and-sirens escort from Newark Airport to a gala in lower Manhattan. Superintendent Michael Fedorko's departure was announced in a press release that made no mention of the alleged April 12 rush-hour escort — which the conservative icon bragged about on air the next day. "So they sent the superintendent of the Port Authority to Newark to meet me for lights and sirens into Manhattan to make sure I got there in time," Limbaugh boasted. "And we did."
Boner Candidate #2: BE SUBMISSIVE, OR YOU'LL GET SOME MORE.
Paige Patterson, who heads the Southwestern Baptist Theological Seminary, is a leading figure among Southern Baptists. Evangelical women from the largest Protestant denomination in the U.S. are publicly voicing their dismay over an influential leader's "inappropriate" statements about domestic violence and women's bodies. Hundreds of women who attend churches affiliated with the Southern Baptist Convention have signed a petition calling for "decisive action" in response to "damaging, sinful" comments made by Dr. Paige Patterson, president of the Southwestern Baptist Theological Seminary in Fort Worth, Texas, and a prominent SBC leader.
Boner Candidate #3: DESTROYING ANCIENT HISTORY IS FUN!
As Josh Hansen untied his patrol boat, he could hear the splashes. He wasn't sure how many there were before he got to the dock, but at least two heavy thunks sounded off the water while he started the engine. About 500 yards away and a few minutes' distance from where he was, someone was throwing heavy slabs of stone over a cliff and into the reservoir below. Hansen raced for the opposite shoreline. When he pulled in, a kid was about to toss another rock but paused. On the surface of the dusty red sandstone that he was holding were two toe imprints from a partial dinosaur track. "I saved that one," Hansen recounted Thursday. The park manager regrets that he couldn't get there sooner. "He had already thrown multiple [tracks in the water]."
Round Two
Boner Candidate #1: IT'S JUST RIDICULOUS.
Sen. John McCain's (R-Ariz.) reported request to have Donald Trump stay away from his funeral is not sitting well with fellow Senator Orrin Hatch (R-Utah). "I think it's ridiculous," the 83-year-old Hatch told Politico on Monday. McCain reportedly wants Vice President Mike Pence to represent the White House instead.  Hatch thinks Trump is getting a bad rap.  "Well, he's the president of the United States and he's a very good man," the senator said of Trump. He conceded that it's McCain's call. McCain, 81, was diagnosed with brain cancer last July. "I think John should have his own wishes fulfilled with regard to who attends the funeral," Hatch said, adding that he hopes McCain changes his mind.
Boner Candidate #2: SARAH, HONEY; LET THE BIG MAN HELP YOU.
Former Fox News host Bill O'Reilly reportedly offered to stand next to White House Press Secretary Sarah Huckabee Sanders to take on inquisitive reporters. According to The Hollywood Reporter, O'Reilly made the offer to Sanders at a party over the weekend: "I said, 'Ms. Sanders, with all due respect, if you ever need me to stand next to you in those press briefings, I will volunteer to do that. And, if somebody gets out of line, I will tell them exactly what I think of their behavior.'" When Sanders laughed, O'Reilly assured her that President Donald Trump was "just flamboyant enough" to sign off on the plan.  O'Reilly also tweeted that the press was "not treating her well but the folks know she's a patriot" and that "she has the toughest job in the country right now." 
Boner Candidate #3: I WAS JUST TRYING TO KNIFE OPEN HIS BEER, YOU KNOW, LIKE YA DO.
A Marathon man says he was stabbed with a fillet knife by an acquaintance for no reason. Guillermo Herrada Oliva, 46, also of Marathon, was booked Sunday on felony aggravated battery with a deadly weapon and hauled off to the Stock Island jail where he remained Monday without bond. He is accused of stabbing Aynel Torna Morales, 34, in the thigh with a Dexter knife while drinking at a friend's home at 3918 Louisa St. It took several stitches to close the wound on Morales' right thigh, according to the arrest report by the Monroe County Sheriff's Office.
Download X96's App