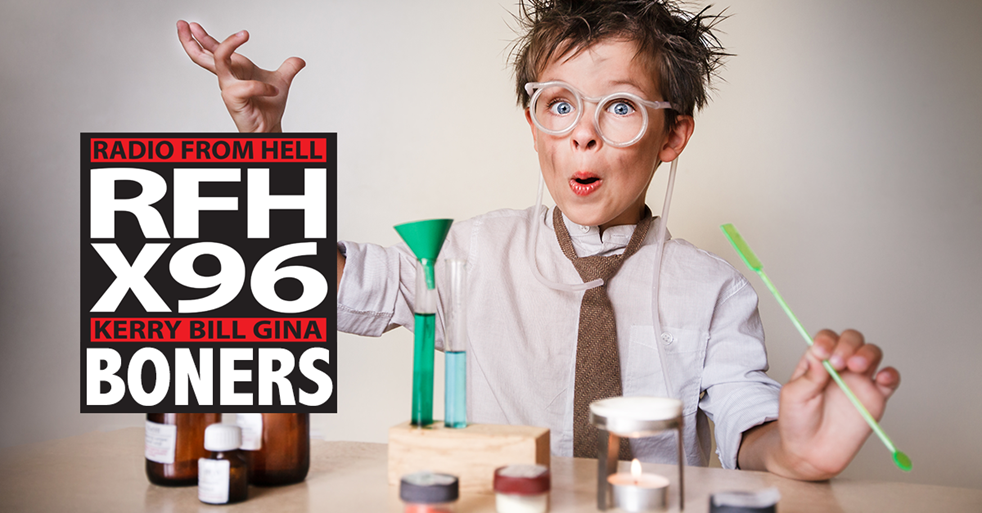 Boner Candidate #1: THEY WON'T LET US DO IT AT THE REHAB PLACE
A couple in rehab was busted for getting busy on a beach near the "Winter White House." Daniel Dolan, 19, and Chloe Exiner, 20, were charged with indecent exposure Friday after they were caught having sex on Bingham Island, which is less than half a mile from President Trump's Mar-a-Lago resort in Palm Beach, Florida. The president's family spent the weekend in town at Mar-a-Lago for Easter. The U.S. Coast Guard said they were patrolling the area while Trump was in Palm Beach when a crew member spotted the couple having sex, news station WPLG reported. The arrest report stated that Dolan, who is from Pennsylvania, was sitting behind a tree while Exiner, of Illinois, was on his lap "bouncing up and down in a lewd and sexual manner." Authorities approached the couple while they were still in the act.
Boner Candidate #2: WE CAN'T HAVE PEOPLE LEAVING LOADED GUNS IN THE LAVATORY
A federal air marshal on a flight earlier this month from England to New York left her loaded service weapon in the aircraft's bathroom where a passenger found it, four marshals familiar with the incident said. The passenger gave the weapon to a member of the flight crew, who returned it to the air marshal. But the marshal, who is based in the New York region, failed to report the incident to her superiors, as required by agency policy, until several days later. The incident happened on April 6, aboard a Delta flight from Manchester to Kennedy International Airport. Despite the security lapse, the marshal was assigned to a flight a few days later, people familiar with the case said. The Transportation Security Administration, the parent agency of the air marshal service, said that it was aware of the episode but that it would not comment publicly on internal matters, adding that it was "reviewing the circumstances of this incident." Current and former air marshals said that leaving a loaded weapon unattended constituted a significant security breach that should have resulted in discipline and an investigation. "You can't have inept people leaving weapons in a lavatory," said Craig Sawyer, a former air marshal. "If someone with ill intent gets hold of that weapon on an aircraft, they are now armed."
Boner Candidate #3: A JOINT OR TWO HELPS HIM CONCENTRATE IN SCHOOL
Police say parents of a 14-year-old son who allowed the boy to smoke marijuana have been arrested at their home. Edwin Lee Steward and Valerie Steward, both 37, were booked into Utah County jail Tuesday for investigation of felony child endangerment and misdemeanor charges of contributing to delinquency of a minor, marijuana possession and drug paraphernalia possession. The couple told police they allow their son to smoke a joint or two at night if he goes to class and makes good grades, said Utah County Sheriff's Sgt. Spencer Cannon. The parents also said they left marijuana around the home, Cannon said, explaining they used the drug to alleviate medical issues and believed it helped their son focus in school. Valerie Steward was convicted in 2015 of drug possession and knowingly producing, dispensing or manufacturing a controlled substance. Spanish Fork police and the Utah County sheriff's deputies served a search warrant at the home on Tuesday after months of investigating drug activity there, the agencies said in a Thursday prepared statement. "You could smell the immediate strong odor of marijuana" that night, Cannon said. Fifteen officers conducting the raid found about two ounces of marijuana, pipes and herb grinders, as well as a handgun and three rifles, Cannon said. Another man in the home at the time of the raid, Wesley Morse Vivian, 35, was the owner of the firearms, officers said, and was booked into jail on suspicion of felony firearm possession by a restricted person, and misdemeanor drug possession. He is believed to be a friend of the couple. It was not immediately clear if the suspects had attorneys as of Thursday. Cannon said they bonded out of jail and the county attorney was weighing charges.
Download X96's App