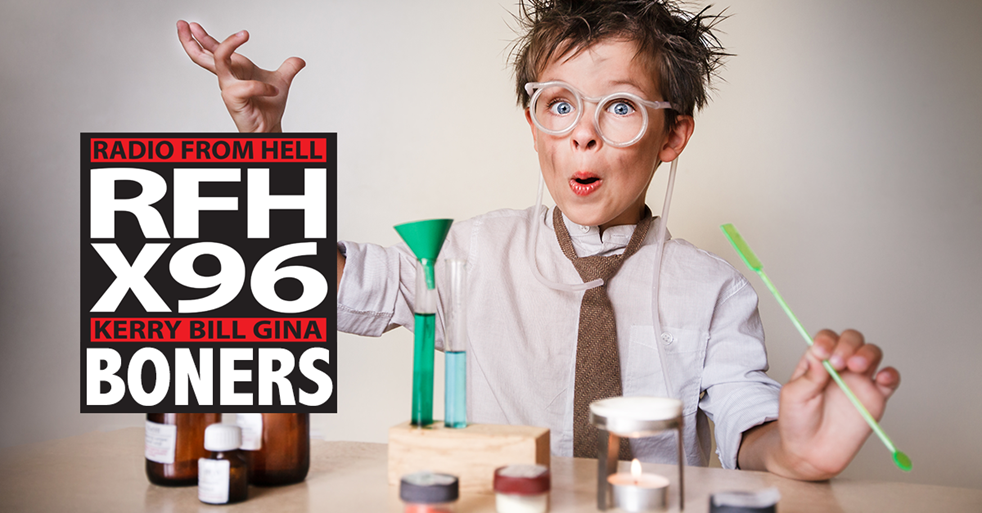 Round One
Boner Candidate #1: WHERE DOES THIS ANGER COME FROM?
A conservative host for a station owned by the embattled Sinclair Broadcast Group has resigned after threatening one of the teen survivors of the Feb. 14 mass shooting in Parkland, Florida. "I've been hanging out getting ready to ram a hot poker up David Hogg's ass," Jamie Allman wrote on Twitter on March 26. The tweet by the host of "The Allman Report" on KDNL-TV, the Sinclair-owned St. Louis ABC affiliate, has since been deleted, but it caused advertisers to flee his show. "We have accepted Mr. Allman's resignation, and his show has been canceled," a Sinclair spokesman told The Washington Post on Monday. Allman, former spokesman for the St. Louis Archdiocese, also hosts a radio show on KFTK, a conservative station. Since the mass shooting, Hogg has become an advocate for gun control, which has led to both conspiracy theories and personal attacks from the right. On March 28, Fox News host Laura Ingraham mocked him for not getting accepted into four of the colleges he had applied to (one of which has since accepted him). That led Hogg to suggest a boycott of "The Ingraham Angle," and since then, advertisers have fled her show as well, although she returned to the air on Monday night after a week's break. Allman had also mocked Hogg over the Ingraham boycott.
Boner Candidate #2: T'S OKAY TO BE WHITE…SPREAD THE WORD.
Awful people who have yet to be identified are allegedly slipping white supremacist propaganda in the form of "IT'S OKAY TO BE WHITE" cards into packages of diapers sold by Target. The Anti-Defamation League first received reports of the cards making their way into boxes of diapers opened by customers in DC and Florida, with another incident reported in Tennessee last month. According to the ADL, the cards advertise a number of white supremacist websites including The Right Stuff, the Daily Stormer, and the (now-defunct following an abuse and adultery scandal) Traditionalist Worker Party. Per AdWeek, Target says it is investigating how exactly someone infiltrated their diaper logistics chain: We're working to urgently address this matter and are actively investigating this with our security teams. While we're not able to share specific details of the investigation, we encourage any guests who may have received this message to share their experience by calling Target Guest Relations at 1-800-591-3869. The ADL wrote that in the Florida incident, the package of diapers was shipped from an Indianapolis facility, though the incident in Tennessee involved one purchased in a store. It's possible putting the cards in the diapers constitutes a felony under federal laws prohibiting tampering with products shipped for interstate commerce.
Boner Candidate #3: SORRY. NOW HOW ABOUT WE TAKE A WALK ON RED HOT COALS?
When the life coach Tony Robbins suggested last month that women were using the #MeToo movement "to try to get significance and certainty by attacking and destroying someone else," his remarks did not get much attention outside the California arena where he made them. Then, on Friday, the social video news organization NowThis posted a clipon Twitter of Mr. Robbins's response to an audience member who had challenged him and accused him of not understanding the movement. The video was shared thousands of times, including by Tarana Burke, the #MeToo founder, who joined a chorus of people criticizing Mr. Robbins for his comments. "We have a hard enough time trying to shift the narrative about what this movement really is and he stands in front of thousands of his followers and completely misrepresents the @MeTooMVMT," Ms. Burke wrote. On Sunday, Mr. Robbins apologized. "I apologize for suggesting anything other than my profound admiration for the #MeToo movement," he said. "Let me clearly say, I agree with the goals of the #MeToo movement and its founding message of 'empowerment through empathy,' which makes it a beautiful force for good."
Round Two
Boner Candidate #1: TIGHTEN THOSE UP
A Bradenton student said she was asked to cover her nipples with bandages this week after they became a distraction for other students at Braden River High School. Lizzy Martinez, 17, decided not to wear a bra under her gray long-sleeve shirt on Monday, and school officials felt she became a target of her classmates' stares. But Martinez says the humiliation began when School Dean Violeta Velazquez called her into the office. Martinez felt like she was being bullied by fellow students, but Velazquez said there was a distraction that needed to be addressed. "She told me that I needed to put a shirt on under my long-sleeve shirt to try to tighten my breasts — to constrict them," Martinez told the Bradenton Herald on Thursday. "And then she asked me to move around." Apparently the second shirt was not enough, Martinez said, because she was then sent to the nurse's office. The nurse handed Martinez four bandages, two to cover each nipple, leaving her in tears. On Thursday afternoon, the school district acknowledged that Braden River officials could have handled the situation better, but the district said they were only trying to enforce the district's dress code.
Boner Candidate #2: HAVE YOU HEARD ABOUT THESE SEX CRAZED PANDAS?
On a night in which he criticized CNN for treating the breaking news of the FBI raiding Trump attorney Michael Cohen's office like, well, breaking news, Fox News' Tucker Carlson his program Monday night with a segment about sex-crazed pandas. No, that is not a typo. The conservative commentator devoted the end of his show to a story on how pandas are really sex-obsessed killing machines. "You know the official story about pandas — they're cute but adorably helpless," Carlson said. "Which is why they are almost extinct. But like a lot of what we hear, that is a lie." The Fox News host went on to cite a recent Wall Street Journal report that stated "the real panda is a secret stud with a thirst for flesh and a fearsome bite." After explaining that pandas "could easily kill you if they felt like it," Carlson pointed out that male pandas love sex but just hate "unsexy zoos." But in the wild, per Tucker, males will have sex as much as 40 times in a single afternoon. (Yes, all this was really said.)
Boner Candidate #3: EMMA ATTACKS….WAIT, NO. BRITTANY ATTACKS?
The doctored photos were ripped from a recent Teen Vogue cover story that featured a GIF of González tearing up a shooting target sheet. Conservative accounts against the Parkland student movement #NeverAgain ran with the photoshopped image and it began spreading quickly on Twitter. Since then, even more memes and photoshops are cropping up to try to disparage and troll student leaders of the movement. The old photo of Spears about to attack a paparazzo's car was captioned, "Emma Gonzalez attacking a 2nd Amendment supporter's truck at a March For Our Lives rally, (2018, colorized)." "She has to be stopped!" the page America's Last Line Of Defense, which also posts completely fake stories, then wrote. It's already been shared over 7,500 times.
Download X96's App