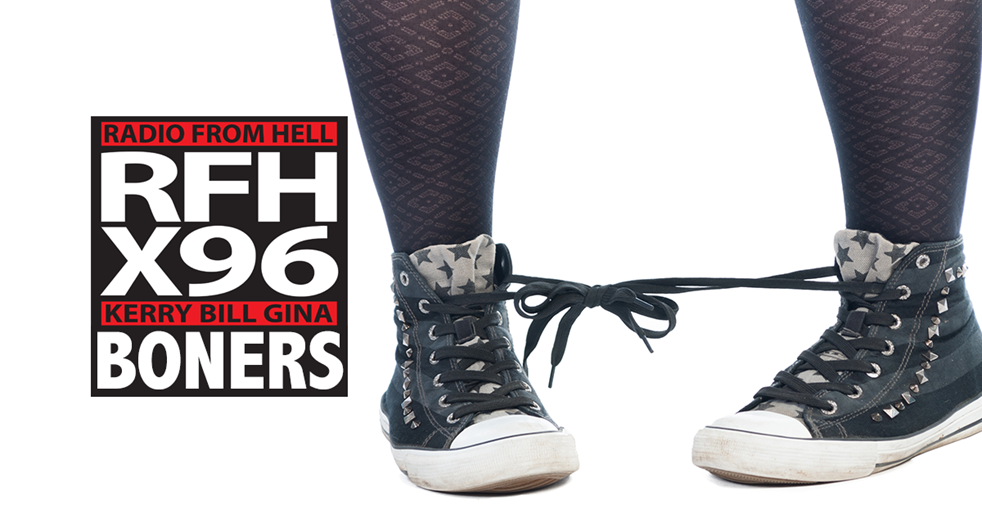 Round One
Boner Candidate #1: A RAISE? I DON'T THINK SO SIR.
When Dione Sease filed for unemployment compensation, he claimed he was fired from his job at a Kentucky Fried Chicken restaurant for asking for a raise and for "being too demanding." The York man's ex-employer insisted there was more to it than that. The eatery owners claimed Sease was canned in January 2017 after putting on quite a show. He ranted and cursed at his superiors after demanding a co-worker be fired for sexually harassing him, they said. Also, they claimed Sease demanded to be addressed as "sir," and caused such a profanity-laced ruckus the management called the police. A Commonwealth Court panel has sided with Sease's former employer and ruled that Sease doesn't deserve a serving of unemployment comp. In an opinion by Judge Renee Cohn Jubelirer, the state court concluded Sease was rightly terminated from his job in the KFC's kitchen for willful misconduct.
Boner Candidate #2: YOU CAN'T ARREST SOME ONE WHO'S IN THE RIVER.
A man who told police he was just going for a "joy ride" in a city-owned golf cart was arrested Wednesday. Police arrested Ian Nathaniel Shaw, 36, of St. George, on charges of theft, failing to stop on an officer's command and trespassing. Employees at the St. George Waste Services Department, at 2170 West Treatment Plant Rd., noticed Shaw trespassing on the property and called police during the late afternoon, according to a probable cause statement written in support of the arrest. Employees told police that Shaw began operating a city-owned golf cart at the plant. In an attempt to stop him, several employees boxed him in with other vehicles, which caused Shaw to get out of the cart and run toward an open field near the SunRiver Club House, according to the police report. As responding police circulated the area, they located Shaw walking in the Virgin River. Officers told Shaw he was being detained and to walk toward them. According to the probable cause statement, he initially refused to follow police orders before officers managed to take him into custody. When asked why he refused to follow orders, Shaw allegedly told the arresting officer that he was told by a friend that police can't arrest somebody who's in the river.
Boner Candidate #3: RADIO SCUM.
Walk. Away. Honestly, it's that simple for the Padres — rightfully riled by an inexcusable, irresponsible and utterly heartless social media post promoting a radio show that made light of suicide in a place gutted by far too many of those stories. When new 97.3 FM morning host Kevin Klein asked listeners on Twitter to "jump … to a new morning show" with an image of the Coronado Bridge, the raw insensitivity of it sickened. Imagine the absolute horror experienced by the family or friends of any of the more than 400 people who have leapt to their deaths during the bridge's 50-year history. The station is the new caretaker of Padres baseball, an arrangement prickly enough that the franchise already reassured ticket-holders that another host, Dan Sileo, would steer clear of the team after side-stepping prior accusations of racism, sexism and comments deemed anti-Semitic. Now, this. Just walk away. The Padres are considering just that, in fact — hours before the start of the season. "We're going to get through this first home stand, then sit down and evaluate it," Padres Executive Chairman Ron Fowler told the Union-Tribune in his Petco Park office Tuesday. "We're going to assess our legal obligations. We just want a good radio partner that's not offensive to the community."
Round Two
Boner Candidate #1: WHAT ELSE DID YOU EXPECT ME TO DO?
A Springfield man says he was stabbed in the abdomen by a stranger who asked to pet his dog. The Register-Guard reports that the 28-year-old told police he was in his front lawn with his dog early Wednesday morning when the stranger approached him. The man told police that when he denied the stranger's request to pet his dog, he approached anyway. The man said he pushed the stranger away to shield his dog, and was stabbed in the side in the process. He said the stranger then ran away. The victim was taken to a hospital for treatment of his injuries.
Boner Candidate #2: I DID IT FOR YOU TAYLOR.
Ansonia police arrested a man who they say robbed a bank, drove to Taylor Swift's house, and threw money over the fence. Police said 26-year-old Bruce Rowley is accused of robbing the Webster Bank on Division Street in Ansonia on April 4. According to police, Rowley then said he had a crush on Taylor Swift and wanted to impress her, so he robbed the bank. He reportedly drove to Taylor Swift's Rhode Island home and threw some of the money that he had stolen over her fence. Rhode Island police had located Rowley driving on I-95 and tried to stop him but he refused to stop. Eventually, CT state troopers were able to stop Rowley's car at exit 89 where he was then taken into custody. He was arrested by Ansonia police on April 5 and charged with second-degree robbery and fourth-degree larceny.
Boner Candidate #3: SO 10 LAWMAKERS VOTED FOR BEASTIALITY?
The state Senate has approved a bill designed to make it clear that bestiality is illegal in Louisiana. A law on the books prohibits "crimes against nature," but it also outlaws so-called sodomy and was ruled unconstitutional in 2003. New Orleans Senator JP Morrell says it's important that the state has a way to arrest someone for having sex with animals. He told fellow lawmakers, "God forbid you vote against this bill, good luck explaining it." Ten senators did vote against it. The measure does also specify that previously illegal forms of "sodomy" are no longer against the law."Anal sexual intercourse between two human beings shall not be deemed as a crime," part of the bill states.
Download X96's App