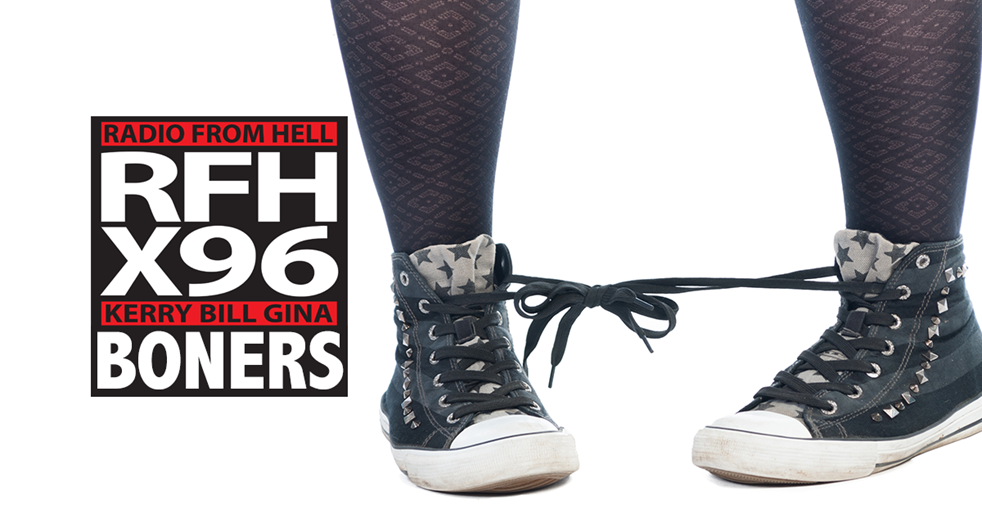 Round One
Boner Candidate #1: COME ON! A BUMP FOR A BUMP. THAT'S FAIR.
A woman has accused the mayor of a Florida town of promising to get speed bumps put on streets in her neighborhood in exchange for sex. In a complaint filed Jan. 2 with the Florida Commission on Ethics, Catherine Padilla said she had asked the town to install speed bumps as a safety measure. She says Lantana Mayor David Stewart drove her to a motel after having lunch three years ago and said he wanted to have sex with her. She refused but said he asked her again before the August 2015 vote, which was approved. The Palm Beach Post reports that on Jan. 11, after the ethics commission notified Stewart of the complaint, he went to Padilla's home to discuss the situation.
Boner Candidate #2: IF YOU ESCAPE, DON'T HIDE IN THE SWAMP
The trail for a New Richmond man who allegedly bolted from authorities went cold last week. Too cold, in fact, according to court records. A criminal complaint against Kenneth R. Shutes Jr. states that he ran from a Feb. 6 traffic stop, but eventually called 911 to report he was so cold that he needed an ambulance. Officers eventually found Shutes in the middle of a frozen swamp in rural Star Prairie, where he reported he couldn't walk, as the temperature dropped below zero. The effort required fire and rescue assistance to remove Shutes from the area, described as being surrounded by steep terrain and dense woods. Shutes was later charged in St. Croix County Circuit Court with three misdemeanors stemming from the incident — failure to obey an officer, marijuana possession and obstructing an officer. Shutes, described in a criminal complaint as cooperative and apologetic after being found by officers, pleaded not guilty to the charges during his Feb. 6 initial court appearance, where he was released from custody on a signature bond.
Boner Candidate #3: DUMB AND DUMBER
This is the hilarious moment a bungling burglar knocked out his accomplice by throwing a flying brick at his head. The two men have been branded the 'dumbest ever' after police released CCTV footage of their failed attack. The hilarious clip shows two hooded men approaching a building in Shanghai, China, armed with bricks. They immediately whip out the missiles and throw them at a window in a bid to break the glass. The first makes a dent but as the second burglar throws his brick, the foolish accomplice leaps forward directly into the line of fire. He takes a direct hit to the face sending him falling unconscious to the ground. His co-conspirator is forced to take on the impromptu role of first aider as he desperately tends to the injured man after quickly dragging him across the ground. The video has racked up thousands of online views from across the globe – with commenters branding the pair 'stupid'.
Round Two
Boner Candidate #1: A YOUTUBER WHO CLAIMED VEGANISM CURED HER CANCER HAS DIED…FROM CANCER.
A YouTuber who said that eating a raw vegan diet, drinking juice and praying to God cured her cancer has passed away. Mari Lopez, one half of the vlogging duo Liz & Mari, succumbed to an aggressive terminal cancer that spread to her blood, liver and lungs. She was known for posting viral videos about how she was able to cure her stage four diagnosis through faith in God and following a strict diet of raw vegetables. Today in an interview with babe, Liz Johnson, who made videos with her aunt Mari, doubled down on her beliefs, saying she "completely" stood by what she posted. Liz & Mari made a YouTube channel to share videos on how to cure cancer. Liz & Mari, whose videos amassed hundreds of thousands of views, regularly posted about how Mari had recovered from a terminal diagnosis through her Christian faith and her discovery of lemon and ginger juice. They told their followers in no uncertain terms that they could do the same, uploading how-to videos like STAGE 4 CANCER HEALED BY JUICING & RAW VEGAN DIET PART ONE (nearly 300k views, part two had over 400k).
Boner Candidate #2: HE IS QUITE A CATCH…AT LEAST THE COPS THINK SO.
Provo Police said a couple is engaged to be married after a man successfully proposed while seated in the back of a police car. A Facebook post from the police department said the man had been handcuffed and placed in the police vehicle because there was a warrant for his arrest. Officer Courtney Manwaring also cited the man's female companion for drug offenses, the post said. "The man in custody asked permission to speak to the woman from the back of Officer Manwaring's car. The man professed his love for the woman and asked her to marry him. They both cried and she said yes," the post said. Police won't identify the couple, but they said they hope the couple can "move past yesterday's arrest and have long and happy lives."
Boner Candidate #3: MAYBE THEY SHOULD TRY THE BUDDY SYSTEM
Sleeping with a co-worker is pretty much a no-no in all workplaces, especially so in the sensitive world of politics.Not that Australia's deputy prime minister stuck to the unspoken rule. Barnaby Joyce been under significant pressure in the past week after it was revealed he had an affair with one of his staff, ultimately leading to the break-up of his 24-year marriage. The situation has seen Joyce labelled a hypocrite, due to his advocacy of traditional marriage when the country was voting on whether same-sex couples could marry. It's also been disruptive, and led to Australia's Prime Minister Malcolm Turnbull banning ministers in his government from having sexual relations with their staff on Thursday. Sure, it may be absurd, but the change is arguably the country's biggest political story, for now. "This change is being made in a way that is very, very clear, couldn't be clearer," Turnbull told reporters. "This is a bright line and I am saying that in these workplaces here, the minister's offices, ministers must behave accordingly and they must not, I don't care they are married or single, I don't care. They must not have sexual relations with their staff, that's it."
---
Subscribe to X96's News!
Get the latest music news, contests and flyaways, and more straight to your inbox with our weekly emails.