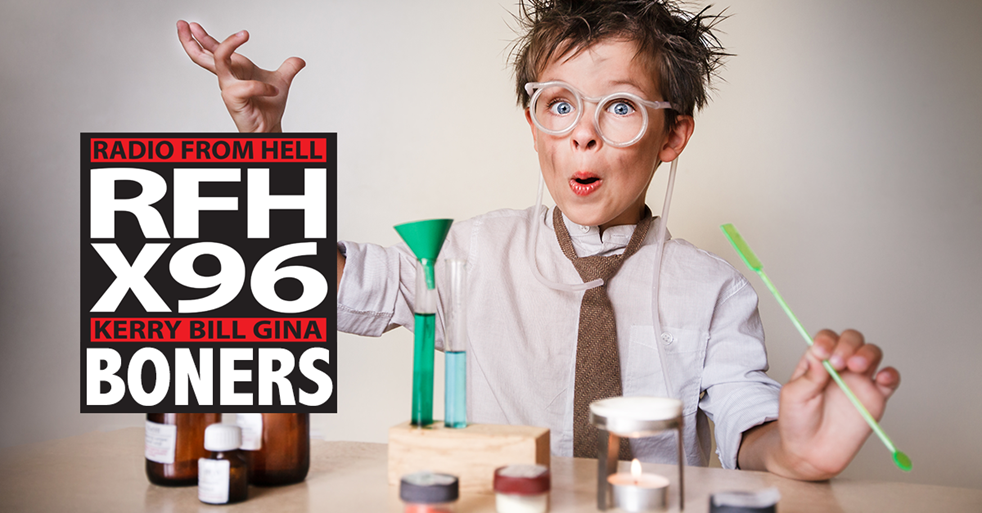 Round One
Boner Candidate #1: LOOKING COOL ISN'T A PRIORITY FOR DELL BUCK.
A husband and wife said they're unable to enjoy their vacation to celebrate their 25th wedding anniversary because workers at the Trump Hotel refused to let them use their Segways inside the property. Dell Schanze and his wife Teresa Schanze, from Salt Lake City, both use Segways to help them get around despite disabilities. They said employees at Trump Hotel told them they had to use wheelchairs if they wanted to enter the property. "I don't want to look disabled. I don't want to look old. I just want to go have some fun," Dell Schanze said. "Everybody looks at you as a cool person when you have a Segway." But Dell Schanze said looking like a "cool person" isn't his number one priority. His main concern was having to get around on the Las Vegas Strip with a broken back. "Well I have 11 vertebrates fused together. My hip is bolted on. My hands are bolted together. My neck is bolted together in two places," he said. "I fell out of a tree when I was a kid and was actually quadriplegic for a little bit … and then a couple of motorcycle accidents later, I broke my back two more times, and so here I am!"
Boner Candidate #2: TONIGHT, FROM WASHINGTON DC…THE STATE OF THE UNIOM.
Whoever printed out the tickets for Donald Trump's first State of the Union speech must be feeling very "covfefe" right now. Trump is set to deliver the speech Tuesday night, and it will likely be different than previous addresses ― as are the tickets. It seems that some of the tickets misspell "union" as "uniom," based on numerous tweets from guests who have their tickets in hand. As you might expect, many of those people threw in snarky comments as a bonus. Sure, the Trump White House has had its share of spelling and grammatical errors in the past, but this typo is actually the fault of the House sergeant at arms' office, which is responsible for printing the tickets, according to Politico. Laura Barrón-López, a reporter for the Washington Examiner, said new tickets with the correct spelling of "union" are being distributed.
Boner Candidate #3: I AM TIRED OF TAKING CARE OF YOU
A Florida man accused of beating his disabled girlfriend told police he was tired of taking care of her and preferred to go to jail, according to an arrest report. Patrick Moan, 37, was arrested Sunday for beating the woman, who has no arms or legs, the Miami Herald reported. The woman, who is in a wheelchair, was unable to call the cops on her live-in boyfriend because he broke her phone two weeks ago. So Moan agreed to wheel her to a Vero Beach Walmart so she could tell someone. Moan ended up telling a patron himself in the hopes he "could go to jail." The woman told police that Moan hits her two times a month when he drinks but she has not called cops because of her condition. Moan later admitted to authorities that he has hit the woman in the past because he is "tired of taking care of her and pushing her in her wheelchair everywhere." He also believed if he confessed "he would no longer have to take care of her and she would become the state's problem."
Round Two
Boner Candidate #1: IF YOU'RE GOING TO PRACTICE ANIMAL SACRIFICE, DISPOSE OF THE BODIES RESPONSIBLY.
A decapitated lamb was found floating in a canal behind a Cape Coral woman's home. Police said the killing is legal if it's linked to a religious sacrifice, but dumping the body into a canal is against the law. It happened on Southwest 11 Place near Chiquita Boulevard. Fiona Martin never expected to find a dead animal behind her home, and worried it was someone's pet, she called police, who told her it likely wasn't a pet, but a religious offering. "Very disgusting. I feel bad for the animal," she said. "I was just walking down here, looking at the view and then I saw the dead body was there." She said Sunday the lamb's body has been floating in her canal since Saturday, and the warm and windy weather isn't helping matters. "I never smelled a dead body before. It's like rotten and spoiled." Cape Coral police told us it isn't the first time they've received calls like this.
Boner Candidate #2: I THINK YOU'RE ONE OF THEM ILLEGALS AND SHOULD GET OUT OF THE COUNTRY.
Supporters of President Donald Trump used racist language against dark-skinned public servants while rallying against immigration, the Arizona Capitol Times reported Saturday. "Supporters of President Donald Trump singled out dark-skinned lawmakers, legislative staffers and children at the Capitol on Jan. 25 as they protested congressional efforts to pass immigration reform, according to staffers of the Arizona Legislature and two Democratic legislators, AZ Capitol Times reported. "Waving large flags in support of Trump while standing between the House and Senate buildings, the protesters, who were also armed, asked just about anyone who crossed their path if they 'support illegal immigration.'" One dark-skinned Arizonian who was asked if he was in the country "illegally" was Rep. Eric Descheenie (D-Chinle). Rep. Descheenie is a Navajo lawmaker. "I'm indigenous to these lands," Rep. Descheenie said. "My ancestors fought and died on these lands. I just told them, 'Don't ask me that question.'" Legislative staffers Lisette Flores and Selianna Robles had gone to a local farmers' market for lunch and were also accosted.
Boner Candidate #3: GREAT RADIO GUY BEHAVIOUR.
Super Bowl week got off to a frosty start for Tom Brady. The Patriots QB hung up on a radio show Monday morning in response to comments recently made by one of the station's hosts about his daughter. WEEI's Alex Reimer recenty referred to Brady's 5-year-old daughter Vivian as an "annoying little pissant." Reimer reportedly made the comment Thursday night. Brady was asked about it Monday morning around 7:30 on the "Kirk and Callahan Show," where the hosts said it was "a stupid thing to say." "Well, I think that — I've tried to come on this show for many years and have showed you guys a lot of respect," Brady seethed. "I've always tried to come on and do a good job for you guys, so it's very disappointing when you hear that, certainly. But my daughter or any child, they certainly don't deserve that." Reimer's comment was a reference to Brady's daughter shouting to him in the opening scene of the Facebook documentary series, "Tom vs. Time." She was telling her dad she was going to play soccer.
Download X96's App