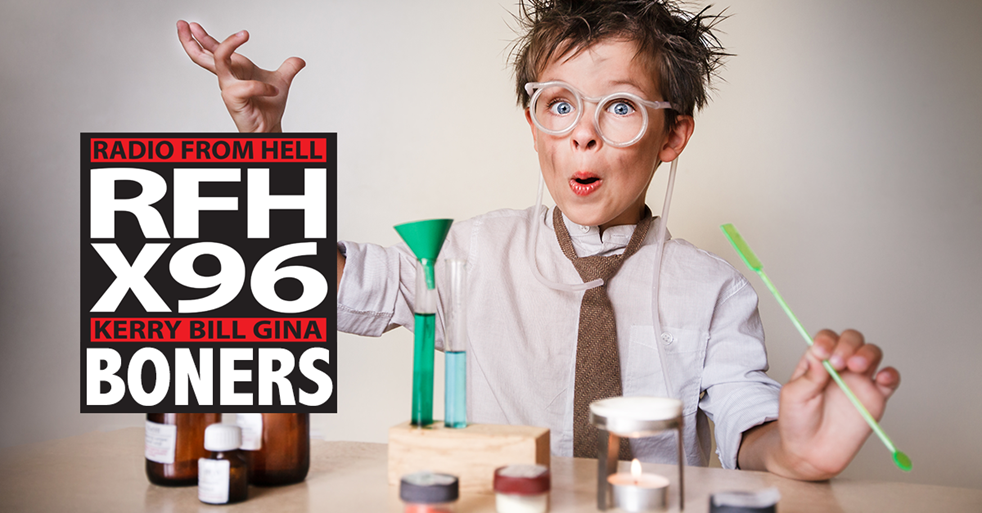 Round One
Boner Candidate #1: IT'S THE JEWS WHO CONTROL THE WEATHER. IT'S THE JEWS I TELL YOU.
A DC lawmaker blamed a late-winter snowfall on a family of Jewish bankers — accusing them of controlling the climate and orchestrating natural disasters. Council member Trayon White Sr. apologized for the comments he made in a since-deleted video on his official Facebook page posted Friday morning as snow fell over the capital. "Man it just started snowing out of nowhere this morning, man. Y'all better pay attention to this climate control, man, this climate manipulation," White can be heard saying in the video, the Washington Post reported. "And D.C. keeps talking about, 'We a resilient city,'" he continues. "And that's a model based off the Rothschilds controlling the climate to create natural disasters they can pay for to own the cities, man. Be careful."
Boner Candidate #2: THE REPUBLICAN PARTY RATTED ME OUT
A staffer for Rep. Mark Amodei (R-NV) last week prompted the suspension of a Washoe County high school student after he called the principal's office to complain about the 17-year-old's "disrespectful behavior/language," the Nevada Independent reports. The ACLU of Nevada on Monday sent the GOP congressman a letter asking him to apologize after his office's complaint resulted in a two-day suspension Robert McQueen High School student Noah Christiansen. The teenager is also barred from assuming his elected role as class secretary/treasurer. Christiansen called Amodei's office last week to request the nation's leaders "get off their f*cking asses" and pass gun reform laws to help keep students safe in schools. Christiansen was specifically interested in elected officials passing legislation that would raise the minimum age to purchase a weapon and ban the sale of bump stocks, according to the Independent. Though Christiansen acknowledges he could have used "better words than of course the f-word," he feels the congressman's staff violated his "political privacy" by telling on him. "Even if I do want to use words and use them over and over again, it's my right to do so," Christiansen said.
Boner Candidate #3: 911? SPIDER'S BLOWIN STUFF UP IN HIS BACKYARD
A man who crafted a bomb inside a whiskey bottle and blew it up in another man's backyard was charged with a crime Wednesday, investigators said. Scott Frederick Wegener, 55, of the 500 block of Wendell Road, was charged with possession or discharge of a destructive device. An anonymous caller Wednesday warned Wegener had detonated an improvised explosive device and was threatening it again, according to Wegener's arrest affidavit. The caller said Wegener, nicknamed "Spider," was in a dispute with someone over the theft of a BB gun and had offered to pay a friend to crawl under the man's home to plant an IED. Investigators from the St. Lucie County Sheriff's Office, Fort Pierce Police Department, FBI and the Bureau of Alcohol, Tobacco, Firearms and Explosives, all responded to Wegener's home Wednesday.
Round Two
Boner Candidate #1: VOTE EVERY ONE OF THESE BASTARDS OUT
Republican state senators on Monday afternoon rejected a bill from Democrats that would have banned bump stocks in Colorado. Senate Bill 51 failed on a 3-2, party-line vote in the Senate State, Veterans and Military Affairs Committee. The measure would have created a ban on the devices, which can increase a semi-automatic rifle's rate of fire to near what an automatic firearm can discharge. Bump stocks were used by a gunman who killed 58 people and injured hundreds more in October at a country music festival in Las Vegas. President Donald Trump has called for a federal ban on bump stocks, but Colorado's statehouse Republicans have been opposed to such a move. The Denver City Council banned bump stocks in January through an ordinance. Senate Bill 51 went down following hours of emotional testimony and amid a renewed debate on firearms in Colorado and across the nation following last month's high school shooting in south Florida.
Boner Candidate #2: THAT MIKE HUCKABEE IS A CARD; I MEAN HE IS A CAUTION, YA KNOW.
Former Arkansas Gov. Mike Huckabee (R) loves a good joke. Too bad he has never told one. On Saturday, Huckabee tweeted his delight at the news that Andrew McCabe, former deputy director of the FBI and 21-year veteran of the agency, had been fired the night before. McCabe would have been able to retire Sunday. "Breaking Wind from CNN!" he wrote. "Andy McCabe offered deal for lying to FBI and won't get pension but will get passage in overhead bin on United flight to Oakland to work for scofflaw mayor." Huckabee was referring to a dog that died this week after it was put in the overhead bin of a United Airlines flight. David Huckabee, the former governor's son, killed a dog while working as a counselor at a Boy Scouts camp in 1998. Funny stuff, right? President Donald Trump also tweeted about McCabe's firing on Saturday, and insisted once again that there had been no collusion between his 2016 presidential campaign and Russian operatives.
Boner Candidate #3: I WAS HAVING A NIC-EEE FIT
A Pinconning man is in jail after allegedly employing a novel method of burglarizing a party store: Police say he crashed a stolen snowmobile through the business's front door and then stole a bunch of cigarettes and lottery tickets. At 12:40 a.m. on Tuesday, March 13, Bay County Sheriff's deputies responded to an alarm at Dore's Party Store, 825 E. Beaver Road in Kawkawlin Township. Upon arrival, deputies saw the front door had been smashed and that someone had entered the building, said Sheriff Troy R. Cunningham. The intruder made off with cigarettes and lottery tickets. The deputies noticed snowmobile tracks leading away from the scene. As they investigated, they were alerted that a snowmobile had crashed into a ditch about a half-mile away, Cunningham said. Deputies went to the crash site and spotted the snowmobile's rider, who took off running. Deputies pursued and soon caught the man. He was identified as 38-year-old Michael P. Stark.
Download X96's App