Black Panther Record Breaking!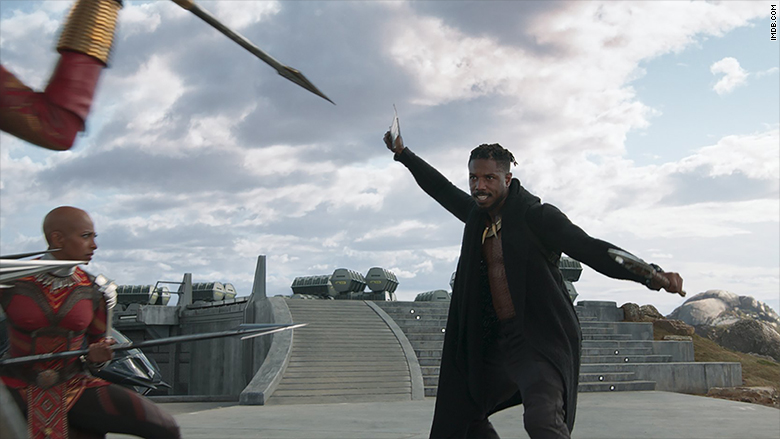 All hail the king. "Black Panther," Marvel's first film directed by an African-American, brought in an estimated $201.8 million for its three-day debut in North America this weekend. That's the fifth biggest opening of all time. The opening for the film starring Chadwick Boseman and Michael B. Jordan did not just shatter expectations, it broke multiple box office records too. It blew away the record for the largest opening for an African-American director. That belonged to F. Gary Gray and "The Fate of the Furious," which opened to $98 million last April. Disney estimates that the film will bring in $235 million domestically for the four day holiday weekend. The film brought in an opening of more than $360 million around the world before revised estimates. Final global totals will be announced on Tuesday, according to the studio. "Black Panther" also shattered the record for an opening in February, which belonged to "Deadpool," the R-rated superhero film from 20th Century Fox that brought in $132 million when it opened in 2016. It is the second biggest opening for a Marvel Studios film, behind 2012's "The Avengers." It out paced other huge hits like "Avengers: Age of Ultron," "Captain America: Civil War" and "Iron Man 3." It is the studio's 18th straight number one opening.
Fake Assaults at Black Panther
These trolls are trying to give "Black Panther" a black eye. Phony social media users are claiming they're getting beaten up by African-Americans at screenings of the new superhero film "Black Panther" in an apparent effort to stoke racial violence, the Los Angeles Times reported. "I was so excited to see #BlackPanther and a young black man at the theater shouted 'you in the wrong place, cracker!' And proceeded to bloody my face. It hurts so bad I can't take it!," wrote user @RobloxZionist along with a photo of a man's bloodied face. But the image is actually actor Jensen Ackles in makeup while filming the show "Supernatural," Twitter users pointed out and the LA Times confirmed. "#BlackPanther this is my older brother Kenan. He was jumped just trying to see the movie. 'This movie ain't for you whitey' was the last thing he heard before he was beat up by 2 black men, rupturing his eardrum. He didn't even make it inside of the movie theater. Smh," read a tweet from @sharkwheat accompanied by an image of a battered man in a hospital bed that was actually cribbed from a 2013 Dallas Observer articleabout a bar fight. One user had the gall to post the photo Colbie Holderness, the ex-wife of former White House staffer Rob Porter, used to accuse the now-disgraced aide of domestic violence, according to BuzzFeed. That tweet was removed by Monday.
#Wakandathevote
An activist group is parlaying the record-shattering success of Black Panther into real-world change. #WakandaTheVote is a voter registration effort organized through the Electoral Justice Project last year, which was founded by activists Kayla Reed, Jessica Byrd and Rukia Lumumba. The EJP is an offshoot of the Movement for Black Lives. According to Blavity, the effort is meant to specifically target black moviegoers at select screenings of the Marvel film around the nation during the first few weekends of the film's release. In its opening weekend, 37 percent of ticket buyers were African-American, according to comScore. (On average, African-Americans make up about 15 percent of the audience for tentpole features.) Black Panther has already earned a positive review from one important political figure: Former first lady Michelle Obama called it a film that "will inspire people of all backgrounds to dig deep and find the courage to be heroes of their own stories."
Five Nights at Freddy's… Movie!
Almost a year ago, Blumhouse Productions — the studio that followed the wild success of Paranormal Activity with hits like Insidious, Whiplash, Split and Get Out — secured the film rights for the video game Five Nights At Freddy's. Today, the company announced who'd be helming the movie adaptation, and it's…Chris Columbus, best known for directing Home Alone, Home Alone 2, Mrs. Doubtfire and the first two Harry Potter films. Five Nights At Freddy's is a horror game franchise following nighttime employees trying to survive Chuck E. Cheese-style enterprises where animatronic robots run amok trying to murder the player. It's a weird fit for Columbus, who's most known for tame films about families and magic.
The Last Jedi Movie Blu-Ray Release
Fans waiting to get another look at Star Wars: The Last Jedi won't have to wait much longer. We finally have the home video and on-demand release dates for the second installment in the Sequel Trilogy. Families can bring home the movie digitally in HD and 4K Ultra HD and via Movies Anywhere on March 13, two weeks before the 4K Ultra HD Blu-ray, and Blu-ray disc on March 27. This release also marks Disney's first title available on 4K Ultra HD Blu-ray disc in both Dolby Vision HDR and Dolby Atmos immersive audio. Unsurprisingly, the home release of The Last Jedi will come with a few bonus features. Director Rian Johnson takes fans on a journey into the creation of The Last Jedi in a feature-length documentary, explaining his interpretation of the Force, detailing the process of creating Snoke, and deconstructing action-packed scenes from the film – such as the epic space battle and the final confrontation.
Download X96's App