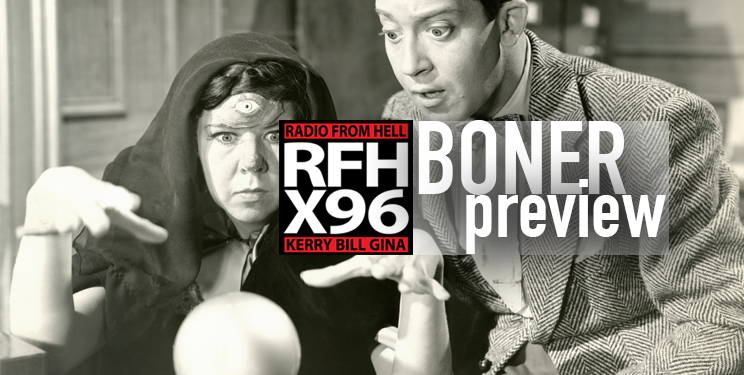 Boner Candidate #1: THE BABY JUST GOT IN THE WAY
Police say a woman in Florida threw boiling water on her 2-month-old son's father as he lay on a bed with the newborn. Gainesville police officers said Tuesday in a report that the baby suffered second- and third-degree burns to his chest and arm. The burns make up about 5 percent of his body. The baby's father, Winsky Perpignan, had second- and third-degree burns over his face, neck, chest and arm, or about 20 percent of his body.
Boner Candidate #2: A DEMONSTRATION WAS NOT NEEDED
A North Carolina high school teacher says he has been placed on leave after students say he stepped on an American flag as part of a history lesson. The Fayetteville Observer reports Massey Hill Classical High School teacher Lee Francis said he was informed of his status by the Cumberland County Schools human resources department. Francis said he's scheduled to meet with system officials on Thursday to discuss the incident stemming from a lesson in his history class.
Boner Candidate #3: YEAH WE BEEN DRINKIN' A BIT
Police in New Hampshire say they arrested two women who appeared drunk and were "barely able to stand" at a mall to care for their babies, with one woman lying in a puddle while holding her child above her head. Police say the women acknowledged they consumed alcohol when they were found in a parking lot at the Mall at Rockingham Park in Salem on Monday evening. Both were charged with endangering the welfare of a child.
Boner Candidate #4: MANHANDLING A MANATEE
Don't play with the manatees, you could end up in jail. That's what happened to a man in Islamorada when he decided to jump into the water and swim with a few of the endangered animals. According to officials from the Florida Fish and Wildlife Conservation Commission, James Roy Massengale Jr. was charged with annoying, molesting, harassing, or disturbing a manatee on Friday afternoon. A witness told FWC officers that he spotted Massengale when he was in the water approaching two adult manatees and two calves in a creek behind the Islamorada Library around mile marker 82. Massengale reportedly told the witness, "I'm riding it!" The witness said he told him that manatees were an endangered species and it was illegal to bother them then pretended to leave the area. But still watching him, the witness say Massengale go back into the creek and re-engage with the manatees, said FWC.
Boner Candidate #5: THAT WILL HELP THE SITUATION
Rep. Robert Pittenger (R-N.C.) said Thursday that violent protests that have rattled Charlotte, North Carolina, since police shot a black man to death this week are led by angry black people who hate and envy white people. "The grievance in their mind, the animus, the anger — they hate white people because white people are successful and they're not," Pittenger, in a shocking display of racism, said on BBC Newsnight. Pittenger, who once said firing gay people is a "freedom we enjoy" in America, followed up his Charlotte comment by talking about Americans' dependence on government.  "It is a welfare state," said Pittenger, who has represented parts of Charlotte since 2013. "We have spent trillions of dollars on welfare, but we've put people in bondage, so that they can't be all that they're capable of being. America is a country of opportunity and freedom and liberty. It didn't become that way because of a great government who provided everything for everyone. No, the destiny of America, the freedom to come to this country ― where they're still coming to our shores ― is because they can take their work ethic, their hard effort, and put up their capital and their risk, and build out their lives." Pittenger's remarks were excoriated on social media.  The North Carolina Democratic Party called the congressman's comments "inexcusable" and "blatant racism."
Boner Candidate #6: THE PRICE OF A GOOD DEFENSE
A local defense attorney is now facing a criminal charge after he was accused of inappropriate sexual contact with two of his clients, while they were in jail. Anthony Blackburn, 45, was charged with simple battery by the State Attorney's Office. Blackburn has been an attorney since 2005 and graduated from Florida Coastal School of Law. Recently, he defended Lonna Barton, mother of toddler Lonzie Barton, in a drug case in Baker County. According to an affidavit filed by the State Attorney's Office, Blackburn visited two of his female clients, inmates at the Duval County jail, and while with them in a conference room, he showed them pornographic images. Those encounters took place Sept. 3, prosecutors said.  He also had inappropriate sexual contact with the women, prosecutors said.  Detectives said that behind closed doors and with the lights off, Blackburn pulled up pornographic images on a tablet, made sexual advances on one of his clients, touched her inappropriately and forced her do the same to him. Another inmate client he visited claimed she had sexual contact with him at the jail, as well. According to court documents, police got suspicious when a corrections officer noticed Blackburn inside the conference room with one of the women in the dark. One of the woman said she felt forced to take part in that sexual activity because she felt it would help her get her jail sentence reduced, according to the affidavit. Investigators said they listened to a recorded phone call from the jail in which she told a friend what happened with Blackburn. Detectives said surveillance video showed Blackburn meeting with the clients at the jail.
Download X96's App