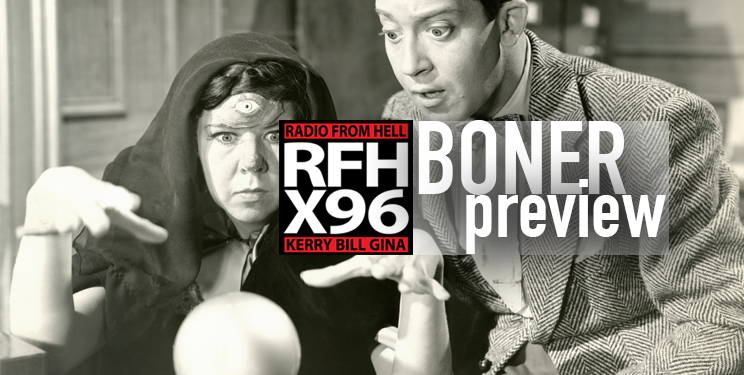 Boner Candidate #1: FISHERMEN KNOW A GOOD JOKE
An Ocean City marina is selling T-shirts featuring the phrases "White Lives Matter" and "Blue Lives Matter" to spread awareness — about the conservation of white and blue marlins. The NAACP is not pleased about this. White Marlin Marina worker George Lamplugh, who designed the shirts, says he means no offense, and that fishermen know a good joke when they see one.
Boner Candidate #2: THIS STUFF LOOKS KIND OF FAMILIAR
Authorities say two people who tried to pawn some stolen PlayStations didn't realize that they had burgled the home of the pawn shop owner. Citing a Clarksville, Tennessee police report, The Leaf-Chronicle says 30-year-old Jeremy A. Watts and 24-year-old Jessica F. Heady tried to sell two PlayStation systems along with controllers, video games and DVDs.
Boner Candidate #3: SPEAK ENGLISH BITCH
Yolanda Flores took her son for a physical at the Mesa County Health Department on Monday, to prepare for his high school football season. She ended up using her cellphone to record a verbal assault in the parking lot, laced with racial slurs and threats, because she wanted to document what was happening in case she was physically harmed.
Boner Candidate #4: SOUNDS LIKE THESE GUYS ALL DESERVED EACH OTHER
On Sunday, George Zimmerman called 911 claiming that a man punched him in the face at a Florida restaurant after recognizing him as the killer of Trayvon Martin, WFTV reports. "He recognized me," Zimmerman told the dispatcher when asked how the altercation began. "He told me he was going to kill me he told me he'd (expletive) shoot me and he punched me in the face."
Boner Candidate #5: THIIS HAD NOTHING TO DO WITH MY MAYORAL DUTIES
The mayor of Stockton, California, was arrested on Thursday on a felony eavesdropping charge stemming from a strip poker game he is accused of surreptitiously recording at a summer camp he hosts for disadvantaged inner-city youths, prosecutors said. Mayor Anthony Ray Silva, 41, was also charged with three misdemeanor counts – contributing to the delinquency of a minor, furnishing an alcoholic beverage to an underage person and child endangerment, according to a criminal complaint filed in court.
Boner Candidate #6: SEEMS LIKE A QUALIFIED CANDIDATE TO ME
Good people of Missouri, former Navy SEAL (and former Democrat) Eric Greitens would like to be your next Governor. Now please watch him fire off a Gatling-style machine gun for 20 seconds. Greitens won the Missouri primary just days ago, positioning himself as an "outsider" who will "take aim at politics as usual." Greitens isn't a single issue candidate by any means, though.
Download X96's App