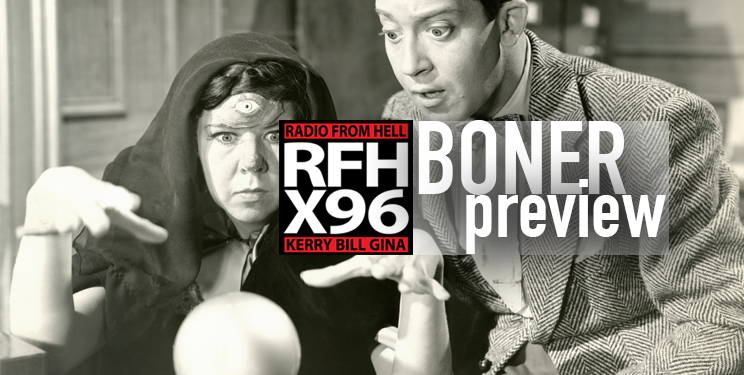 Boner Candidate #1: I AIN'T COOKING FOR NO COP
Restaurant Noodles & Company confirmed Thursday they've fire two employees after they refused to serve a police officer from the Alexandria Police Department. The company issued this statement: "Discrimination of any kind is never tolerated at Noodles & Company. After completing a thorough investigation into the allegations brought to us by a police officer who visited our Alexandria, VA location, we have concluded the two team members in question acted…
Boner Candidate #2: MOTHER OF THE YEAR
A Des Moines mother is in the Polk County Jail after police say she showed up drunk to a bar with her two-year-old daughter to bar. Police say they responded to the area of Miss V's Honky Tonk Island Bar at 1833 Hubbell Avenue just before 3:30 p.m. Wednesday after a call from a bartender about 25-year-old Mary Jane Carpenter. Officials say Carpenter was intoxicated when she arrived at the bar with her child.
Boner Candidate #3: THOSE DOUGHNUTS CAN BE ADDICTIVE
A Florida man claims he was wrongfully arrested when cops mistook doughnut frosting — for crystal meth. Back in December, Orlando motorist Dan Rushing said he was pulled over for running a stop sign before giving police permission to search his car,WFTV reported on Thursday. "They said, `We found what we thought was crack cocaine in the beginning, but now we think it's methamphetamine,' " Rushing told the ABC affiliate.
Boner Candidate #4: NOT BATMAN
Seattle police have arrested a man who they say threw a batarang at officers. Police were called to a Capitol Hill bar on Monday night after an employee was threatened by a man carrying an "improvised spear" consisting of a knife on a metal pole. Officers chased the suspect, who threw "a sharp, Batman-style throwing star" at a police SUV, according to a press release. Police have posted photos of the unusual weapon, which embedded in the lower front of the vehicle.
Boner Candidate #5: MY WEB SITE DOES NOT ACCURATELY REFLECT THE TRUTH
Melania Trump's cribbing last week of Michelle Obama's lines was not the first time she claimed something that was not hers. For months now, reporters have noted that Ms. Trump, who grew up in the small Slovenian town of Sevnica, did not obtain an undergraduate degree in architecture from the University of Ljubljana, as her professional website claimed she did. Instead, she left after her first year to pursue a modeling career in Milan.
Boner Candidate #6: HEY, COOL-A FAKE LEG.
A California toddler learned the hard way that life's not a beach — after someone stole his prosthetic leg on his first ever visit to the shore. Liam Brenes, 4, was having the time of his life Sunday as he soaked up the sun at the Crystal Cove State Beach in Orange County. His father, Frank, told him to leave his Star Wars-themed prosthetic leg — which he got when he was 1 due to a rare bone disorder called FATCO (fibular aplasia, tibial campomelia and oligodactyly) syndrome — in the sand with the rest of the family's personal belongings so it didn't get damaged by the salt water.
Download X96's App