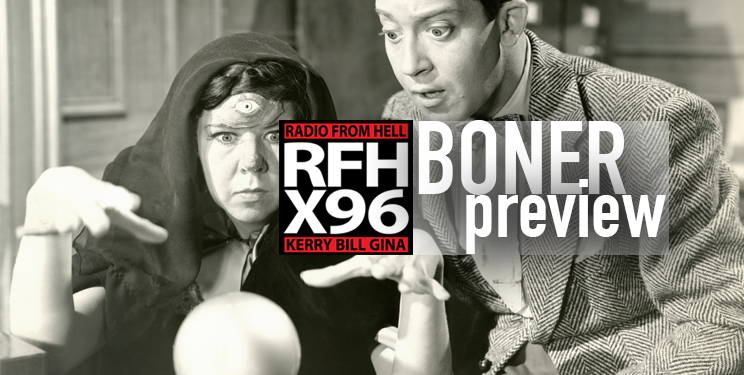 Boner Candidate #1: A BUNCH OF TEEN DRANK ALL HER VODKA. WHAT WOULD YOU ALL DO?
HOOPER, Utah — A woman from Weber County is facing numerous charges after she allegedly supplied her teenage nephews and their friends with alcohol but become enraged after the juveniles drank all her vodka. According to the Weber County Sheriff's Office, 30-year-old Brittani Robinson was staying at a home to babysit her 15 and 17-year-old nephews, who also invited several friends over to the home. Robinson supplied the group with beer and vodka, and police allege she drank with the juveniles throughout the evening. However, when she noticed the vodka was gone, she "confronted the teens, threatening to shoot and kill them."
Boner Candidate #2: IT'S ONLY A LIGHT BEATING
A leading Pakistani cleric has provided male followers with a step-by-step guide to controlling their women – with a "light beating" suggested at the end of the process for problem wives. Muhammad Khan Sherani, chairman of the Council of Islamic Ideology in Pakistan, offered a weirdly archaic model to men because: "When we draft a bill concerning women we have to consider all possible solutions." Sherani is proposing a law that would allow husbands to beat their wives. The mullah originally made these statements last month before he doubled down and affirmed them to the BBC in an interview that aired on Thursday:
Boner Candidate #3: WHERE IS THE LOVE?
A group of 20 senior citizens toured Washington, D.C., last month through the University of Utah's Osher Lifelong Learning Institute and had a delightful and educational experience meeting with each member of the state's congressional delegation. Except for one. The group had a scheduled meeting with 4th District Rep. Mia Love at 11:30 a.m. on May 26. But arranging the meet-and-greet proved difficult. Her staff requested a list of written questions for her, which seemed odd since it was just a casual get-together. The staff also said she would take no political questions, another curious demand.
Boner Candidate #4: A PERFECT 10 IN SEXISM
British gymnast Louis Smith gave a sterling demonstration this week of how not to treat women, and how not to respond when people call you out for your treatment of women. Smith has won some medals at the Olympics, but that's not actually relevant to this story. Olympian or no, he's still a creep. A creep who posted, on Snapchat, a photo of American gymnast Carly Patterson — a close-up of her butt — with the caption, "my sport has its moments." As if that weren't bad enough, the photo was taken when Patterson, now 28, was only 16.
Boner Candidate #5: ALL MUSLIMS WANT TO KILL ALL GAYS
Rep. Mo Brooks (R-Ala.) on Thursday said that Muslims would "kill every homosexual in the United States of America" if they could, after suggesting that Democrats are trying to appeal to both the LGBT community and the Muslim community. "On the one hand, they're trying to appeal to the gay community, but, on the other hand, they're trying to also appeal to the Muslim community, which, if it had its way, would kill every homosexual in the United States of America," the Republican lawmaker said while being interviewed on the Matt & Aunie show, a radio program in Birmingham, Alabama's WAPI-AM, as first reported by BuzzFeed News.
Boner Candidate #6: KIDS TODAY, THEY DO THE DARNDEST THINGS
BATTLE CREEK, Michigan – A young girl told police she tried to kill her mother after she was grounded for smoking. The 11-year-old daughter was grounded for smoking, and an argrument broke out between mother and daughter. But detectives said that things calmed down for a bit, and that is when mom went to bed. Then, police said that her daughter grabbed a butcher knife from the kitchen. "[She] walked to the room where the mother was at, made a statement to the mother that, how she wished the mother would die," said Det. Sgt. Troy Gilleylen, with the Battle Creek Police Department.
Download X96's App