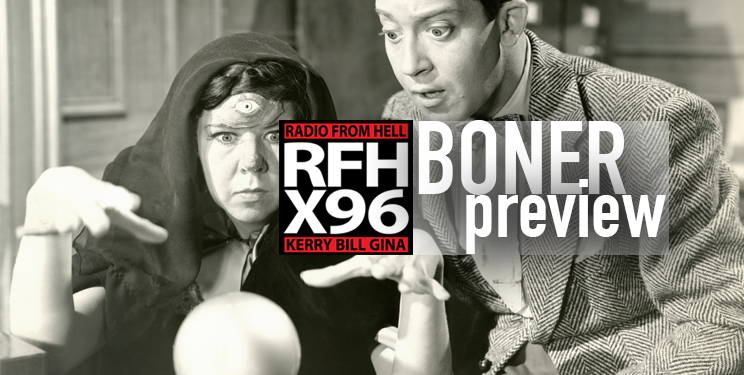 Boner Candidate #1: SOMEONE SHOULD HAVE TOLD ME NOT TO EAT DOG FOOD.
Serena Williams made herself ill after eating dog food hours before reaching the last eight of the Italian Open. The world number one tried "a spoonful" of food meant for her dog, Chip, before beating fellow American Christina McHale in straight sets in Rome. "I thought 'what the heck, I'm gonna try a piece, it looks good'," she said. "Fast forward two hours, I just ran to the toilet like I thought I was going to pass out. It did taste weird. It tasted kind of like house cleaner."
Boner Candidate #2: FRESHEST PORK IN TOWN
A Pearland, Texas business owner is trying to save his restaurant's reputation after a photo of him butchering a wild hog went viral. Jimmy Chi owns Tose Steak & Sushi at 1853 Pearland Pkwy. The photo, which was taken by a passerby at the end of April, shows Chi butchering the hog outside the back of his business. The passerby recently posted the photo on his Facebook account and it has since gone viral with many social media users believing the butchered hog was served at the restaurant.
Boner Candidate #3: IS THERE STILL A CHANCE I CAN GET THE JOB?
PANAMA CITY — An investigation is underway into a shooting outside an elementary school in which a part-time jail guard shot himself in the leg while preparing for a job interview, officials reported Monday. Travis Anthony Holland, 28, was taken to the hospital Friday afternoon after he accidentally discharged a revolver outside Oscar Patterson Elementary School, 1025 Redwood Ave., according to law enforcement reports.
Boner Candidate #4: WE SAID "EX" GIRLFRIEND. WHAT'S THE BIG DEAL?
At the National Rifle Association's annual convention in Houston, Texas this weekend, a company that sells shooting targets "designed to help YOU prepare for the upcoming Zombie outbreak" displayed much of what is wrong with the pro-gun movement with its foul "Ex-Girlfriend" target that bleeds when you shoot it. The more you shoot the iconization of the woman you hate (a 'slut' with her large breasts bulging out of her tanktop) the more she bleeds and her body, once sexy, becomes mangled.
Boner Candidate #5: SHE'S A KILLER, BUT MAN IS SHE HOT
Last night, tweeting British man Piers Morgan aired the first part of "Killer Women," a new special that, according to Piers, will "chill your soul." But which part of meeting a killer did Piers find most terrifying? That someone so young and so hot could be so murdery at the very same time. Piers interviews several "killer women" over the course of the episode, but no one upsets him quite like convicted felon Erin Caffey.
Boner Candidate #6: I DON'T CUT BLACK HAIR
This week, police in South Carolina arrested a 65-year-old barber for allegedly brandishing a pistol after refusing to cut a man's hair because he was black, the Associated Press reports. 37-year-old Arthur Hill, who recently moved to the state from New York, says he entered Larry Thomas' barbershop looking for a simple shave on Tuesday when the barber told him, "I don't cut black hair." Hill says he then asked Thomas what he meant and the barber pulled out a gun.
Download X96's App