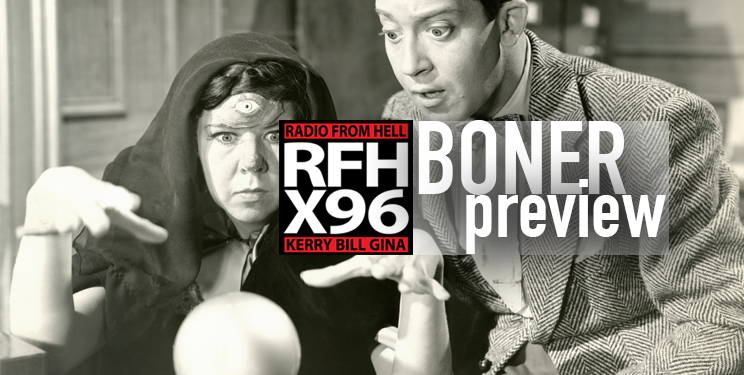 Boner Preview #1: WE ARE A VERY CLOSE FAMILY
A woman and her daughter are facing incest charges after authorities learned the pair were legally married in Oklahoma this year, and that the mother had married her son a few years earlier. The motivation behind the March marriage was unclear Wednesday, when 43-year-old Patricia Ann Spann and her daughter, 25-year-old Misty Velvet Dawn Spann, made initial appearances in Stephens County district court. Under Oklahoma law, marrying a close relative is considered incest whether or not a sexual relationship exists.
Boner Preview #2: I AM BACK WHERE I CAME FROM
My neighbor, a full-blooded Ute, relayed an experience he had recently that is worth reporting. He and his sister were at Smith's Food and Drug, 845 E. 4500 South, when another shopper accidentally backed his car into my neighbor's Mercedes, causing minor damage. The driver exited his car, apologized and got his insurance information to share with them. He volunteered to call his agent on his cellphone so he could immediately provide any additional information needed to fix the car.
Boner Preview #3: WE DECIDED TO HAVE A PEARL HARBOR DAY SALE INSTEAD
A San Antonio mattress store has drawn widespread criticism after posting a video on Facebook promoting a "Twin Towers Sale."  In the video, Miracle Mattress manager Cherise Bonanno says that there's no better way to remember the Sept. 11 terrorist attacks than the sale, which offers any size mattress for the price of a twin mattress. Two employees stand in front of a pair of towers of mattresses and an American flag
Boner Preview #4: CUT OFF HIS MAN BUN AND THEN EXECUTE HIM
A lowlife crook showed that nothing is sacred anymore — swiping a wheelchair-bound, 94-year-old woman's pension money right out of her bra as she shopped for new slippers, a startling video shows. The thief targeted Maria Vasquez at a store on East 116th Street in East Harlem at about 12:15 p.m. Wednesday, cops said.
Boner Preview #5: THE BURNING MAN LET DOWN IS SO, SO SAD
Five-time attendee Dina Kaplan says it's hard to hold on to the "good energy" of Burning Man back in NYC.Photo: Brian Zak For Dina Kaplan, Labor Day weekend means camping out in the Nevada desert among 60,000 of her newly minted besties, finding her Zen among sunrise meditation sessions, outrageous costumes and a commitment to "human decency" at the annual, anything-goes Burning Man festival. "They give you water if you're thirsty and feed you if you're hungry," says Kaplan, a five-time veteran of the festival and a West Village-based entrepreneur and yoga enthusiast who declines to give her age. "Some people will dance for 18 straight hours.
Boner Preview #6: ARE YOU STILL STUCK IN THE ELEVATOR?
But you should take some comfort in knowing that if it happens in an elevator affiliated with Amtrak, they'll have your back, even seven months later. Conservative political commentator Amanda Carpenter tweeted in February that she was stuck in an "Amtrak elevator" at Baltimore-Washington International Airport. Seven months later, on Sept. 7, Amtrak inquired about Carpenter's status. "Are you still in the elevator?" some concerned employee asked via Amtrak's Twitter account. Thankfully, she was not.
Download X96's App