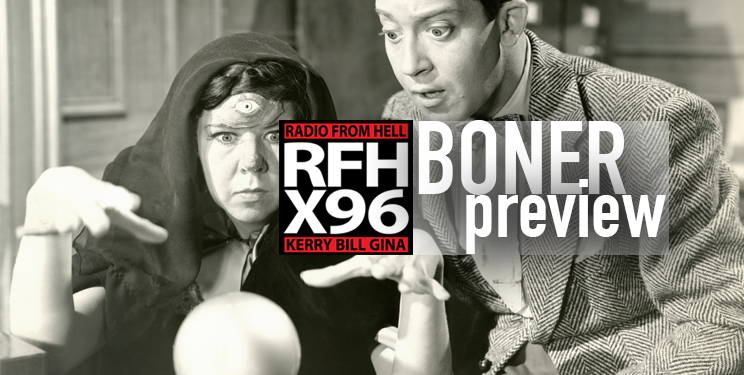 Boner Preview Candidate #1: I WILL HANG YOU BY YOUR TOES
A Texas high school coach allegedly told black players that he would hang them by their toes from a tree if they didn't behave, among other racially charged comments revealed in newly released documents. Todd Campbell, an assistant football coach at Centennial High School in Frisco, resigned in January after approximately 50 parents and other community membersmet with principal Randy Spain voicing their concerns that Campbell made racist comments to his black and Latino students. Documents obtained by The Dallas Morning News on Tuesday detail the allegations.
Boner Preview Candidate #2: YOU WILL ULTIMATELY UNDERSTAND THAT THIS DR. DID YOU A FAVOR
An English physician made more than just a teeny weeny error — performing a vasectomy on the wrong patient, a man who was complaining about long wait times at the doctor's office. Dr. Ninikram Vaswani, a urologist at Broadgreen Hospital in Liverpool, is facing numerous charges and the possibility of having his medical license revoked after he admitted tying the wrong person's tubes, according to the Telegraph.
Boner Preview Candidate #3: THEY WEREN'T OCCUPIERS THEY WERE CAMPERS
They entered a federal office building while armed, renamed the facility, accessed personnel files and posted private information about employees online, destroyed fencing while allowing the media to record them, drove government vehicles and said they were ready to "kill or be killed" while making a stand against the United States government. Nevada congressional candidate Michele Fiore calls this "camping."
Boner Preview Candidate #4: EVIDENTLY STUPIDITY IS ALSO PART OF THE HUMAN CONDITION
Last week in Texas, a Republican lawmaker proposed an amendment so outrageous, that even some of his own GOP colleagues were repulsed. Andrea Grimes, with RH Reality, reports: Rep. Matt Schaefer (R-Tyler) put forward an amendment that would make it illegal to terminate a pregnancy after 20 weeks, even if a fetus "has a severe and irreversible abnormality," effectively forcing families with wanted, but unsustainable pregnancies to carry to term at the behest of the state and against the advice of their doctors or their own wishes.
Boner Preview Candidate #5: SURE HE ROBBED A CHURCH…BUT JUST ARREST HIM FOR LOOKING CREEPY
Tangipahoa Parish sheriff's deputies arrested a Tickfaw man and recovered property they say he stole from a Pentecostal church. Brett Gonzales, 22, was booked Tuesday (March 15) with burglary of a religious building. The Little River United Pentecostal Church on Louisiana 442 in Tickfaw was burglarized earlier this month. Detectives received information that led to the arrest of Gonzales, who lives on Woodhaven Road, and he admitted burglarizing the church, the Sheriff's Office said.
Boner Preview Candidate #6: WHAT IS THIS ALPHABET YOU SPEAK OF?
A Cleveland Heights man, 74, was arrested March 9 for operating a vehicle while impaired after he rear-ended another vehicle in the drive thru lane at Panda Express. The driver of the other vehicle said the man accelerated to close the gap in between their cars because he was trying to prevent another vehicle from passing between them to leave the parking lot. During sobriety tests the man refused to recite the alphabet because he said he was unfamiliar with it.
Boner Preview Candidate #7: DENVER COPS KNOW HOW TO GET THE BABES
Denver Police officers caught using a confidential database for personal reasons should face stiffer penalties, the city's independent monitor argued in a report released Tuesday. The report, which reviewed both the Denver Police and the Denver Sheriff Department's performance for 2015, found several instances of officers abusing both the National Crime Information Center (NCIC) and it's state counterpart, the Colorado Crime Information Center (CCIC).
Download X96's App