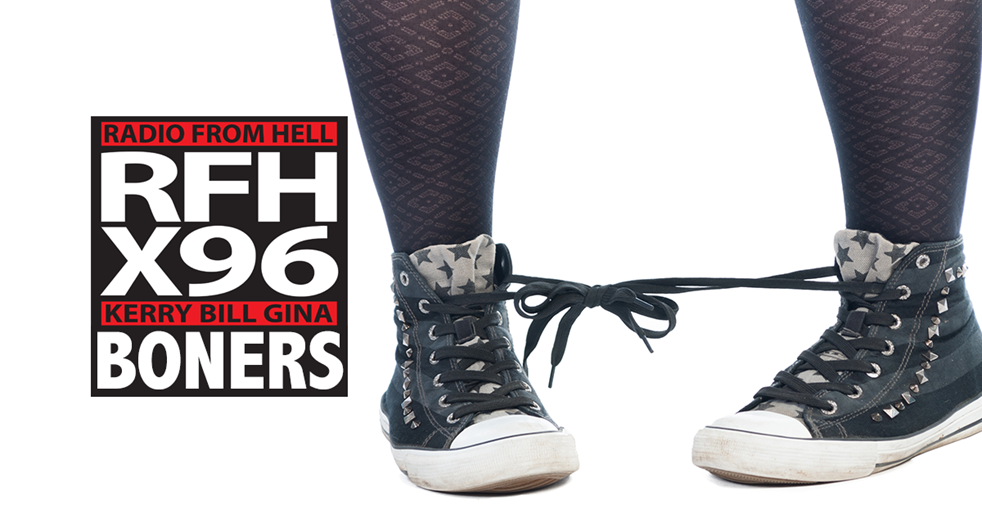 BONER CANDIDATE #1: THEY'RE GOOD BOYS BUT WHEN THEY GET IN A GROUP, WELL…
The tiny town of La Vernia, Texas, has been torn apart by accusations that nine students on its football team sexually assaulted boys in the locker room. Only two events can empty out the single grocery store in the tiny town of La Vernia, Texas: church on Sunday or a Friday night football game at the local high school. "It's all about the Bears," one parent said. But it wasn't Homecoming or the upcoming Powder Puff game that had the town talking this week. Instead, its 1,200 residents were left reeling after more than 10 boys came forward with sexual-assault allegations against athletes in the beloved La Vernia High School football program—claims that have led to the arrests of nine students, including seven juveniles and two adults, and threaten to tear this San Antonio bedroom community apart. Details are few where minors are involved, but one mother speaking to local media described the alleged assaults: "Kids were holding them down in the locker rooms, there was a lookout at the door watching for coaches not to come. They hold them down and stick various items up their rectum… including Coke bottles, deodorant bottles, steel pipes, baseball bats, and broomsticks." The seven arrested juveniles were taken into custody Thursday and immediately released to their parents. Two 18-year-old suspects were arrested Monday and booked in at the Wilson County Jail on charges of sexual assault of a child. The Daily Beast has chosen not to name them because they are still students at La Vernia High School. According to affidavits filed in the arrests of the two 18-year-olds, the men are accused of holding down a 16-year-old who was moving from Junior Varsity to Varsity football, and sexually assaulting the teen as part of an initiation in November 2016. The four involved players, who were at a home off-campus, allegedly shouted "Get him!" and held the 16-year-old victim face down on a bed while sodomizing him with the threaded end of a carbon-dioxide tank.
BONER CANDIDATE #2: THE NEXT OFFENSE WILL RESULT IN FLOGGING
A local mother is outraged after her 5-year-old daughter was suspended from school because of a stick that resembled a gun. Caitlin Miller returned to school Tuesday after her one-day suspension. It started Friday when her mother got a call from the principal about a playground incident. Caitlin explained that she and her two friends were using their imaginations, playing "King and Queen." In this case, Caitlin was the guard protecting the royals and picked up the gun to imitate shooting an intruder into the kingdom. Hoke County Schools said Caitlin posed a threat to other students when she made a shooting motion, thus violating policy 4331."Hoke County Schools will not tolerate assaults, threats or harassment from any student. Any student engaging in such behavior will be removed from the classroom or school environment for as long as is necessary to provide a safe and orderly environment for learning," the school system says. While Caitlin's mother says she understands the school's policy on the matter, explaining it to her 5-year-old was a different story. "We know why it's bad. We watch the news, but then I have to tell my kid you're not allowed to play like that in school because people do bad things to kids your age," Brandy Miller said. Miller says Caitlin was alienated by her friends and teachers as a result of the suspension. She hopes that the school will issue some sort of apology to her daughter. Hoke County School Superintendent Freddie Williamson is aware of the incident.
BONER CANDIDATE #3: HEY, WHAT'S THAT UGLY BUG THERE ON YOUR LEG?
Police are searching for the thieves who tricked a man and picked his pocket at a grocery store. Surveillance cameras captured the two robbers stealing thousands of dollars from the 68-year-old man at a southeast side Kroger. "It just happened that quick," said robbery victim David Griffin. Investigators say the two robbers worked as a team. One robber was a distraction and supposedly told Griffin he had a bug on his pant leg. When Griffin leaned over to look at his leg, the other robber swiped an envelope full of cash from his jacket pocket. "They were too smooth about it, it's like they had it planned for weeks," said Griffin. Surveillance camera footage shows Griffin's wife, Vickie, next to the robbers in the frozen food section. She saw the crime happen and chased after one of them. "I had my hands on him. I put his arm behind his back and tried to get him to the service desk, but he got away from me," she said. The envelope had nearly $3,000 in cash; the Griffins had the money because they were out shopping for home renovation supplies. They are in the process of moving, and depend on every dollar. "I am a cancer patient, four-stage cancer, and there are lots of medicines and food that I have to have special, so I was upset," said Vickie. Police believe this isn't the first or last time these robbers have used this plan. "This wouldn't be surprising if they tried to do it again because they found they were successful so why not go out there and try it again," said Officer Jim Gillespie with IMPD. Investigators believe the thieves took off in a red Toyota Corolla. If you know anything that could help track down these thieves, call Crime Stoppers.
Download X96's App