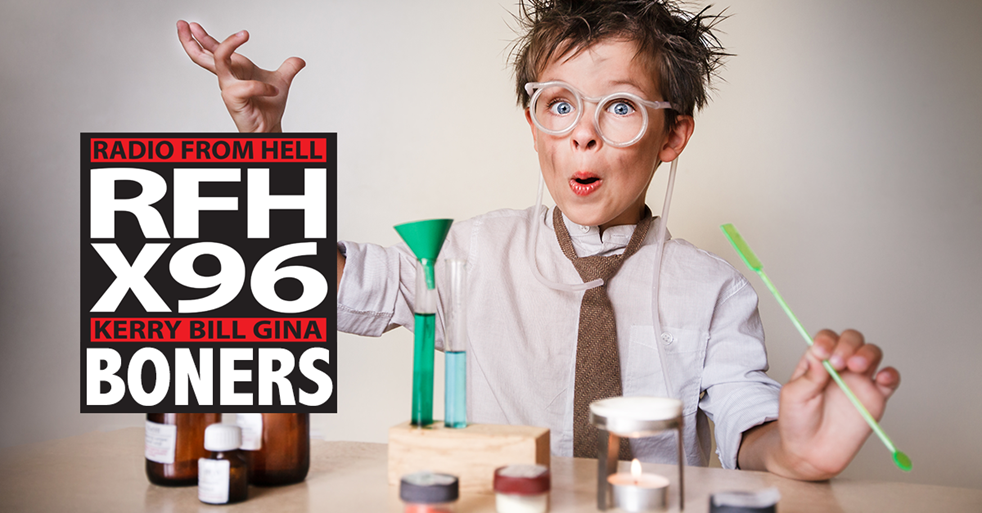 Round One
Boner Candidate #1: FUTURE FEDERAL JUDGES ON TEAM MITCH.
Senate Majority Leader Mitch McConnell and Rep. Alexandria Ocasio-Cortez Getty Images (2) Rep. Alexandria Ocasio-Cortez called out Senate Majority Leader Mitch McConnell on Monday night after a photo surfaced on social media, showing a group of young men "groping and choking" a cardboard cutout of the freshman congresswoman — while wearing shirts that say, "Team Mitch." "Hey @senatemajldr – these young men look like they work for you," Ocasio-Cortez tweeted. "Just wanted to clarify: are you paying for young men to practice groping & choking members of Congress w/ your payroll," she asked, "or is this just the standard culture of #TeamMitch?" The picture in question was posted on Facebook and then shared by a Twitter user named @emrazz. "Break me off a piece of that," the caption reads. "Future federal judges of America," tweeted @emrazz in response. The photo emerged Monday just one day after Ocasio-Cortez publicly condemned McConnell — in the wake of the El Paso and Dayton shootings — for not calling a Senate vote on a gun reform bill that was passed by the Democratic-controlled House back in February. "The House passed HR8, a Bipartisan Background Checks Act, *5 months ago* and the Senate has yet to vote on it," the New York lawmaker tweeted. "It was one of our 1st major priorities after ending the gov shutdown. You've been sitting on it since February giving bogus excuses. Care to explain the people why?" Ocasio-Cortez was responding to a tweet from McConnell, in which he offered his condolences to the victims of the El Paso shooting. "The entire nation is horrified by today's senseless violence," said the majority leader. "Elaine's and my prayers go out to the victims of this terrible violence, their families and friends, and the brave first responders who charged into harm's way." Several other legislators, including Sen. Bernie Sanders and Senate Minority Leader Chuck Schumer, have urged McConnell to call Senate back into session and revisit the bill. "One awful event after another," said Schumer in a statement. "Leader McConnell must call the Senate back for an emergency session to put the House-passed universal background checks legislation on the Senate floor for debate and a vote immediately."
Read More
Boner Candidate #2: HE LOOKS PRETTY GOOD AS HIS OWN DAUGHTER.
A Brazilian gang leader tried to escape from prison by dressing up as his daughter when she visited him behind bars and walking out the penitentiary's main door in her place, authorities said Sunday. But prison officials said the nervousness displayed by Clauvino da Silva, also known as "Shorty," as he tried to leave the prison in the western part of Rio de Janeiro dressed as a woman gave him away. His plan was apparently to leave his 19-year-old daughter inside the jail, reports the AP. Police are looking into her possible role as an accomplice in Saturday's failed escape attempt from Gericinó prison. Rio's State Secretary of Prison Administration released photos showing da Silva in a silicon girl's mask and long dark-haired wig, wearing tight jeans and a pink shirt with a cartoon image of donuts. They also released a video in which da Silva can be seen removing the mask and some of the clothes, and saying his full name. Authorities say da Silva was part of the leadership of the Red Command, one of the most powerful criminal groups in Brazil that controlled drug trafficking in a large part of Rio. After the failed escape bid, da Silva was transferred to a unit of a maximum-security prison and will face disciplinary sanctions, officials said.
Read More
Boner Candidate #3: THEY ARE LIVIN IN THE TREES MAN.
A Utah man is accused of multiple drug and weapon charges after telling police he was trying to shoot people living in the trees of his yard, along with possessing multiple guns and drugs in his home. Timmy Andrew Gurule, 64, is facing 32 different charges, including illegal possession of firearms, illegal discharge of a firearm and possession of a controlled substance with the intention of distribution. According to the probable cause statement, a Salt Lake City Police officer was investigating a traffic accident on Aug. 6, 2018, when he heard gunfire in the area near 500 S. Redwood Rd. When he went to the source of the sound, the officer found a man – later identified as Gurule – standing in his yard. The officer noticed gun casings on the ground and that the window of a vehicle in the driveway was shot. According to the probable cause statement, Gurule told the officer there were 30 to 50 people living in the trees of his property and that the officer couldn't see them without his infrared binoculars. Search warrants were then obtained for Gurule's home and a sample of his blood.
Round Two
Boner Candidate #1: THE ICE TASTES FUNNY.
St. Petersburg, FL — A nightclub patron relieved himself into a commercial ice maker early Saturday, according to Florida police who arrested the intoxicated urinator for disorderly conduct.
Investigators say that Michael Williams, 28, was spotted "urinating inside the ice chest used to distribute ice throughout" 260 First, a St. Petersburg nightspot. After relieving himself around 2:30 AM, Williams reportedly resisted as security guards sought to boot him from the club, where a "First Friday" party was winding down. The bash was advertised as "Trendy with a touch of class" and featured two DJs, including Spindiana Jones. When police arrived at the nightspot, they arrested Williams on a misdemeanor disorderly conduct charge. After a pat down turned up a bag of marijuana in Williams's pants pocket, cops tacked on a misdemeanor possession charge. Seen above, Williams was booked into the county jail, from which he was released late Saturday morning after posting $400 bond. Williams's rap sheet includes a felony marijuana conviction for which he was sentenced to 18 months probation.
Read More
Boner Candidate #2: NOW THAT'S HOW A MAN CUTS THE CAKE.
This is the shocking moment a man decided to cut his birthday cake – by shooting it with a gun. Footage shows the unnamed 24-year-old brandishing the allegedly illegal firearm while celebrating with his group of friends earlier this week. Dozens of men huddle around the treat after it is placed on the floor and begin to cheer on the man. The man then recklessly fires a single bullet at the cake and bursts into celebratory song after successfully slicing it in half. Police are currently investigating the alleged possession of the illegal firearm in Uttar Pradesh, North India.
A police spokesman said: "We have taken the cognizance of the matter and the video has come to our notice, we will soon initiate strong action against the youth possessing illegal firearms." Although it is not illegal to own a firearm in India, the country still operates strict gun control.Citizens wishing to possess a firearm have to apply to the Government and have to renew their licenses every three years.
Read More 
Boner Candidate #3: THESE ARE THE PEOPLE WE ELECT.
An Ohio lawmaker has stirred up controversy with a Facebook rant blaming the recent mass shootings in Dayton, Ohio, and El Paso, Texas, on the breakdown of "traditional American family," gay marriage and "drag queen advocates" among other things. State Rep. Candice Keller, a Republican from Middletown, about 25 miles southwest of Dayton, listed a slew of reasons why she believes that a 24-year-old man killed nine people, including his sister, early Sunday in downtown Dayton. "After every mass shooting, the liberals start the blame game," Keller wrote in the Facebook post, which had been removed as of early Monday. "Why not place the blame where it belongs?" Keller placed the blame for mass shootings with "the breakdown of the traditional American family (thank you, transgender, homosexual marriage, and drag queen advocates); fatherlessness, a subject no one discusses or believes is relevant; the ignoring of violent video games; the relaxing of laws against criminals (open borders); the acceptance of recreational marijuana; failed school policies (hello, parents who defend misbehaving students): disrespect to law enforcement (thank you, Obama)." She also slammed local lawmakers who she says have "no interest whatsoever" in learning about the Constitution, especially the Second Amendment, as well as "snowflakes who can't accept a duly elected President," according to the post. "Did I forget anybody?" Keller continued. "The list is long. And the fury will continue."
Download X96's App