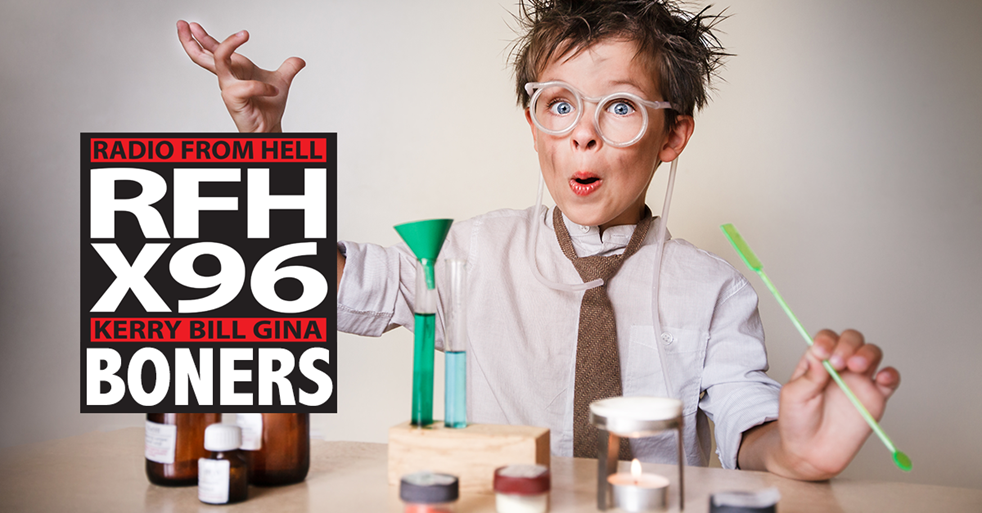 Round One
Boner Candidate #1: I WANNA GET FRISKY IN THE LAVATORY. WHO'S WITH ME!?
A British woman has been jailed for going on a drunken rampage on an Etihad flight from Abu Dhabi to Manchester after asking men to join her in the "mile-high club", according to reports. Demi Burton, 20, who boarded the May 9, 2019 flight while already sloshed, continued to drink wine until the flight attendants told her she could no longer order alcohol, according to the Mirror. By then, she had already gotten so drunk that she propositioned several men to get frisky in the lavatory while cruising at 30,000 feet. But when told that she could no longer drink booze, the woman kicked, bit and headbutted the crew during her four-hour blowout, according to the report. "You may as well just land the plane now then!" Burton shouted at the crew and unleashed her attack as her 259 fellow passengers looked on in horror. An anaesthesiologist who tried to restrain Burton was bitten on the elbow and headbutted – saying the struggle was "worse than anything he'd seen" in the emergency room, the Minshull Street Crown Court heard.
Boner Candidate #2: CONDOM SPOIL-SPORT, GARY HERBERT.
Utah Gov. Gary Herbert has ordered state health officials to stop distributing condoms with suggestive Utah-themed packaging, created with federal funds as part of a new HIV awareness campaign. The wrappers riff on various Utah memes, with labels such as "Greatest Sex on Earth," "SL,UT," an image of a highway sign that displays the number of miles to towns "Fillmore" and "Beaver," and "This is the Place" over a drawing of a bed. "It's really just to destigmatize HIV in Utah, and get everybody talking about sexual health," said Erin Fratto, of the Utah Department of Health's Prevention Treatment and Care Program, in an interview on Wednesday before the governor's action. "If the condoms are fun, relatable, sex positive — people are more apt to talk about them, which we've already seen."
Boner Candidate #3: LET'S GET HIGH WITH MOM!
A 26-year-old man is accused of selling drugs that were mixed with his mother's ashes. Police said Austin Schroeder, of Menomonee Falls, admitted to investigators he cut the drugs using his dead mother's cremated remains. But he didn't explain why. Investigators said they received a tip about Schroeder and his girlfriend selling drugs out of their apartment. According to a criminal complaint, twice last week, investigators sent an informant to the apartment. They said the informant was able to buy marijuana. A few days later, police returned and searched the apartment. Investigators said they found 70 grams of marijuana, a small amount of MDMA, bongs and a drug scale. According to the complaint, Schroeder tried to explain the "large amount of unknown powder and vegetable material located in the apartment," saying he "mixed these substances for a variety of reasons." Schroeder said his mom died a little more than a year ago, and, according to the complaint, "Schroeder indicates he took some of her ashes and mixed them with a variety of substances, some of which he ultimately ingested." The complaint doesn't indicate if he mixed the cremated remains in any of the drugs he's accused of selling. Schroeder and Kaitlin Geiger, 21, of Menomonee Falls, each face felony drug charges. There's no explanation in the complaint for why he allegedly admitted to ingesting his mom's ashes. The couple appeared Tuesday in Waukesha County Court. They were released on a signature bond and scheduled to be back in court Jan. 28.
Round Two
Boner Candidate #1: WHO WATCHES WENDY WILLIAMS? OH, YOU DO? THEN STOP.
Wendy Williams has finally apologized for making cruel comments about Oscar-winning actor Joaquin Phoenix's cleft lip surgery scar. The talk show host said sorry to the cleft community, while encouraging viewers to 'learn more' about supporting the community. She also promised to donate money to Operation Smile and the American Cleft Palate-Craniofacial Association to help families dealing with the condition. Her apology came in a reply to Canadian football player Adam Bighill, who had been a vocal critic of the star's comments. He was born with the condition and whose infant son Beau also has a cleft palate. Bighill reached out to Wendy for five days before finally getting an apology. It was sharing a photo of son Beau right before the infant went into surgery which finally seemed to resonate with the hostess.
Boner Candidate #2: THE PROSECUTOR HAS STICKY FINGERS.
A former Chester County prosecutor was arrested for shoplifting at a grocery store. Police say Caitlin Rice attempted to steal $400 worth of merchandise from a Wegmans in Malvern on New Year's Eve. Rice was stopped by store security in the parking lot and is now being charged with retail theft. Rice was an assistant district attorney at the time. She's since resigned from her position in the Chester County District Attorney's Office. Her next court appearance is scheduled for February 14.
Boner Candidate #3: QUIT PEEING ON THE ESCALATORS.
MEXICO CITY (AP) — Travelers on the Mexico City subway system often blame authorities for broken-down escalators at subway stops, but Metro officials have another explanation: vast amounts of pee. Somehow, urine is penetrating and corroding the drive wheels and mechanisms of the escalators that carry riders up from underground stations. In a list published Tuesday, the Metro system listed "corrosion due to urine" as one of the top five causes of escalator breakdowns. Fermin Ramirez, the system's assistant manager for rails and facilities, said riders appear to be urinating on escalators at off-peak hours and lightly used stations, "even though it seems hard to believe." "When we open up escalators for maintenance, there is always urine," Ramirez said. Most stations have no public bathroom facilities, a fact Twitter users were quick to point out, noting there are not even any pay toilets.
Download X96's App