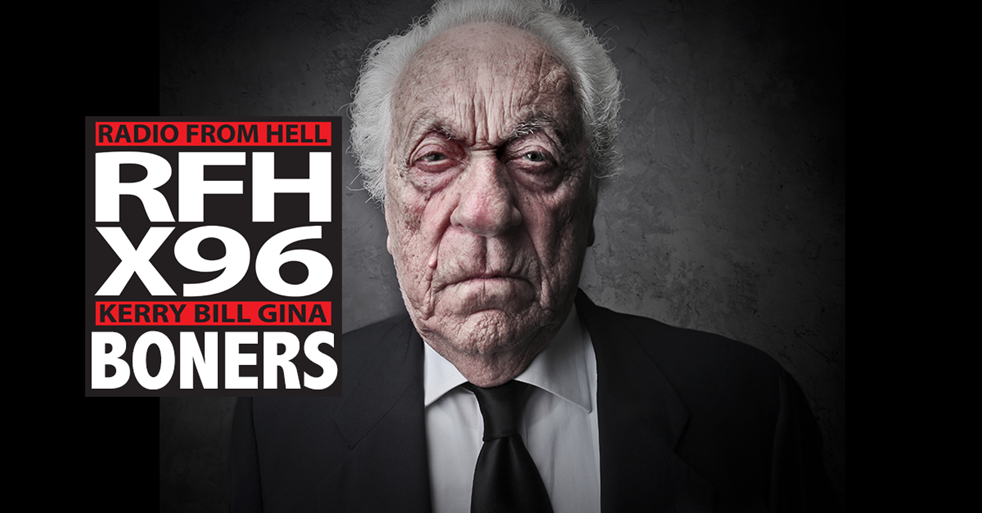 Round One
Boner Candidate #1: YOU IMMEDIATELY WONDERED WHAT HE WAS USING FOR A POLE, DIDN'T YOU?
A Twin Cities-area man is facing charges after he was arrested for fishing naked in west-central Minnesota. Otter Tail County Sheriff's Lt. Keith Van Dyke said deputies received a call July 1 from people living on North Turtle Lake that 59-year-old Michael Blake was fishing naked from his pontoon boat about 50 feet from shore. Van Dyke said summer homes line the lake but Blake, of Brooklyn Center, told responding deputies that he didn't think anyone was around so fishing naked wouldn't be a problem. Van Dyke said Blake has been charged with gross misdemeanor indecent exposure. A number for a possible residential listing for Blake in Brooklyn Center was disconnected.
Boner Candidate #2: HE DOESN'T COUNT?
Nevada Highway Patrol Trooper Travis Smaka was on Interstate 15 on Monday when he noticed someone driving solo in the HOV lane. Take note: Transporting a corpse doesn't qualify you for the carpool lane. He stopped the car — a Chrysler minivan — and was caught off-guard by what the driver said. "The driver informed me that he had someone who was deceased in the back of the vehicle," Smaka said. The trooper peered inside, and sure enough, it was equipped like a hearse, with a rail and a gurney holding a deceased person. The driver asked, "So, he doesn't count in the back?" Smaka said he got a good chuckle out of it but informed the driver that, no, deceased people do not count. He let the driver off with a warning.
Boner Candidate #3: FIREWORKS ARE FUN!
Firefighters were called to a brush fire at a look-out point by the North Ogden Divide just after 1 a.m. Sunday morning. Flames scorched the trees while crews fought the wind blowing in their faces. "We found 20 mph winds from the East … pushing down the hill towards the houses," said Deputy Chief Jeremiah Jones with North View Fire District. Burning less than a quarter of an acre, Jones said it was the dry, windy conditions and steep slope that made fighting this fire so daunting. "Luckily for us, where the fire was, it was really close to the road, so we didn't have to hike down off of the mountain very far," Jones said. It was all smoke and rubble within 10 minutes, but now the Weber County Sheriff's Office is investigating who sparked it.
Round Two
Boner Candidate #1: BLUE BELL LICKER.
Another person was caught on camera licking ice cream in a store, police say. Police are looking for a woman who licked a half-gallon of Blue Bell ice cream and put it back on the shelf in a Walmart store in Lufkin, Texas. Louisiana police say a 36-year-old man was inspired by a viral video of a teenager licking a tub of Blue Bell Ice Cream to seek his own 15 minutes of fame. Assumption Parish Sheriff's deputies arrested Lenise Martin III on Saturday after receiving a tip from a grocery store in Belle Rose, Commander Lonny Cavalier told CNN. Someone recorded Martin pulling a carton of Blue Bell Ice Cream from a freezer, opening it, licking the frozen dessert and poking it with his finger before putting it back on the shelf, Cavalier said. Detectives found evidence that Martin posted the video on Facebook, suggesting that he was seeking attention for the alleged misdeed, Cavalier said. Martin is being held on charges of unlawful posting of criminal activity for notoriety and publicity and criminal mischief for allegedly tampering with property — in this case, the ice cream, Cavalier said.
Boner Candidate #2: I DON'T FEEL SAFE AROUND THE COPS.
Starbucks is issuing a public apology to officers with the Tempe Police Department in Arizona. This comes just over a year after the coffee giant's public apology for two black men being arrested in a Philadelphia store. In a statement Friday, the Tempe Officers Association said six officers walked into a Starbucks to enjoy some coffee on Thursday. The group was approached by a barista who told the officers that a customer "did not feel safe" because of their presence. "The barista asked the officers to move out of the customer's line of sight or to leave," the association said. The officers ultimately left the store "disappointed." "This treatment of public safety workers could not be more disheartening. While the barista was polite, making such a request at all was offensive," the statement read. "Unfortunately, such treatment has become all too common in 2019."
Boner Candidate #3: NOW PEOPLE ARE JUST GRAZING AT WALMART.
Wichita Falls police banned a woman from Walmart after she reportedly ate half of a cake and refused to pay for the uneaten half, according to the Wichita Falls Times Record News. Police responded to a theft call June 25 at the Walmart; they were told a woman entered the store, ate half of a cake and refused to pay for the other half when asked. According to the Times Record News, the woman was banned from the store by police for the theft. This is not the first time a Wichita Falls Walmart has been forced to ban a customer this year. In January, a woman was banned from a Wichita Falls Walmart for reportedly drinking wine out of a Pringles can while riding around on an electric shopping cart.
Download X96's App