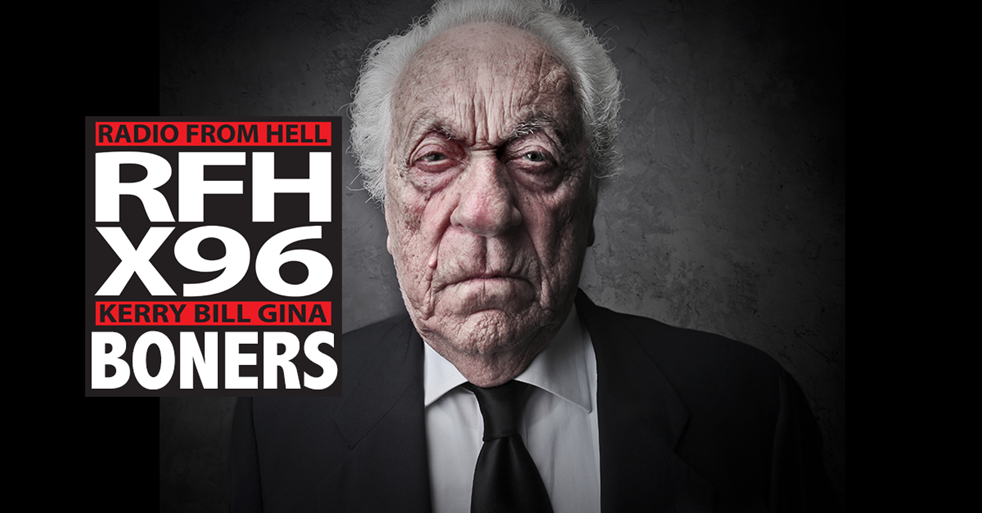 Round 1
Boner Candidate #1: HE WANTED TO BE THE COOL BUS DRIVER.
Millerstown Borough, Perry County (WPMT) — A school van driver was arrested facing charges after he shared inappropriate photographs to minors. State Police say Jamie Graybill, 45, of Liverpool, was charged earlier this month for the incident. Police say Graybill, who drives for the Greenwood School District, showed two 15-year-old male students pictures of nude adult females. Police say this went on from January 3rd to January 18th. Graybill faces two charges of dissemination of explicit sexual material, two counts of unlawful contact with a minor through obscene and other sexual materials, and two counts of corruption of minors.
Boner Candidate #2: HOW COOL IS THIS? THE OPPOSITE OF COOL
While it might have been a hit among roadrunners, very few of Kristi Noem's Twitter followers appreciated a recent tweet in which she advocated for killing coyotes. The tweet, sent just after 8 a.m. Friday morning, shows Noem standing next to Sen. Troy Heinert, D-Mission, who is wearing a coyote fur coat. "We need to kill more coyotes so everyone can have a coat like Senator Heinert's," Noem said in the tweet. "How cool is this?!?" Very few of the 140-plus replies thought it was cool, with people saying they found the tweet "disgusting," "terrible" and "wrong on so many levels."
Boner Candidate #3: THAT IS TRUE LOVE.
Ride sharing services can be useful for a lot of things — like providing a means of transportation so you don't have to drive to jail in a stolen car. Yet that's exactly what one man did recently when he went to bond out his girlfriend — who had been arrested for driving a different stolen vehicle — from the Gwinnett County Jail, police said. Duluth residents Derrick Taylor-Canty, 26, and Akhria Cooper, 24, are now both behind bars, having been charged with felony and misdemeanor theft by receiving stolen property, altering serial numbers and several other charges for having four stolen cars in their possession, police said.
Round 2
Boner Candidate #1: THAT'S NOT WHAT I WANT TO BE ADDICTED TO
A Florida Man is behind bars after stealing what he thought were Hydrocodone pills, but which turned out to actually be over-the-counter laxatives and not powerful prescription opioids. Cops allege that Peter Hans Emery, 56, took the pills from a "lock box" at the victim's Pinellas Park home Thursday morning. The complaint lists Emery's home address as the site of the theft itself. His relationship with the 49-year-old victim is unknown.Emery, cops say, was recorded by a video camera "entering the victim's lock box, selecting a pill bottle, pouring pills into his hand, and then leaving." The pill container was labeled "Hydrocodone-Acetaminophen."
Boner Candidate #2: TOM WAS PROBABLY RIGHT ABOUT THE REPUBLICANS, BUT THEN IT WENT ALL KINDS OF WRONG
NBC News special correspondent and former "NBC Nightly News" anchor Tom Brokaw received scathing backlash Sunday for remarks he made on a "Meet the Press" segment about Hispanic assimilation. Brokaw, 78, made his remarks during a panel discussion about the fight for a wall along the U.S.-Mexico border. "On the Republican side, a lot of people see the rise of an extraordinary, important new constituent in American politics, Hispanics, who will come here and all be Democrats," he said. "Also, I hear, when I push people a little harder, 'Well, I don't know whether I want brown grandbabies.' I mean, that's also a part of it. It's the intermarriage that is going on and the cultures that are conflicting with each other," he added. Brokaw went on to say, "I also happen to believe that the Hispanics should work harder at assimilation. That's one of the things I've been saying for a long time. You know, they ought not to be just codified in their communities but make sure that all their kids are learning to speak English, and that they feel comfortable in the communities. And that's going to take outreach on both sides, frankly."
Boner Candidate #3: LOCK THESE PEOPLE UP
Still think that telling people to avoid vaccination doesn't have consequences? Here are the latest consequences of people not getting the measles vaccine. On Friday, Jay Inslee, Governor of the state of Washington declared a State of Emergency throughout the state due to the ongoing measles outbreak that has now affected at least 26 people. This is the outbreak that I wrote about for Forbes six days ago. Clearly things have gotten worse since then. This means that the Washington State Comprehensive Emergency Management Plan will be implemented. This means that the Washington State Military Department, State Emergency Operations Center, the Department of Health, and local officials will have to coordinate their resources and efforts. This means that taxpayer dollars and other resources that could have gone to other things now need to be allocated to deal with this emergency.
Download X96's App