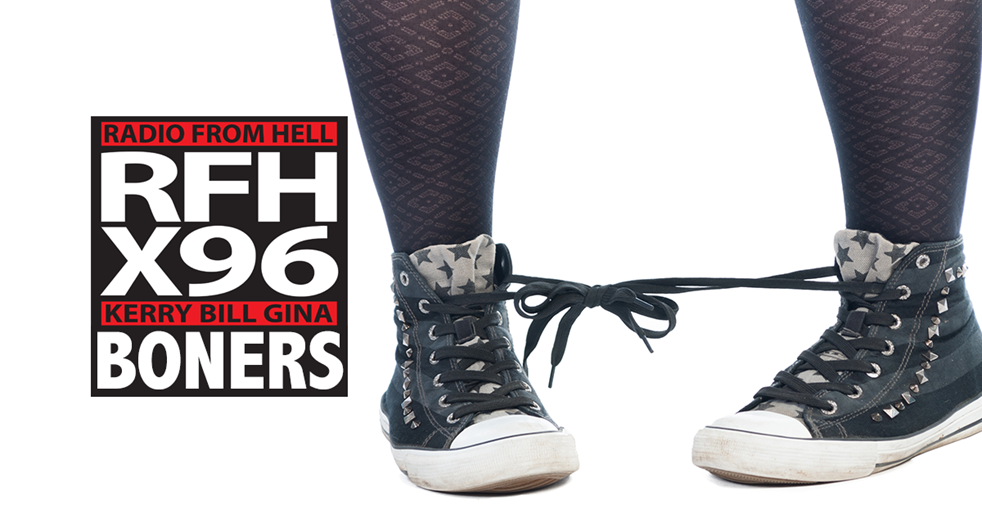 Round One
Boner Candidate #1: SO YOU GOT WHAT YOU DESERVE
An Instagram model from California had a "Jaws"-worthy moment in the Bahamas, where she was bitten by a shark and dragged underwater after deciding to swim with the predators, according to reports. Katarina Zarutskie, 19, was vacationing in the Exuma islands with her boyfriend and his family when she heard from locals that swimming with nurse sharks was fun and safe, NBC News reported. "My boyfriend's family was freaking out when I went to swim with the sharks and I was like, 'It's fine,'" Zarutskie, a nursing student at the University of Miami, told the news outlet. She said that after a few minutes posing, someone on the pier encouraged her to lie back and float in the water. "At this point people were starting to take photos and right as I lay back," Zarutskie said, according to the BBC. Her beau's dad, who was snapping pictures, captured the frightening moment the 5-foot-long shark decided to give her a taste."He had my wrist in his mouth and I could feel his teeth sinking into my arm," Zarutskie told NBC News. "I was pulled underwater for a few seconds and then ripped my wrist out of the shark's mouth as fast as I could."
Boner Candidate #2: I WAS PACKING BECAUSE THOSE OTTERS CAN BE PRETTY AGGRESSIVE
Draper Police will ask the Salt Lake County District Attorney to review the case of a woman who left a loaded handgun in a bathroom at the Loveland Living Planet Aquarium. Tuesday afternoon, a woman found the gun in a bathroom stall. "The circumstances and that children could be at further risk, we decided it would be more appropriate to at least have the District Attorney's Office to at least, look at the case," Draper Police Sgt. Scott Adams said. Police tell FOX 13, the woman who owns the gun has identified herself, and she has a valid concealed carry permit.  Police will maintain possession of the gun as evidence until the D.A. decides whether to pursue charges. A mother who was at the aquarium, was headed to the restroom when another woman alerted her to the gun. "I looked behind her and I saw it there perched on the ledge," Crystal Mundt said. She was spending the day at the aquarium with her two young children and hopes a message is sent to people who decide to carry guns.
Boner Candidate #3: BOY, YOU GOT BOXER SHORTS ON YOUR HEAD
Police in Texas are looking for a man who broke into an office while wearing underwear on his head. The suspect — donning a blue pair of boxer briefs on his head, but not enough to completely hide his face — burglarized Enchanted Rock and Landscape Supplies in Leander, roughly 26 miles northwest of Austin, on June 16. It wasn't immediately clear if he searched through all the office drawers. The local police department posted surveillance video of the break-in to Facebook, in which the man is seen climbing through a window with what seems to be a flashlight in his mouth, before walking up to the security camera and apparently disabling it.
[polldaddy poll=10054032]
Round Two
Boner Candidate #1: HELP
hapless burglar broke into an 'escape room' game from which he could not then escape, leaving him no choice but to call 911 on himself. Rye Daniel Wardlaw, 40, allegedly broke into Vancouver's Northwest Escape Experience, a center for team puzzle games where players work out how to exit a room. But lacking both a team and common sense, Wardlaw became trapped. So he called the police to come and rescue him, reported KATU-2, citing court documents. "He apparently didn't know how to use the lock on the front door and was stuck," Tamara Bertrand, who owns the escape room, told FOX 12. "I feel violated," said Rob Bertrand, who owns the room with his wife. "We're a small business. We put our heart, soul and money into this place to make it work. Our goal is to bring fun to families and businesses, and it doesn't feel good to get taken advantage of."
Boner Candidate #2: YOUR DEATH IS BREACH OF CONTRACT MADAM.
Three weeks after a British man told PayPal that his wife had died at 37 and that her credit account should be closed, he opened a letter from the company: Her death, it seemed, was in violation of the company's contract rules. "You are in breach of condition 15.4(c) of your agreement with PayPal Credit as we have received notice that you are deceased," said the July 10 letter to the woman, Lindsay Durdle, who had died of breast cancer on May 31. Her husband of nearly 10 years, Howard Durdle, 40, of Bucklebury, read the company's list of potential consequences: shutting down her account, requiring repayment of more than $4,000 in debt, and even legal action. In Britain, spouses are not automatically responsible for their deceased partners' debts. Such debts must be paid through the estate of the person who died, including money or possessions. Mr. Durdle said his wife's estate could not cover her debt. "With grief, there are ups and downs," he said. "There are days when you are very fragile, and there are days when you are feeling stronger. We are lucky that this week I was feeling quite strong."
Boner Candidate #3: PAPA IS NO LONGER IN THE HOUSE
According to a report from Forbes, the owner of the Papa John's pizza empire, John Schnatter, rankled a group of marketing executives when he used the n-word during a May conference call. Forbes reports that the call was set up for Schnatter to speak with execs from a marketing agency called Laundry Service, who were attempting to help Schnatter navigate the PR crisis he'd created when he stupidly blamed his company's declining profits on the fact that a few NFL players had decided to stage peaceful protests at games. It appears that the call went off the rails and led to Laundry Services severing its relationship with Schnatter. On the May call, Schnatter was asked how he would distance himself from racist groups online. He responded by downplaying the significance of his NFL statement. "Colonel Sanders called blacks n——-s," Schnatter allegedly said, before complaining that Sanders never faced public backlash.
[polldaddy poll=10054037]