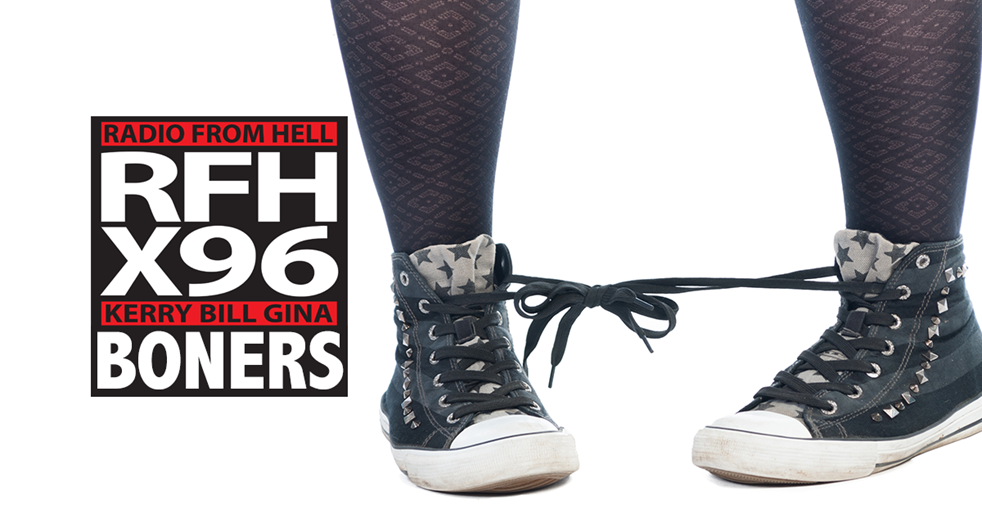 Round One
Boner Candidate #1: AT LEAST STORMY IS HONEST ABOUT WHO SHE IS AND WHAT SHE DOES.
 Rudy Giuliani cheated on his wife with a married New Hampshire hospital administrator, multiple sources told The Post. The mayor-turned-presidential lawyer, 74, and Maria Rosa Ryan, 53, began their affair before he and wife Judith Nathan separated last month — and Nathan filed for divorce five days after the pair was spotted getting cozy at a ­resort hotel in the Granite State. Giuliani, who has recently been the face of President Trump's legal team, denied the affair to The Post Tuesday after it broke the story of his relationship with Ryan. He acknowledged that he and Ryan had dinner and watched a movie at the posh spa — but claimed he was already "in effect separated'' from Nathan at the time.
Boner Candidate #2: BRO!
A cringe-worthy video shows a bozo in Boston trying to leap from one subway platform to another across a train track — only to land groin-first onto the edge and then fall onto the rails. "F–k! I got this close!" the Beantown bonehead tells his Red Sox fan friends after landing flat on his back across the tracks at Park Street station, the video posted by Subway Creatures shows.
Boner Candidate #3: REPRESENTATIVE KING IS LETTING US KNOW EXACTLY WHO HE IS.
The U.S. congressman retweeted a British racist. King has long signaled support for white nationalists. 
Rep. Steve King (R-Iowa) retweeted a British neo-Nazi on Tuesday, the latest in a series of incidents in which the congressman has 
parroted or promoted
 the views of unabashed white supremacists and other bigots. 
"Europe is waking up… Will America… in time?" King tweeted, linking to an anti-immigrant tweet from political activist Mark Collett. 
Collett is one of Britain's most high-profile white supremacists. He has expressed admiration for Adolf Hitler and has called himself a "Nazi sympathizer." 
Round Two
Boner Candidate #1:OUR POLICE DEPARTMENT HAS A PERFECT RECORD.
Raimundo Atesiano was chief of the Biscayne Park Police Department in 2013, and he was proud to boast about his department's 100% clearance rate for burglaries — but according to federal prosecutors who just indicted him, Atesiano conspired with two of his officers to frame a 16-year-old child for unsolved burglaries so that they could impress local officials. They face 11 years in prison, each, if they are convicted of "conspiracy to violate civil rights under color of law and deprivation of the 16-year-old's civil rights."
Boner Candidate #2: AH, NOTHING HAPPENS BETWEEN 11 AND 7 ANYWAY.
Police say three emergency dispatchers in Connecticut have been caught sleeping on the job. Madison Police Captain Joseph Race said Tuesday two of the dispatchers resigned in February and May and one was fired in May as a result of an investigation into the matter. Race says all three Madison dispatchers worked the overnight shift from 11 p.m. to 7 a.m., and they were all found sleeping on the job more than once. He says the sleeping happened when more than one dispatcher was on duty, and there was no danger to the public. All three were civilian dispatchers, not police officers.
Boner Candidate #3: I GUESS WE'RE A WEIRD GROUP.
If you could taste human flesh in an ethical way, would you? It's the kind of question you ask after watching Silence of the Lambs stoned. No matter how you respond, you never expect anyone to hold you to your answer. But in a recent Reddit post, user IncrediblyShinyShart shared the story of a motorcycle crash that put him face-to-face with the macabre hypothetical. When a car hit his bike and sent him careening into a nearby forest, his foot was shattered to the point that he would never walk on it again. When the doctor asked if he wanted to amputate, his one question was, "Can I keep it?"The doctor said yes. On Sunday, July 10, 2016, three weeks after the accident, Shiny, who prefers to remain anonymous, invited 10 of his most open-minded friends to a special brunch. They ate apple strudel, quiche puff pastries, fruit tarts, and chocolate cake. They drank gin lemonade punches and mimosas. And then the main course came out: fajita tacos made from Shiny's severed human limb.
Download X96's App