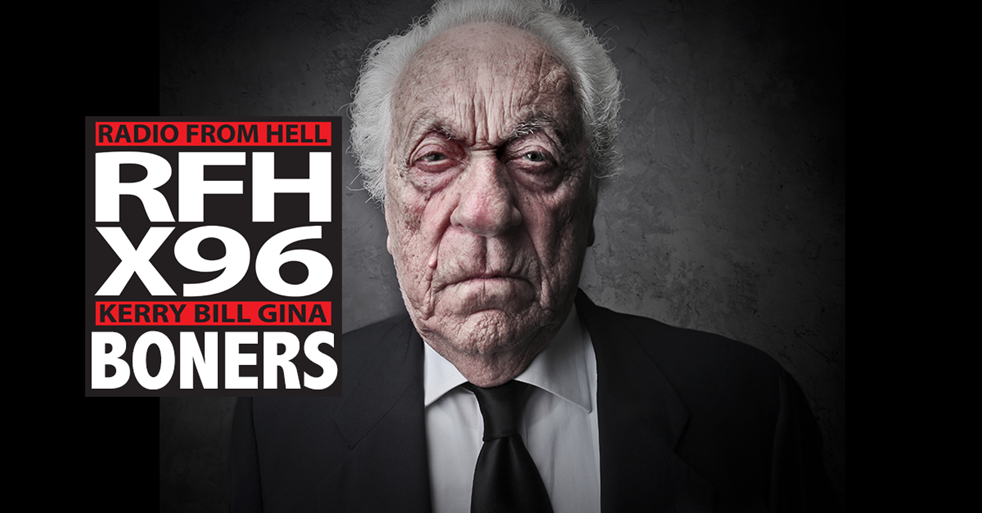 Round One
Boner Candidate #1: I WANT TO STAR IN A SHOW ABOUT A HOT MOM.
Dana Loesch, the much maligned NRA spokeswoman who faced off against the high-school survivors of the Parkland shooting, was "obsessed with fame and money" and once wanted to star as herself in her own TV sitcom about a "hot mom." On Wednesday, the night of conservative radio host Loesch's polarizing appearance at a CNN town hall,"NCIS" producer Paul Guyot tweeted: "Dana Loesch came to me 10 yrs ago pitching a sitcom starring herself," saying the plot was about "a hot young mom who does far right radio show . . . Said her age & looks would make 1 side hate her & 1 love her so everyone would watch. Was obsessed w the potential fame & money. I turned her down."
Boner Candidate #2: A GOOD FIGHT IS WORTH SAVING.
A high school teacher in Texas has been suspended after recording a fight between students instead of stopping it.  The teacher from McKinney High School in McKinney, Texas, is on administrative leave after a video surfaced of him recording a school fight, according to the school district. The video shows two unidentified students fighting while the male teacher stands back and films the interaction on his phone. The incident was reported to the school district on Wednesday and the teacher was put on leave until officials could investigate the matter.
Boner Candidate #3: HEAD? I KNOW NOTHING ABOUT A HEAD.
Image caption Police investigate an Osaka apartment where a decapitated head was found An American tourist is being questioned by Japanese police after a woman's severed head was found in a holiday flat he was renting in Osaka. Police believe the head, which was found in a suitcase, belongs to a Japanese woman who was last seen on CCTV footage walking with the suspect. The woman, 27, had apparently told friends she was going to see an American she had met on an app. The suspect has allegedly denied any connection with the case.
Round Two
Boner Candidate #1: WE GOT A NAKED ATV'ER DOWN TA SAM'S TOWN.
Authorities took a man into custody on Sunday after he led them on a pursuit riding naked on a stolen ATV.  He was arrested at the old Sam's Town Casino location near Interstate 435 and 210 Highway.  The effort to contain the man lasted about 20 minutes. At around 3:34 p.m. on Sunday, the pursuit went near the Ford Assembly Plant in Claycomo.  The pursuit continued and flew past Worlds of Fun. The ATV driver also went on an off I-435 multiple times.
Boner Candidate #2: MY LAST NAME IS INK. WHAT ELSE WAS I TO DO?
A man has gone to ink-redible lengths to cover his entire body in black tattoos, including his eyeballs and the inside of his lips. Eli Ink, a 27-year-old tattoo artist from Brighton, has undergone a 10-year transformation to turn himself into a walking exhibition of his tats. Ink uses several coats of black coloring to permanently blacken his skin. He also implanted huge stretchers in his nose and under his bottom lip as part of his body-modification process. The artist even went as far as dying his eyes to complete the striking look.
Boner Candidate #3: QUINOA?! HOW DARE YOU.
Malaysian Prime Minister Najib Razak has sparked a storm of criticism after saying he had stopped eating rice in favor of more expensive quinoa. Najib, who is facing a general election within months under a cloud of a corruption scandal, has been blamed for a rising cost of living since launching a goods and services tax in 2015. Hoping to win a third term in the election due by August, Najib has denied wrongdoing in connection with the graft scandal surrounding the 1Malaysia Development Berhad (1MDB) state fund. The fund has also denied wrongdoing. The latest barrage of criticism from opponents who label the prime minister aloof of and out of touch with ordinary folk followed a comment he made while visiting a hospital on Thursday.
Download X96's App