Star Wars is Highest Grossing Film of 2017
Another day, another $20M-plus for Disney/Lucasfilm's Star Wars: The Last Jedi at the box office. On Wednesday the Rian Johnson-directed movie earned $21.5M according to Disney taking its domestic running total to $444.9M. The movie will easily surpass the half billion mark by Dec. 31, as well as $1 billion worldwide with many expecting Episode VIII to knock Disney's own Beauty and the Beast  ($504M) out of the top spot to become the highest grossing movie of 2017 at the domestic B.O. Last Jedi only has $59.1M left before it clicks past Beauty and the Beast. Industry projections believe that Last Jedi ends 2017 with $550M, which would be 35% ahead of Rogue One at that point in time and completely ahead of that spinoff's final U.S./Canada total of $532M, and 16% behind Force Awakens' year end 2015 take of $652M.
New Star Wars in… May?
The Last Jedi has only been in theaters a couple of weeks, but another Star Wars movie is also due soon. Solo: A Star Wars Story is the second Star Wars spin-off, following 2016's Rogue One, and it arrives in May. The film is set to focus on the adventures of young Han Solo, and although we are yet to see any footage, director Ron Howard has released an intriguing new image.
The picture was tweeted by Howard as a New Year greeting. As with most of images that the director has released it doesn't reveal much, but it does suggest that Han might pilot a new vehicle–possibly some form of speeder.
New X Files!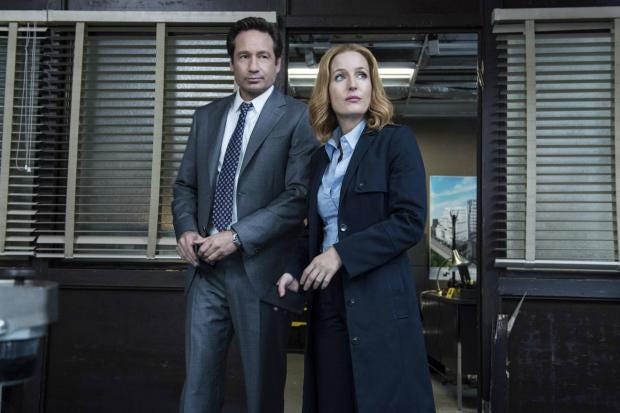 The X-Files returns for season 11 in 2018, though with one sad caveat: this will be Gillian Anderson's last outing as Dana Scully. Back in October, the actor suggested that the season would be her last, though a statement from FOX at the time seemed to shoot down any official departure, stating Anderson "has not commented on returning as it's premature in that she is currently filming the new event series." With new episodes now mere days away, Anderson has doubled down on her comments, telling TV Insider: "I've said from the beginning this is it for me," she explains. "I was a bit surprised by people's [shocked] reaction to my announcement… because my understanding was that this was a single season."
Star Trek with Quentin Tarantino
Paramount Pictures has set Mark L. Smith to write the script for the R-rated Star Trek movie that was hatched from an idea by Quentin Tarantino. Tarantino wants to direct the film, which he'll produce with JJ Abrams. That means that a writer whose breakthrough came on one of the most celebrated spare dialogue films of recent years will team with Tarantino, a writer/director whose own scripts have run run 165 pages or more, full of dialogue. Smith became a favorite of both Paramount and Abrams after he scripted Overlord, the Julius Avery-directed Bad Robot-produced WWII thriller about two American soldiers caught behind enemy lines on D-Day.
Star Trek Discovery coming back!
Returns this week! So turn on your CBS app again!
Artemis Foul Movie?
Ferdia Shaw has been tapped to play the title role in Disney's "Artemis Fowl," which is being directed by Kenneth Branagh. Branagh and casting director Lucy Bevan met with over 1,200 individuals for the role before landing on Shaw, who will be making her feature debut. Branagh is also producing the pic with Judy Hofflund. Josh Gad has also signed on to star, joining Judi Dench, who had previously been announced. Lara McDonnell has been cast in the role of Captain Holly Short, the elf hero, and Nonso Anozie will play Butler, Artemis Fowl's formidable bodyguard.
Imagine Agents Movie
Richie Keen, who directed the Ice Cube-Charlie Day comedy Fist Fight, has come aboard to helm the project that adapts the Boom! Studios comic. At the same time, Shawn Levy, the director-producer behind Stranger Things and the Night at the Museum movies, has joined the project as a producer while his 21 Laps Entertainment cohort Dan Cohen joins as exec producer. Michael Keaton, Michael Sugar, and Boom!'s Ross Richie are also producing while Stephen Christy and Ashley Zalta are exec producing. Adam Yoelin is co-producing and overseeing the project for Boom! Armed with a Men in Black vibe, the story tells of an organization that handles cases related to children's imaginary friends. When a vengeful imaginary friend materializes in the real world and kidnaps both a young boy and his imaginary friend, the boy's mother and two agents must work together to rescue him. The son, meanwhile, realizes he has to save the world from an invasion of imaginary friends who have become very real.
Rick and Morty Vindicators Comic Book!
One of Oni Press' most popular licensed titles returns next year with a new quarterly series of one shots, focusing on some of the other heroes in the multiverse. Rick And Morty Presents kicks off in March with a focus on the most popular superteam in the galaxy, the Vindicators. The issue by J. Torres, CJ Cannon, Nick Filardi, and CRANK! will be 40 pages. The first issue will be followed up throughout the year with other stories written by Mallory Ortberg, Mags Visaggio, and Delilah Dawson. The art team will remain the same throughout the series.
Download X96's App