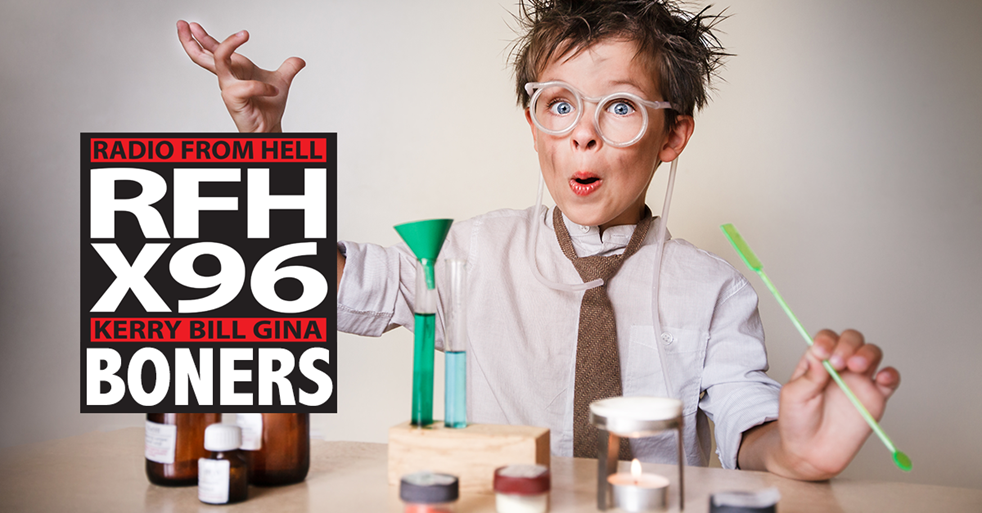 Boner Round 1
Candidate #1: YOU TELLING ME A TACO BELL BURRITO ISN'T COMFORT?
Investigators say that Victor Fosser, 49, got into a confrontation Sunday with his wife inside the couple's home in Parrish. According to a police report, the 49-year-old victim was upset about a family matter and "attempted to seek comfort from her husband." Instead, Fosser "went to Taco Bell and picked up lunch." Upon returning to the residence with his takeout order, cops say, Fosser attempted to give his wife a burrito, holding it in front of her face while making fun of her for being upset. The woman then grabbed the burrito and threw it on the floor. Fosser then "picks up the rest of the burritos and smashed them in her face causing some to go up into her nose," a sheriff's deputy reported. The 6', 335-pound Parrish, seen above, is currently being held in the county jail on the misdemeanor battery count.
Candidate #2: EVEN IN GERMANY, MODEST IS HOTTEST.
A 22-year-old woman says she was asked to leave her gym in Konstanz, Germany, because her clothes were too "revealing" and were "confusing the men." Marny tweeted a photo of the "revealing" outfit showing that she was wearing a crop top that showed a few inches of skin. "I felt like I had been thrown back into the 1800s," she told the Evening Standard. She explained that a female gym employee came up to her while she was on the treadmill and told her she "she couldn't train like this." Not knowing what she was referring to, Marny said she just looked at the woman in confusion. The woman then told her it was against gym policy for women to work out in only a sports bra and for men to work out in tank tops, adding that her top was "distracting" other gym-goers.
Candidate #3: SO WHEN ARE THEY GOING TO WRAP ROGER IN A SHROUD AND DUMP HIM IN THE SEA?
The longtime Donald Trump ally complained he was seized with "greater force" than was used against drug lords El Chapo or Pablo Escobar. Roger Stone, the longtime ally of Donald Trump charged last week by special counsel Robert Mueller, lamented to reporters on Monday that his arrest was handled like that of Osama "bin Laden or El Chapo or Pablo Escobar." Stone, now free on bond awaiting trial on a seven-count indictment charging him with obstruction of an official proceeding, false statements and witness tampering, was arrested by FBI agents at his home in Fort Lauderdale, Florida, early Friday.
Boner Round 2
Candidate #1: DON'T LET ME USE THE LAVATORY THIS IS WHAT YOU GET.
A Long Island woman allegedly hurled her pee-soaked underwear and shoes at New York state troopers after they arrested her husband for drunk driving early Sunday, police said.
Troopers stopped Michael Nelson, 38, in the Town of Hempstead around 1:35 a.m. and found that he'd had one too many drinks, they said. While cops were trying to arrest Michael, his devoted wife, Alexandra Nelson, 29, jumped out of their 2017 Mercedes-Benz and attempted to stop them. The belligerent hubby then headbutted a trooper's face and body multiple times, officials said.
The combative couple were taken to the East Meadow Barracks, where Alexandra threw her soiled intimates and shoes and spat on troopers, officials said. But their attorney, Marc Gann, told The Post he didn't think Alexandra "threw anything" and accused the cops of not letting her use the bathroom.
Candidate #2: THIS BOY IS OUT OF CONTROL. THIS BOY NEED WEED COOKIES
A holistic Hollywood doctor's medical license went up in smoke after suggesting that a 4-year-old boy consume weed cookies to control his temper tantrums, according to a report. Dr. William Eidelman, a natural medicine physician who misdiagnosed the boy with attention deficit hyperactivity and bipolar disorders, recommended marijuana as treatment, the California medical board said. "Tantrums alone … do not support either diagnosis," the board's decision said, according to The Los Angeles Times. "'Being agitated' and 'having trouble sitting still' hint at ADHD, but could simply hint at a preschooler not happy to have driven many miles to a doctor's appointment."
Candidate #3: BUT IT'S MY JOB. I'M THE BUTTOCKS INSPECTOR.
A man faces charges after thrusting his face into the buttocks of multiple women in Kernersville, according to arrest warrants. Stefan Ryan Shuford was arrested on multiple counts of assault on a female and sexual battery, according to a press release from Kernersville police. Police investigated three reports of a man inappropriately touching women in the 900 and 1100 blocks of South Main Street and 300 block of N. Main Street area on Friday. Police say all incidents happened in areas where people were shopping. One of the 911 callers said Shuford followed her in a parking lot and inside a store. Shuford is accused of sneaking up behind women and thrusting his face into their buttocks. In some of the cases, he's also accused of licking them.
Download X96's App