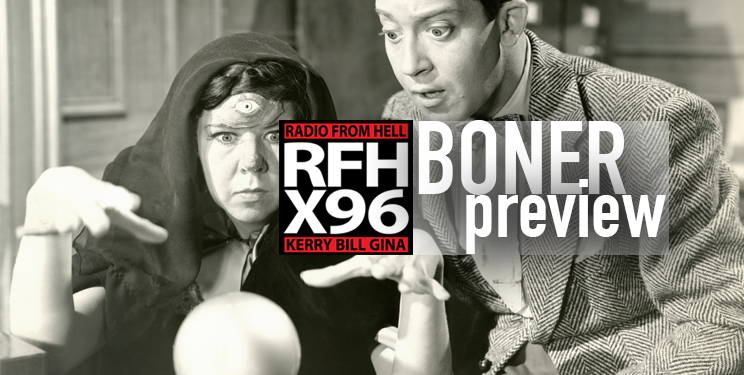 Boner Candidate #1: SORRY FOR THE SMELL
A COUPLE moving into their new flat were shocked to find the remains of the last tenant in a cupboard and wrapped in a shower curtain along with a note from the killer. The New York Daily News reports that the body belonged to ex-con Sidney Harris, 64, who was found wrapped in blankets and a shower curtain inside his Arthur Avenue flat in New York City. The killer left a short note along with the body saying "sorry for the smell." The New York Daily News reports that the landlord believed that Harris was in hospital and "wouldn't be back".
Boner Candidate #2: I LEFT HIM WITH SOME PROTECTION
A Brooksville father is accused of peering into the bedroom window of a teenage girl Tuesday night while leaving his 10-year-old son home alone with access to two loaded weapons. The incident happened in a neighborhood off of Trillum Boulevard, just east of the Suncoast Parkway. Deputies say Chad Michael Rodrigues, 42, was seen peering into the bedroom window of an 18-year-old girl by a patrol deputy. When Rodrigues was first approached, he apparently concocted a story about searching for a dog he had lost six weeks prior.
Boner Candidate #3: THAT MEXICAN JUDGE HAS IT OUT FOR ME
A judge, called a "hater" by Donald J. Trump for his handling of a lawsuit related to the businessman's Trump University real estate school, has ordered documents related to the case to be unsealed. Mr. Trump is fighting a lawsuit that accuses his school venture of misleading thousands of people who paid up to $35,000 for seminars to learn about Mr. Trump's real estate investment strategies. In an order signed on Friday, Judge Gonzalo P. Curiel of United States District Court said that related materials, including Trump University procedures on dealing with students and the news media, should be unsealed.
Boner Candidate #4: THE SIN CURSED GORILLA
Ken Ham, the creationist behind Kentucky's "life sized" replica of Noah's ark, took to his blog this week to jump on the controversy surrounding Cincinnati zookeepers decision to shoot a silverback gorilla after a four year old boy fell into its cage. While many have condemned the zoo for killing the endangered ape, the zoo defended itself by pointing out that a tranquilizer dart may not have worked quickly enough to prevent the gorilla from harming the child.
Boner Candidate #5: THAT SHOULD TEACH THE LITTLE BASTARD A LESSON
A 7-year-old Japanese boy who disappeared nearly a week ago after his parents left him on the side of a mountain road to discipline him was found unharmed on Friday, the Japanese authorities said. The boy, Yamato Tanooka, wandered onto a military base about three miles from where he was left on Saturday on the northern island of Hokkaido. He was found early Friday morning by soldiers on a training exercise, exhausted but apparently uninjured, the local police said.
Boner Candidate #6: MATH HAS PRACTICAL AND RACIST APPLICATIONS
A Burns Middle school teacher has been placed on administrative leave over a controversial test given to some 8th grade students. Some parents say the test includes questionable language and subject matter that just doesn't belong in the classroom. The parents say they can't believe it was actually given to students.  It's a 10-question math quiz that highlights prostitution, drugs, and drive-by shootings. "My son, he took a picture of it in class and he texted it to me. I couldn't believe it," Erica Hall said.

Download X96's App