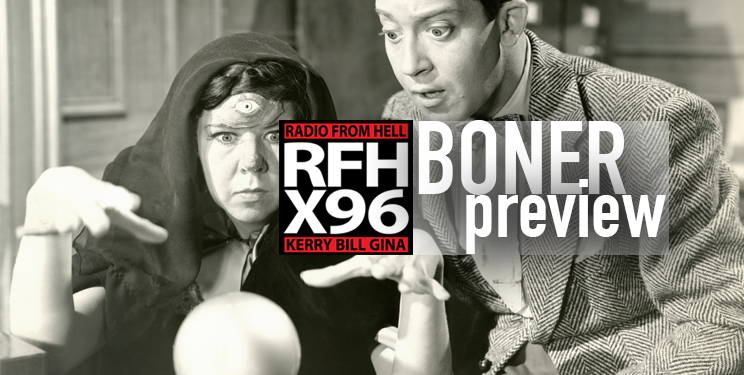 ROUND ONE
Boner Candidate #1: SOMETIMES SORRY DON'T CUT IT
A white woman has apologized for calling police on a black man in Central Park on Monday, after the two argued about her unleashed dog. Amy Cooper told CNN she wanted to "publicly apologize to everyone." "I'm not a racist. I did not mean to harm that man in any way," she said, adding that she also didn't mean any harm to the African American community. She was walking her dog Monday while Christian Cooper was bird watching at a wooded area of Central Park called the Ramble. Amy Cooper and Christian Cooper are not related. They both told CNN the dispute began because Amy Cooper's dog was not on a leash. Dogs are supposed to be leashed at all times in the Ramble, according to the park's website. The dog has been surrendered to the shelter he was adopted from days earlier while the dispute is addressed, according to a Facebook post from Abandoned Angels Cocker Spaniel Rescue, Inc. "The dog is now in our rescue's care and he is safe and in good health," the post said.
Boner Candidate #2: HEY IT WORKED FOR PETER PARKER
The Marvel-loving siblings — aged 12, 10 and 8 — found the spider while herding goats in Chayanta, a Ministry of Health official revealed at coronavirus briefing Saturday, according to Telemundo. Thinking it would give them superhero powers, they prodded it with a stick until it bit each of them in turn, the official, Virgilio Pietro, said. Finding them crying, their mom rushed them to a nearby health center, which transferred them to a nearby hospital, Telemundo said. The would-be Peter Parkers were transferred a third time, taken to the Children's Hospital in La Paz the next day with fevers, tremors and muscle pains, according to the report. There, they were successfully treated and discharged last Wednesday, almost a week after they were bitten, the report says. Pietro shared the drama as a warning to parents, saying that"for children everything is real, movies are real" — even though they are in fact an "illusion," according to Telemundo.
Boner Candidate #3: YOU REALLY GOT YERSELF STUCK IN SOME STUFF NOW BOY.
A Facebook post by the California Highway Patrol in South Sacramento uses no fewer than four poop emojis in telling this story, for good reason. It seems that in the wee hours of Monday morning, a driver called police to say he'd crashed into a pond on a dairy farm somewhere near the city of Elk Grove. Turns out, it was a storage pond for manure, reports the Sacramento Bee. Luckily, the driver wasn't hurt, but the manure had pretty well filled up the vehicle by the time authorities arrived. Worse, the CHP says the unidentified guy had spent an hour trying to get out of the pond himself before realizing it was futile and calling for help. At which point it took about 50 minutes for the local fire department to find him.
ROUND TWO
Boner Candidate #1: RIGHT. DRAIN THE SWAMP.
A former White House aide won a $3 million federal contract to supply respirator masks to Navajo Nation hospitals in New Mexico and Arizona 11 days after he created a company to sell personal protective equipment in response to the coronavirus pandemic. Zach Fuentes, President Donald Trump's former deputy chief of staff, secured the deal with the Indian Health Service with limited competitive bidding and no prior federal contracting experience. The IHS told ProPublica it has found that 247,000 of the masks delivered by Fuentes' company — at a cost of roughly $800,000 — may be unsuitable for medical use. An additional 130,400, worth about $422,000, are not the type specified in the procurement data, the agency said. What's more, the masks Fuentes agreed to provide — Chinese-made KN95s — have come under intense scrutiny from U.S. regulators amid concerns that they offered inadequate protection. "The IHS Navajo Area Office will determine if these masks will be returned," the agency said in a statement. The agency said it is verifying Fuentes' company's April 8 statement to IHS that all the masks were certified by the Food and Drug Administration, and an FDA spokesperson said the agency cannot verify if the products were certified without the name of the manufacturer.
Boner Candidate #2: WELL I THINK PEOPLE HAVE A RIGHT TO HAVE THEIR HAIR DONE
No sooner did hair salons open in Missouri than officials found themselves with a public-health nightmare on their hands. A stylist at Great Clips in Springfield worked for eight days between May 12 and May 20 while infected with coronavirus and symptomatic. Now authorities are notifying 91 clients and co-workers who may have been exposed to the highly contagious virus that has killed nearly 100,000 people across the United States. Both the stylist and their clients were wearing masks, so authorities say they are hopeful no one else will get sick. But the hairdresser also visited a gym, a Dairy Queen and a CVS.
Boner Candidate #3: WHAT DO YOU MEAN CLOSED?
A spokesperson for German airline Eurowings confirmed the Saturday mix-up, which played out over four hours, per CNN. Flight EW9844 set off from Düsseldorf, intending to make the 730-mile trip to Sardinia's Olbia Airport. It wasn't until the plane began its approach that air traffic control informed pilots that the airport was closed to commercial traffic, per AFP. Pilots were given the option to land 120 miles away in Cagliari, on the southern tip of Sardinia, but instead returned to Düsseldorf. Olbia Airport had been reopened May 17, but the decision was reversed that same day, per CNN. All Italian airports, with the exception of some in Rome and Florence, are to remain closed until at least June 3, reports AFP. A Eurowings spokesperson acknowledged "a misunderstanding," noting the situation at some European airports is "very dynamic," with information on operating hours and closures "often changed at short notice."
Download X96's App