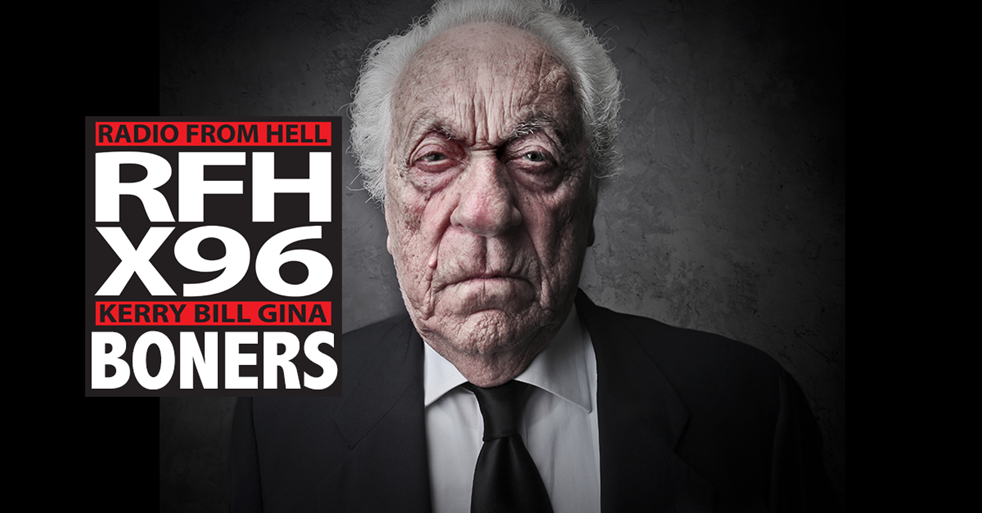 BONER ROUND ONE
Boner Candidate #1: GREAT IDEA AXEL
The image needed to be eye-catching, provocative and polarizing. Singer Axl Rose believed he had the perfect idea: the picture of Space Shuttle Challenger exploding midair. On Jan. 28, 1986, the Challenger launched from Kennedy Space Center in Cape Canaveral, Fla. Just 73 seconds into its flight, disaster struck. Mechanical failures caused the shuttle to explode and disintegrate across the Atlantic ocean. All seven crew members on board were killed. The tragedy was headline news, garnering coverage across the globe. President Ronald Reagan addressed a nation in mourning, while NASA immediately halted the shuttle program (it would not resume until 32 months later). Pictures of the disaster were plastered on magazine and newspaper covers for months. As Rose pondered potential artwork for GNR's debut, the image popped into his mind. "I figured, it's on the cover of Time [magazine], then we should be allowed to use it, too," he explained years later. "It wasn't meant [to be] derogatory. … That photograph just blew my mind". The band's label, Geffen, was quick to reject the frontman's idea. "They went, 'Oh this is in bad taste,'" Rose recalled.
Boner Candidate #2: HARRY BELAFONTE DESERVES A NAP
A video manipulated to make it appear as if Joe Biden were sleeping during a TV interview is being condemned by, of all people, Harry Belafonte. White House deputy chief of staff Dan Scavino posted a faked video Sunday night on Twitter that showed the former vice president appearing to be sound asleep and snoring as an interview was set to begin. However, the video is faked, with Biden's face digitally place on Belafonte's body, according to CBS Sacramento anchor John Dabkovich, who said he was in the studio when the interview took place. A YouTube clip of the original Belafonte interview shows the footage used for Scavino's manipulated tweet took place in October 2011. The interviewer can be heard referring to "Harry." Although Twitter has labeled Scavino's tweet as "manipulated media," it remains on the site. HuffPost reached out to Scavino for comment, but he did not immediately respond. Many Twitter users have condemned Scavino's stunt, but none more forcefully than singer and actor Belafonte, who has long fought for civil rights.
Boner Candidate #3: I'M GONNA NEED EXTRA NAPKINS
OKLAHOMA CITY — The Oklahoma City Police Department responded to a Taco Bell in the 1000 block of S. Meridian Saturday night just before 9:00 p.m. in reference to a call about a man going through the drive-thru naked. According to police reports, Christopher Sale, 61, was in his vehicle in the drive-thru completely naked. Sale paid for his order at the restaurant and then reportedly asked the employees for an additional taco. One of the employees was not comfortable with this and another employee gave him the additional taco when he then asked for more sauce, still not leaving the drive-thru.
BONER ROUND TWO
Boner Candidate #1: HE DOESN'T DESERVE TO HAVE HIS LIFE DESTROYED BECAUSE HE ARMED HIMSELF AND WENT OUT LOOKING FOR TROUBLE
TEMPE, Ariz. (AP) — A Republican student group at Arizona State University is receiving backlash for donating money to the 17-year-old gunman who fatally shot two protesters in Wisconsin.
College Republicans United announced this week that half of any funds they raise during the semester will go toward paying for the legal defense of Kyle Rittenhouse. "He does not deserve to have his entire life destroyed because of the actions of violent anarchists during a lawless riot," the group said in a tweet. In a statement Saturday night, the ASU College Republicans denounced College Republicans United "radical, far-right extremist group." ASU College Republicans called for an investigation of the group. Authorities in Kenosha, Wisconsin, say Rittenhouse shot and killed two people and severely wounded a third with an AR-15 rifle Tuesday. The victims were part of anti-racism demonstrations occurring in the wake of the shooting of Jacob Blake, who is Black, by a white police officer. Blake, who was shot seven times, remains hospitalized.
Boner Candidate #2: THE VIRUS ISN'T AS DEADLY AS THEY SAY….ACCORDING TO A GUY KILLED BY THE VIRUS
that the coronavirus which killed Cain in July is "not as deadly as the mainstream media made it out to be." The tweet was later deleted, but the account tweeted other messages questioning the risk of the coronavirus which has infected more than 6 million people in the U.S. and killed more than 182,000, including Cain, a former Republican presidential candidate. "It looks like the virus is not as deadly as the mainstream media first made it out to be," Cain's account tweeted, according to reported screenshots of the since deleted post. The deleted tweet was sent along with a link to a story published by The Western Journal on Sunday reporting that the Centers for Disease Control and Prevention (CDC) said that 94 percent of cases of those who died from COVID-19 had underlying conditions.
Boner Candidate #3: IT WAS A DRUG OVERDOSE
A defense attorney for the fired Minneapolis police officer charged with murder in connection with the death of George Floyd is asking a judge to drop all charges, arguing the 46-year-old man's death was allegedly from a drug overdose and not caused by the officer planting his knee in the back of Floyd's neck. Defense attorney Eric J. Nelson filed the motion in Hennepin County, Minnesota, District Court on Friday, claiming prosecutors have failed to show probable cause for charging Derek Chauvin with second-degree unintentional murder, third-degree murder and second-degree manslaughter. Chauvin has pleaded not guilty to the charges. Nelson contends Chauvin acted on his training from the Minneapolis Police Department (MPD) in the use of a "Maximal Restraint Technique" and did so out of concern that Floyd might harm himself or the officers struggling to arrest him. The Minneapolis Police Department policy on "Maximal Restraint Technique" says it "shall only be used in situations where handcuffed subjects are combative and still pose a threat to themselves, officers or others, or could cause significant damage to property if not properly restrained."
Download X96's App